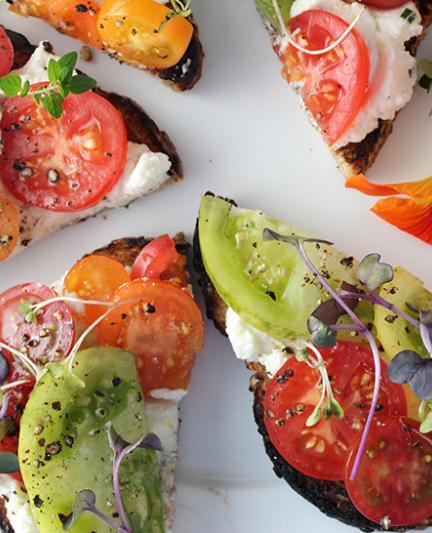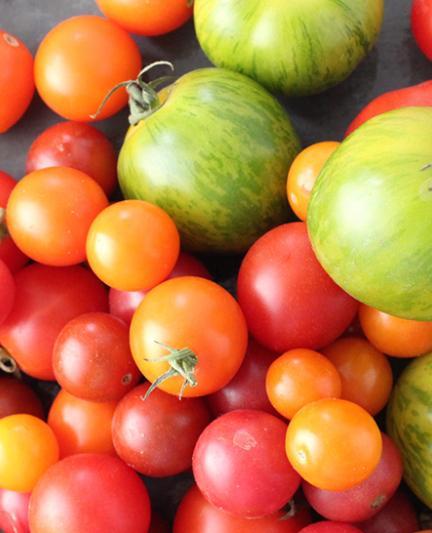 A Tasty Tomato Treat
Tartines are a delicious (and easy) way to enjoy fresh, ripe tomatoes.
I love tomatoes. They're colorful, versatile and delicious. As I write this, my garden is full of green beauties — both heirloom and native varieties — all destined for salads, salsas, sauces and snacks. And while I wait for them to ripen, I've been finding some lovely varieties at local markets, including Philippi Farmhouse Market (open through April), Englewood Farmers Market (open through May) and Sarasota Farmers Market. I've even spotted a few heirloom varieties at Morton's Gourmet Market, and Whole Foods University Station.
In addition to the aforementioned dishes, one of my favorite things to make with fresh tomatoes is tartines — a French term for open face sandwiches with either sweet or savory toppings. I love the concept of an open face sandwich because its only limitation is what you can imagine!
It all starts with toasted bread — the key to a successful tartine, in my book. My favorite method is to spread butter on the bread and crisp it up on a flat grill or pan. While still warm, I like to rub a fresh garlic clove over it (for an extra layer of flavor), then spread something creamy like ricotta, goat cheese, softened cream cheese, Brie, butter, or mashed avocado with lime — any will act as a bed for the next layer. Next, add sliced or chopped tomatoes and garnish with fresh herbs, a sprinkling of crunchy salt and fresh black pepper, or maybe some lemon zest, or a drizzle of olive oil, and you're good to go. Tartines make an easy and delicious lunch, appetizer or snack.
But if you're not a fan of tomatoes, try one of these combinations:
1) Chicken, spicy arugula and curry-spiked mayonnaise
2) Mozzarella, tomato and basil
3) Sweet butter with thin, crunchy radishes topped with flaky sea salt
4) Salmon, cream cheese, capers and fresh dill
5) Prosciutto, grilled peaches and goat cheese
6) Roasted red peppers, oregano, lemon zest, Kalamata olives, Feta and olive oil
7) Figs, ricotta, orange blossom honey, crunchy walnuts
8) Sweet onion jam and crunchy, salty bacon
The possibilities are endless!
Fresh Tomato Tartines
Ingredients
4 slices whole grain bread OR your favorite baguette, sliced
1 clove garlic, peeled and sliced in half
Olive oil
1 c. whole milk (or part-skim) ricotta
1 lemon, zested
1 tsp. minced fresh chives
Handful fresh tomatoes, various sizes and colors, cored & sliced
Flaky sea salt or kosher salt
Fresh black pepper
Fresh herbs sprigs (lemon thyme, oregano, dill, basil, parsley, cilantro - whatever you like or have handy). I used lemon thyme and micro greens.
Instructions
1) Brush both sides of bread with olive oil (or spread on soft butter) and place on a baking sheet in the oven at 400 degrees for about 5 minutes until lightly browned. OR, place them on a flat grill or pan for a few minutes, until edges are nicely browned.
2) While bread toasts, mix together ricotta, lemon zest and chives in a small bowl; set aside.
3) Remove bread and rub the garlic over each piece, while warm.
4) Top each piece with a little of the ricotta mixture.
5) Layer on the tomatoes.
6) Top with salt, pepper, herbs and serve (if using full slices of bread, cut in half or quarters).
###
Nicole Coudal is a writer and home-chef based in southwest Florida, where she fishes and cooks using local ingredients. When not on the water, she visits farms, farmer's markets, and other food-related venues to highlight what's in-season and to create tasty recipes. Read more at www.MyDeliciousBlog.com.