A Sarasota Wedding
We began planning our Sarasota wedding from New York City. We did our research and we considered everything from luxurious, all-inclusive spots to warm, sand-in-your-toes beach weddings. But we imagined a one-of-a-kind place that we could dress up with meaningful touches--bowls of oranges in honor of our citrus hometowns, books as favors--and that recalled the jazzy literary elegance of Fitzgerald. We realized early on that our greatest challenge would be choosing which of the many romantic and historic sites with stunning Gulf and bay views we wanted. Planning a wedding (and matching an imagined beauty to a real life place) seemed like a tall order.
We chose the Charles Ringling Mansion for our reception because it is perched on the edge of Sarasota Bay; it also has characteristic Floridian whimsy and a storied past. John Ringling's brother, Charles, also a circus magnate, chose coral-colored marble and sea foam green for the walls and paneling. We were most excited by the curving staircase, the crystal chandeliers, the rose garden and the romantic wisps of Spanish moss.
While the mansion spoke to us, it wasn't an easy choice. The array of spectacular venues in Sarasota is vast.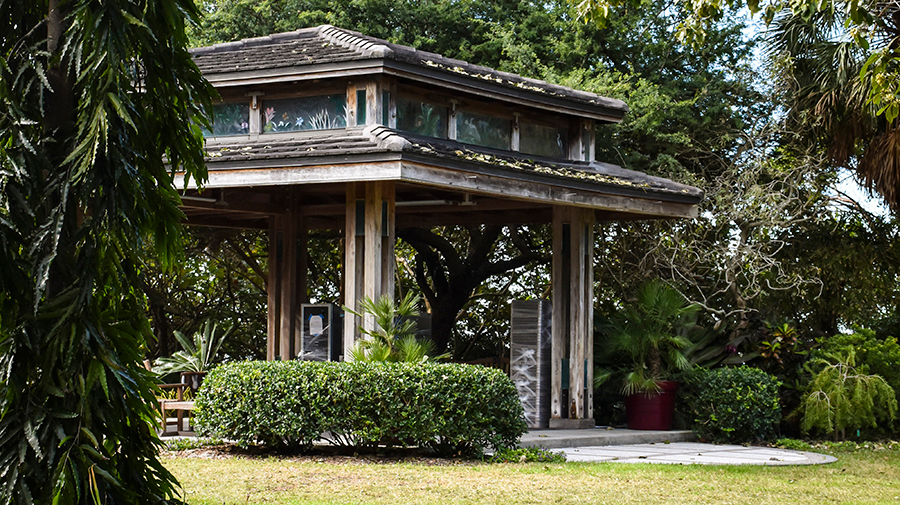 We could have chosen lush, tropical nuptials in the Schimmel Wedding Pavilion on Sarasota Bay at Marie Selby Botanical Gardens, an intimate service in the charming Mary's Chapel at Historic Spanish Point, an "old Florida" wedding and reception at Phillippi Estate Park or a stylish affair at the historic Crosley Estate.
If we wanted grand elegance, we could choose the courtyard of the Ringling Museum of Art or the waterside terrace of the opulent Ca' d'Zan.
For couples looking for a memorable, individual and moving wedding, Sarasota is a destination offering elegant estates and stunning natural surroundings. Sarasota is also home to world-class resorts able to expertly weave together your wedding celebrations.
The Ease of Luxury
From the fine-woven wall patterns lining the great ballroom to the delicate, edible gold foil on the groom's cake we sampled, The Ritz-Carlton, Sarasota offers a wedding catering to the couple's every whim.
The Ritz draws brides and grooms from all over the country and the globe. From grand affairs with passed hors d'oeuvres, full bands and sit-down dinners to intimate 200-guest weddings on a meticulously groomed lawn overlooking the bay, the Ritz's wedding coordinator can orchestrate every aspect of a wedding, down to the last detail.
For the pair who can't decide between luxury and the beach, some area resorts offer both. Not only can a wedding at the Longboat Key Club and Resort be an all-inclusive affair but, with its own private Gulf-front beach, the bride and groom can vow eternal love and fidelity under an eternally vaulted sky.
Other properties offering to satiate your urge for a luxury wedding include Tropical Breeze Resort and Spa of Siesta Key and Hyatt Sarasota.
Feast Day of the Sun
Getting married as the colors of sunset radiate across the Gulf is a feast for the eyes, as well as the spirit. The symbolic marriage of day and night, of sky and water, is not lost on most couples who do, in fact, go to great lengths to time their own marriages to this celestial one.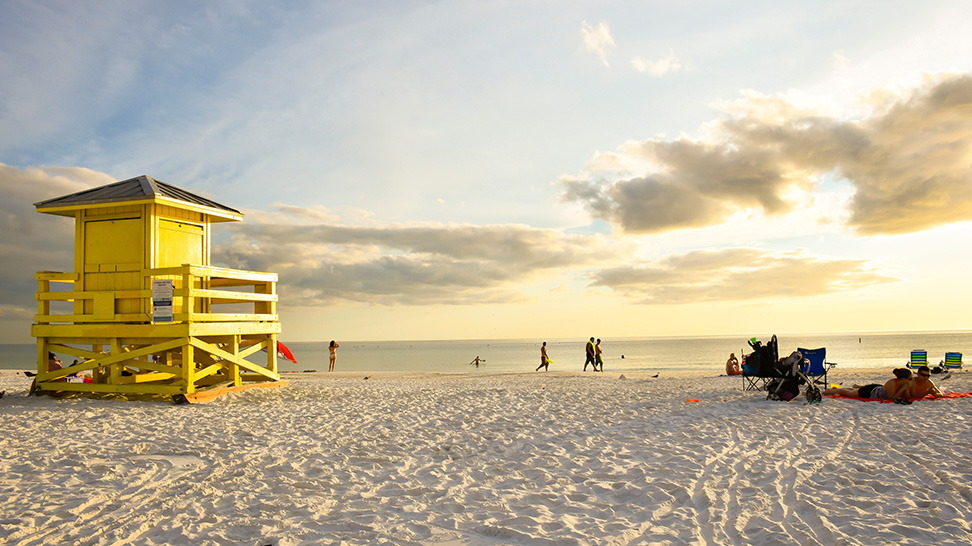 Sarasota County's many beaches, including Siesta Public Beach, with the whitest and finest sand in the world, set the stage for the perfect Florida wedding--breezy elegance under the sky's tent, lit by Apollo's lamp.
Many area vendors are experienced at working their ceremonial, floral or gastronomic magic on the sand. Beaches and beach pavilions are available for public use, though in some cases a nominal reservation fee and permit are required.
In the end, our wedding in Sarasota surpassed what we'd hoped for. Having all our guests together and celebrating our future was unforgettable, but only the gifts of sky and sun coming together in that remarkable way approached the feeling that radiated from my heart.
Love Sets Sail
If marrying on land is too lubberly, hire a boat for nuptials at sea. Celebrate your vows under the blue Gulf Coast sky, at the moment of sunset or under the bright tapestry of stars.
A ceremony a' sail can launch your voyage together in style--from large luxury yachts accommodating 100 guests with a full gourmet buffet dinner, to more intimate ceremonies on small chartered sailing craft.
Ryan Nance lived in Madrid and Taipei, traveled to Portuguese ruins in Malaysia, and explored back alleys in Paris. He came to Sarasota to get married.