Sarasota Local Live Music Guide
Sarasota's local music scene is quite diverse. Check out blues, indie, experimental and acoustic sounds at these locations.
Looking for an outdoor stage where you can bring the kids and enjoy an acoustic set on a pleasant Florida evening? Perhaps a late night electro-dance party or rock concert is more up your alley—or something intellectual and sophisticated to impress a date? You're in luck: the music scene in Sarasota is an eclectic place if one knows where to listen.
From string-twanging porch jams to experimental jazz, indie rock and electropop, we've got your guide to the 'underground' music scene in Sarasota—the local concerts and live jams that may take a little digging to find, but are well worth putting your ear to the ground to discover.
Feed Your Appetite: Music and Bites
Open air dining and music under the stars just seem to fit hand in hand at Live Music in the Park at Cafe in the Park, taking place on Friday evenings on the urban terrace of Cafe in the Park at Payne Park. The Cafe in the Park live concert series runs from 7:30 to 9:30 p.m. every Friday, featuring an eclectic and ever-changing lineup of local as well as touring singer-songwriters, bluegrass and folk acts, and more. Cafe in the Park is a great place to bring the whole family—just a short stroll from the Payne Park circus playground and skatepark. The cafe features fresh bites, as well as local craft brews from JDub's Brewing Company. Terrace seating provides an intimate experience with the performers, or bring a blanket to relax on the lawn.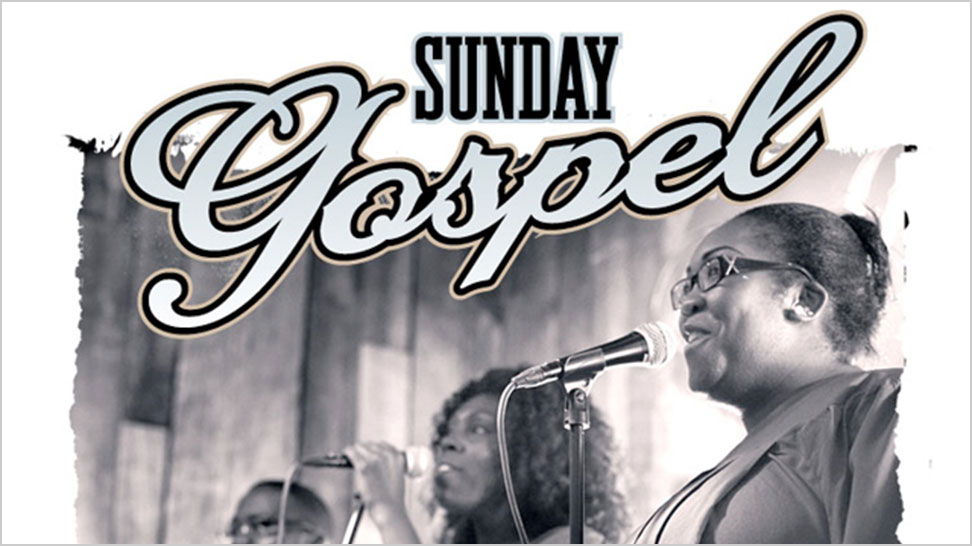 Rejoice in southern comfort food and soulful music at the weekly Gospel Brunch, taking place every Sunday from 11:30 a.m. to 2:30 p.m. at the Blue Rooster in the historic Rosemary District. Sip on the Rooster's signature "Hail Mary Bloody Mary" (garnished with bacon, okra and shrimp), listen to uplifting live gospel with contemporary and traditional spirituals, and indulge in southern cooking so good it feels sinful: biscuits and gravy, cheesy grits, fried chicken and buttermilk waffles, fried green tomatoes, catfish, and collard greens.
Indie Dance Scene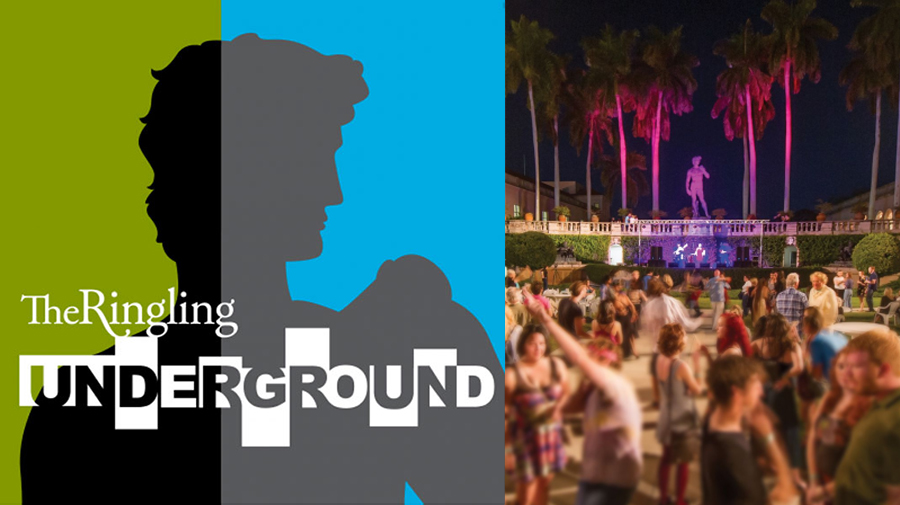 Ringling Underground brings some of the freshest indie music acts from around Florida and the United States to one of the most unique stages in the nation: at the feet of a bronze replica of Michelangelo's David, in the Italian Renaissance-inspired courtyard of The Ringling galleries. Taking place on the first Thursday evening of the month during the months of September-November and February-April from 8 to 11 p.m., Ringling Underground features an eclectic mix of local and regional music, in addition to emerging contemporary visual artists. Select galleries in the Ringling remain open until the event ends at 11 p.m., giving guests a chance to slip away from the indie dance party in the courtyard to enjoy the art. Tickets are $15. Members and college students presenting a valid student ID get in free,
Missing out on Ringling Underground during the off-season months? Check out concerts hosted at the Gator Club in downtown Sarasota. Local musician and activist, Shannon Fortner, organizes the music for Ringling Underground and is the founder and director of the Harvey Milk Festival—which brings headlining indie acts from around the world to Sarasota each year. Fortner's latest venture, Moxie Productions, brings a changing, eclectic lineup of local indie acts to Gator Club every second Wednesday of the month, ranging from electronic dance music to hip-hop and spoken word, folk rock, funk, and psychedelic rock. Keep up with Moxie Productions to stay in tune with the best emerging acts coming out of Sarasota, St. Petersburg and Tampa. The Gator Club also hosts other bands during the week so check out their line-up while you're in town!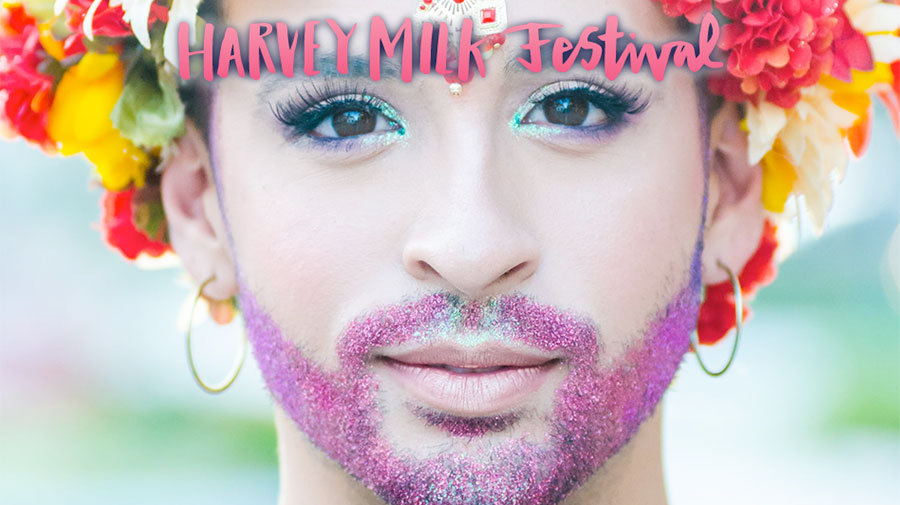 Experimental Underground
Experimental music may sometimes be challenging—but a delightful experience awaits those willing to delve into a more experimental auditory realm in Sarasota.
New Music New College (NMNC) is an extension of the music program at New College Florida. It is rooted in a 1998 exhibition that took place at the Ringling Museum, exploring interactive experiences in combining the work of 20th century visual and performance artist, Joseph Beuys, with live gallery performances from composer and music theorist, John Cage's Song Books. Today, NMNC puts on five performances each year featuring avant-garde, experimental contemporary music that is designed to spark conversations about art, performance, and what is that makes us human. Many NMNC experiences are entirely unlike the typical concert: audiences are often, encouraged, for instance, to roam the space during the performance to create a more personal experience within the soundscape.
EnsembleNew SRQ is one of Sarasota's contemporary music collective, established in 2014 to push the envelope in the local classical music scene. The goal of EnsembleNew is to 'reinvent the concert experience'—and that it does, bringing classical strings out of the symphony halls and into unexpected spaces—like the Shamrock Pub for, for instance, in intimate, experimental contemporary classical performances.
Community Porch Concerts
The first annual Arlington Park Porchfest took place in October 2016 and promises to be a repeat event due to its success. There are few better ways to meet the neighbors than in this grassroots community music event, where Arlington Park residents host free live shows on their porches and driveways to bring the neighborhood together.
For an intimate performances and engaging conversations with some of the region's most talented string musicians, look no further than the GuitarSarasota Mini-Concert and Lecture Series. The Mini-Concert and Lecture series is hosted by GuitarSarasota, a nonprofit organization dedicated to promoting classical guitar education and appreciation. The series is free to the public with limited seating available on a first come, first served basis.
Jam with the Locals
Local public radio is a vital part of the musical culture in Sarasota—and events at the Fogartyville Community Media and Arts Center bring the community together to support the radio station and other local causes. Fogartyville serves as a home base for WSLR 96.5 events, including regular concerts and benefit shows. To keep up with musical events taking place on any given night or weekend in Sarasota, Fogartyville is a great place to start.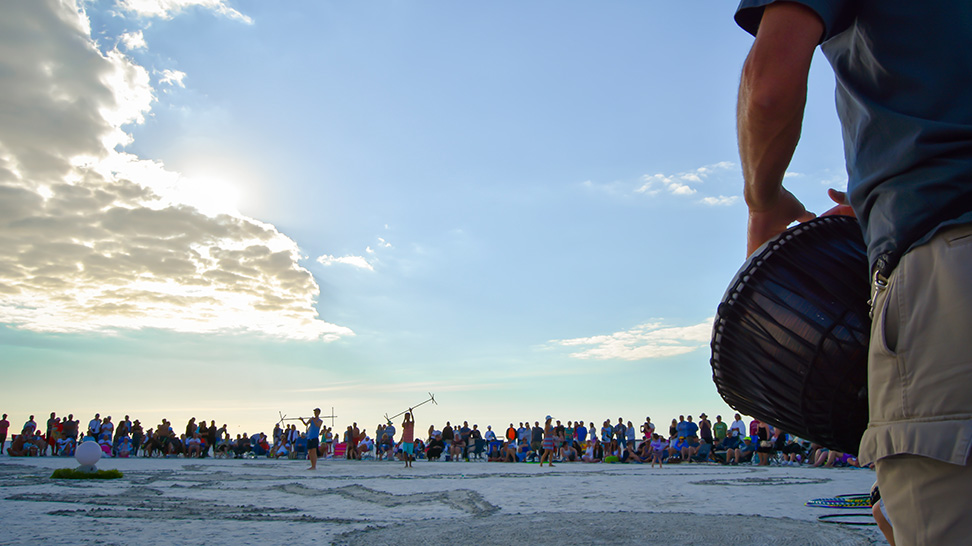 Drum Circles are a longstanding local tradition that start on the beach at sunset and continue well into the night in Sarasota County. Locals and tourists alike come together in these energetic, family-friendly events on the beach to play music, dance, hula-hoop and socialize. If you've never joined a drum circle as a chance to unwind from a long week— we highly recommend the experience. Let the beat carry you away, and leave your troubles on the sand. Drum circles take place every Sunday on Siesta Key and every Wednesday and Saturday evening at Nokomis Beach.
Scoping out the Sarasota Music Scene
In the Sarasota music scene, there's something that everyone can enjoy. Be it bluegrass or experimental jazz, hip-hop or hipster college rockall one must do is discover the right venue and settle in to enjoy the show.
Let this guide get you started on your journey into the 'underground' music scene in Sarasota, and see where the music leads you.