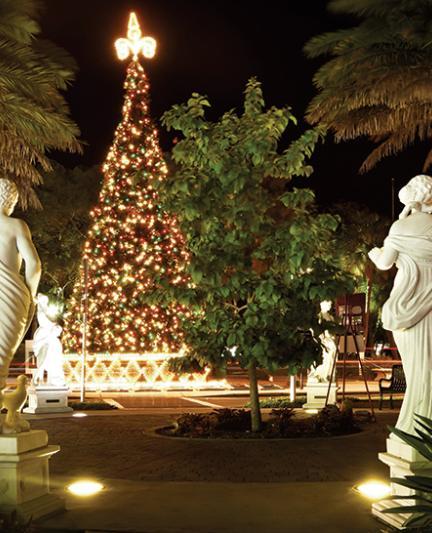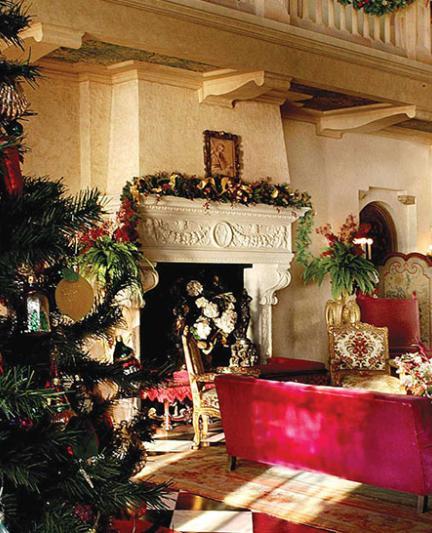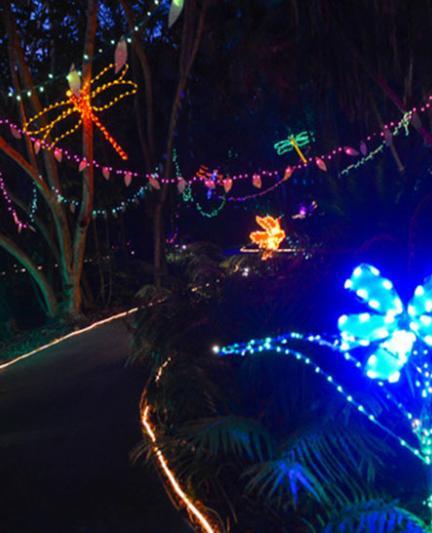 Sarasota Lets Its Own Light Shine
Enjoy a unique Sarasota holiday experience with a local twist on the time-honored classic: Christmas lights.
There is just something spellbindingly beautiful about holiday lights. The joy they bring as they light up the night, the creativity of each design, the kind message they send to those whose eyes fall upon them – they are a spectacle to behold. Sarasota boasts neighborhood after neighborhood of stunning displays; but to see something a little different, don your holiday best and check out one of these wonderful holiday light displays.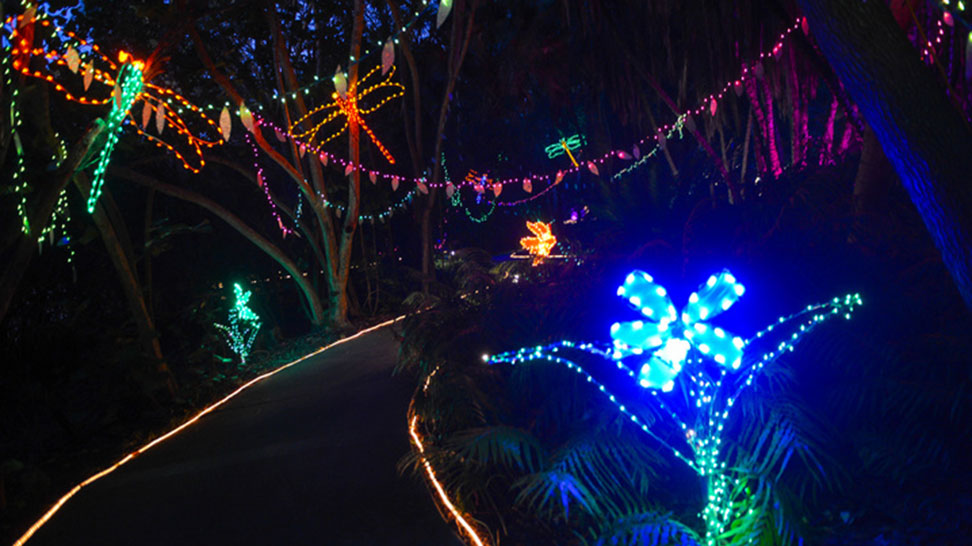 Walking in a (Tropical) Winter Wonderland
A stroll through Selby Gardens for their 15th annual Lights in Bloom event, which runs from December 20 through January 6, transports light lovers to a tropical oasis of holiday splendor. The lush grounds and bromeliad-laden trees abound with over a million lights destined to arouse countless "oohs" and "aahs." Marie Selby Botanical Gardens staff design the décor to emphasize their magnificent trees and Bay-adjacent walkways so they amaze even in the darkness. The nightly event runs from 6pm-9pm and pleases both adults and children. Visits from Santa and kids crafts entertain the littles, while grown-ups may appreciate the live entertainment or refreshments sold via local favorite, Michael's on East. Take a pause and admire the unique awesomeness of the décor as you overlook Sarasota Bay in a truly one-of-a-kind holiday experience.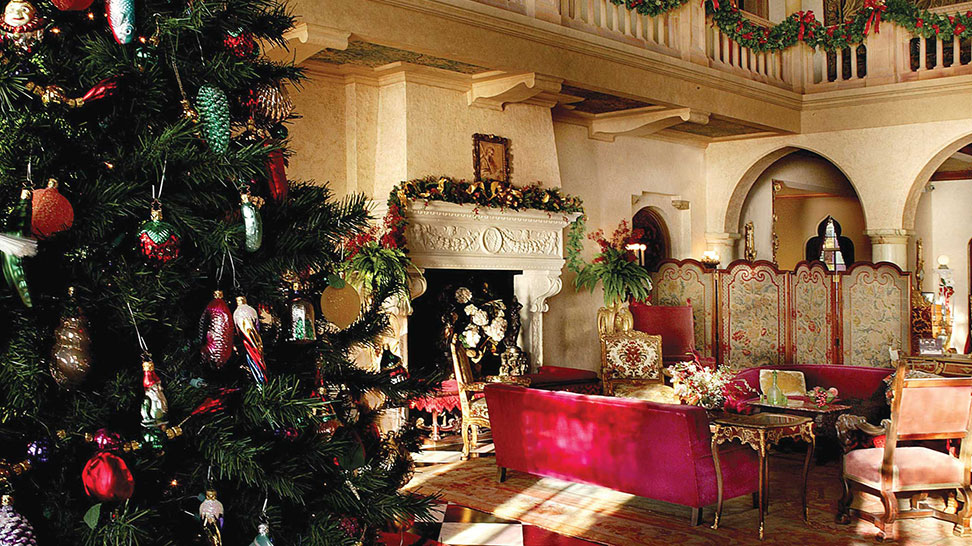 Travel Back in Time
If you have had the opportunity to traverse the Ca' d'Zan mansion, home of John and Mable Ringling of circus fame, you know it is a magnificent time machine that allows you to experience first-hand what life was like as a one of the richest couples of the Roaring Twenties. The same genius team that maintains the integrity of this blast from the past pays homage to history with their annual holiday transformation. Deck the Halls, the self-guided tour of the first floor of the mansion, substitutes Target wreaths and DIY tchotchkes for traditional garlands, trees, and colors, adorning the home in a way that would make Mable proud. The queen of upscale events would have settled for nothing less than the best.
In addition to the Deck the Halls tours,The Ringling hosts a one-night event in support of the US Marine Corps Reserve Toys for Tots. On December 6, Holiday Splendor showcases holiday music and performances from local students. The full museum remains open for these extended hours, including the bedecked Ca' d'Zan mansion. Tickets are sold upon arrival, or entrance is free with the donation of one unwrapped toy per guest.
North Meets South
In much of the country, ice skating and snow tubing is simply part of the winter season. In Florida, such activities are a drea, but this year, it's a dream come true. Holidays on the Green starts November 9 at the University Town Center Mall , featuring 30 acres of glittering, illuminated palm trees, presents, boats, snowflakes, and beyond. Pop in and enjoy ice skating in the open air as carols play overhead. Race your friends and family in the snow – for many Florida kiddos, it's their first time seeing the cold stuff. Those nostalgic for their colder homes (myself included), can get their fix and pretend it's really winter (without the pesky frozen pipes). Grab your cute scarf or sweater from the back of the closet and snuggle while enjoying the outdoor movies every Friday and Saturday night amongst their spectacular lights. Live musicians -- many from local elementary schools and churches -- cascade the airwaves with their festive tunes. Suddenly, it's 'Beginning to look a lot like Christmas…."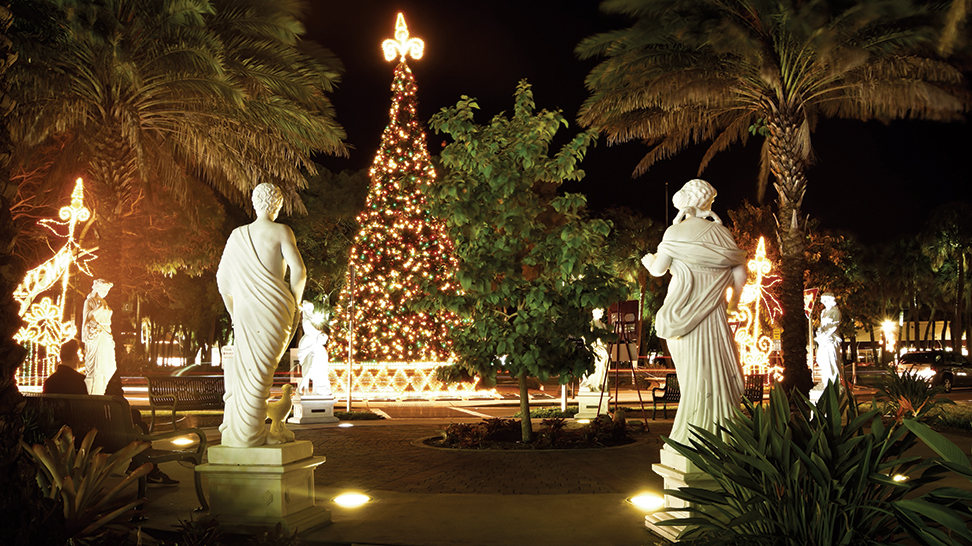 Gather Together
Get a sense of the oft-missing community by gathering together for the tree lighting ceremony at Holiday Night on St. Armands. On December 7 beginning at 5:30 p.m., friends, family, neighbors, locals, and visitors gather together for the annual Christmas Carol Sing-a Long. A sense of camaraderie spreads as we all raise our voices together and, suddenly, it seems like it's finally time to think of the holidays. A massive tree illuminates before the crowd at their tree lighting ceremony, which remains a beacon throughout the season. Lights abound on the Circle itself, the perfect place for a stroll with a cup of hot cocoa on those cool Florida nights.
Kick it Old School
Historic Spanish Point oozes with history (5,000 years' worth!) and serves as an ultimate connection to Old Florida. Mixing twinkling lights with 350 acres of stunning Florida and one must prepare to have his/her breath taken away. This year, their Holidays at the Point features four events amongst the décor – Holiday Romance date night, Dog Day Holiday pup parade, Family Movie Night, and Rockin' Around the Point music in the Sunken Garden. They somehow manage to dish up that perfect balance of no frills and just the right amount of frills. Nowhere else can you pair this type of nature, history, and holiday décor in complete unity.