Sarasota is a Growing Pickleball Vacation Destination
Pickleball is the fastest-growing sport in America, so it's no wonder Sarasota has become a great go-to place to play!
Parks, community centers, and private recreation facilities around Sarasota County host drop-in play, allowing visitors to enjoy a good game along with the locals while on vacation year-round.
"Pickleball is a great sport because you can go anywhere and just pick up a game. I'm shocked how Sarasota has become a year-round destination," says Terry Ryan of Sarasota, also known as "Pickleball Terry." Ryan is a USA Pickleball Ambassador and certified pickleball coach who's a well-known local expert on everything pickleball-related in Sarasota County. Her website, sarasotapickleball.com, features helpful information about the local pickleball scene for residents and visitors alike.
Ryan says any major travel destination seeking to draw lots of visitors these days needs to offer pickleball for tourists, and Sarasota is obliging. "Everybody is jumping on the pickleball bandwagon," she says.
Some travelers would like to know in advance where they can play in Sarasota, so they can plan a perfect trip with pickleball on their itinerary. Ryan gets calls from folks seeking advice and she's happy to share. "A family from Ohio just called me. They found me online. They are coming in July and they asked me where to play pickleball. They like to play pickleball in the morning and go to the beach in the afternoon, and then go out to dinner."
If you're planning a trip to Sarasota and anticipate a bout of pickleball fever while on vacation, pack your gear. Hit the court in the morning for some games before heading out to the beach or to a museum in the afternoon.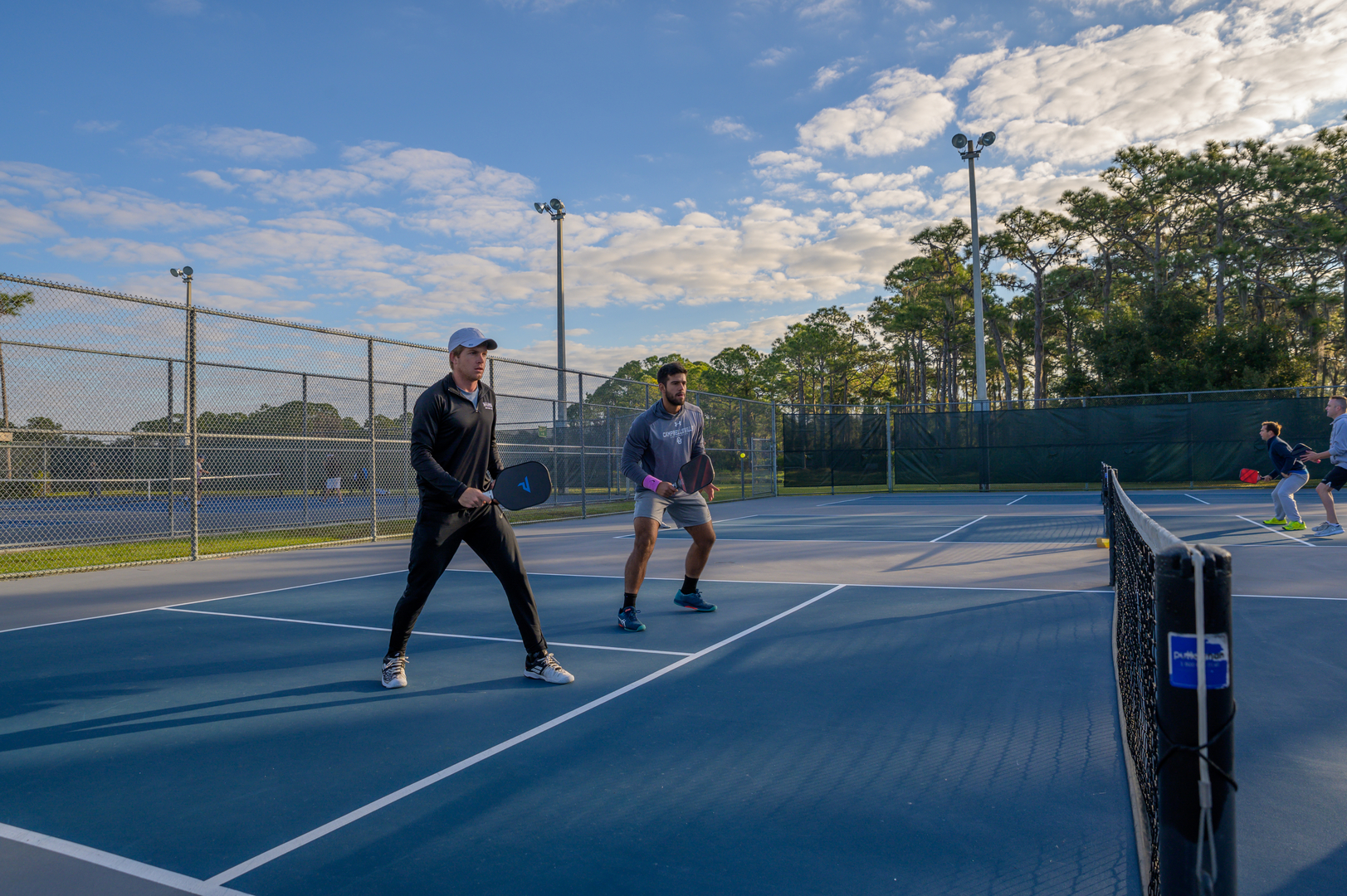 Where visitors can play in Sarasota County
Here are three places with indoor courts that allow drop-in play without reservations:
Robert L. Taylor Community Center in Sarasota
Church of the Palms in Sarasota
Our Y in Sarasota. Our Y's two facilities offer drop-in play for regular members and visitors or guests for a daily fee. If you're planning to stay in Sarasota for a month or longer, you can join Our Y as a member on a month-to-month basis without a long-term membership contract and play as often as you like for a flat fee instead of the daily guest rate.
Here are four places with outdoor courts offering drop-in play, no reservations needed:
Fruitville Park in Sarasota
Sarasota Pompano Pickleball (behind Robarts Arena/Sarasota Fairgrounds)
Gillespie Park in Downtown Sarasota
Colonial Oaks Park in Sarasota
By-Pass Park/Foxworthy Campus in Venice
Longboat Key Bayfront park on Longboat Key
Englewood Sports Complex in Englewood
Note that days and times for open play could change at any time for a number of reasons, including weather, so it's best to check with a specific location before just showing up. You also might want to contact the venue or email Pickleball Terry to find out what hours are set aside for players of certain skill levels, so you can enjoy your best game.
Fastest growing sport in America
The Sport and Fitness Industry Association says pickleball participation grew by 21.3 percent last year, making it the fastest growing sport in America.
Pickleball is a mix of tennis, badminton and ping pong, and it's super fun for all ages and skill levels. Players use paddles and a plastic ball, and play games on tennis-like court with specific pickleball lines. The court is smaller than a tennis court and players most commonly play doubles although you can play singles, too. Pickleball has its own set of quirky rules but they're easy to learn. Visit USA Pickleball to see the rules. Many people don't take lessons but just get on a court and start hitting balls to learn. Games can be competitive or casual.
And no, pickles are not involved. It's said the game was named after a dog named Pickles that belonged to the folks who invented the game.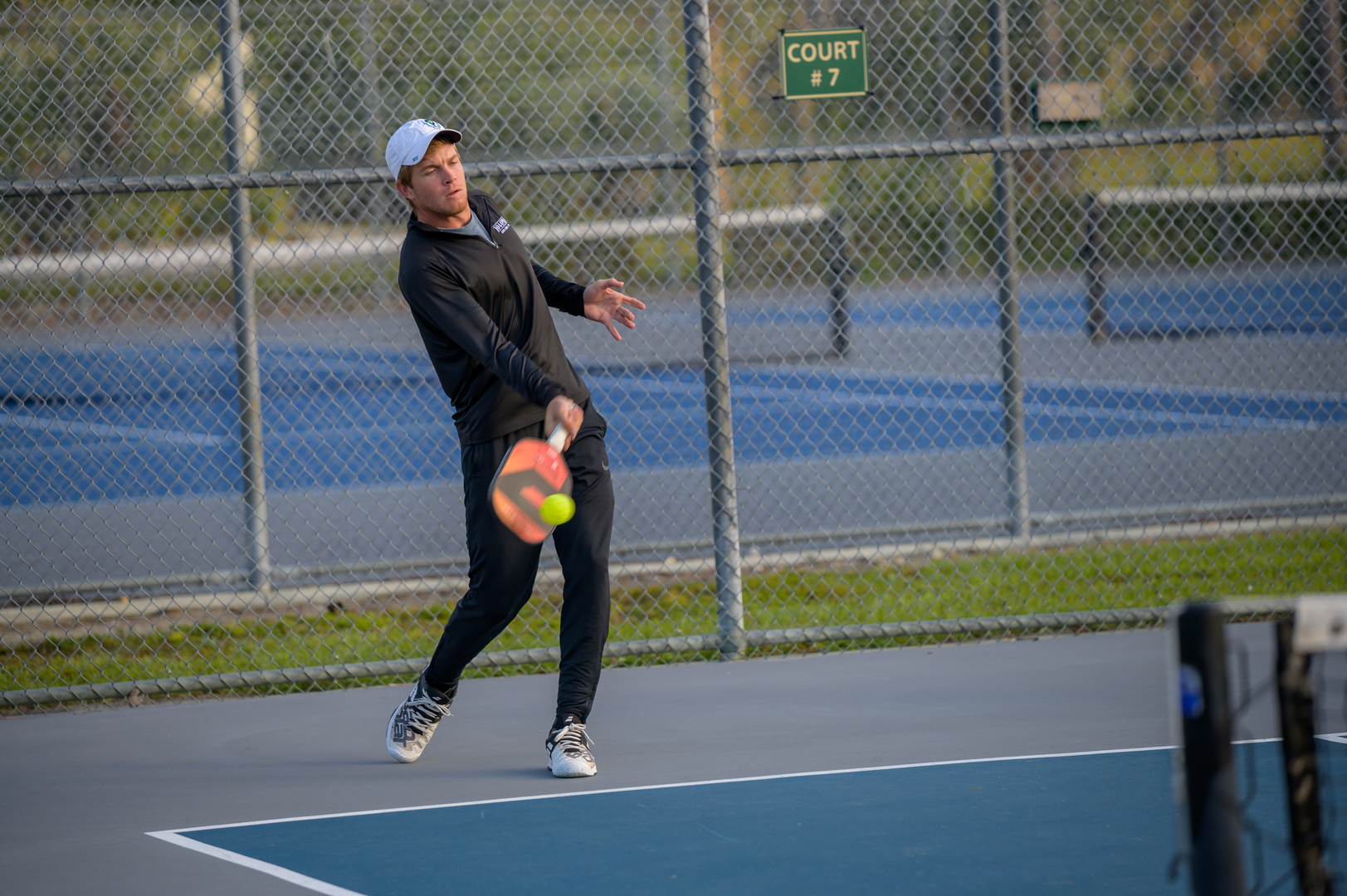 Bring your gear!
If you didn't bring your paddle and some balls once you arrive in Sarasota, or changed your mind, found extra time and decided you just have to get some games in, you can pick up a new paddle and some pickleballs at Dick's Sporting Goods at University Town Center in Sarasota. There's also a small retail store in east Sarasota called Pickleball Sarasota that specializes in all things pickleball, from clothing to supplies and paddles for all levels.
Pickleball Terry also sells paddles, rents nets for $25 for four days, and is a great overall resource for enthusiasts. Email Pickleball Terry at [email protected] and get ready for some pickleball. You're very likely to get roped into "OMG" – One More Game!