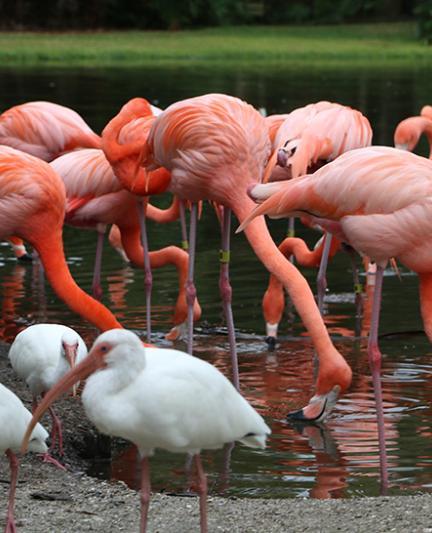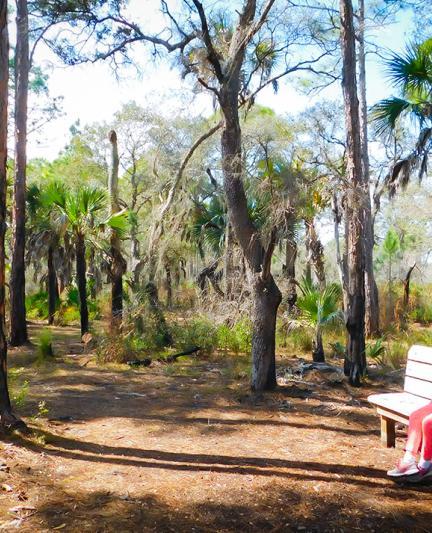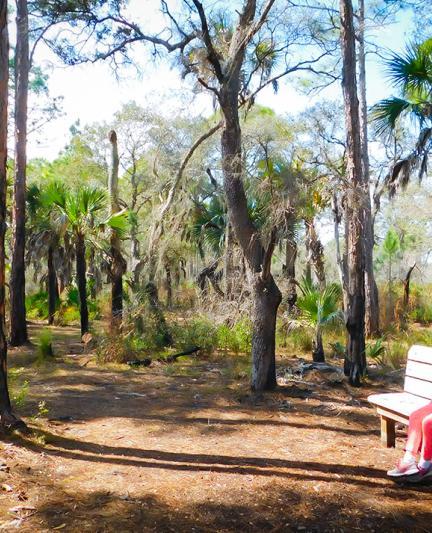 Plan Your Spring and Summer Family Vacation in Sarasota County
Heading to Sarasota County with your family? Read up on our guide and get some great ideas to make sure the whole family has a good trip!
Flowers are blooming and birds are chirping; school teachers are breathing a sigh of relief ... Ah, yes, spring break is in the air, and summer vacation is right on its heels. For kids and parents, this combination of unbeatable weather and newfound free time means the timing couldn't be better for vacations and family outings.
Are you looking to have fun and make some memories with the kids during the sunniest seasons of the year? Check out our guide to family vacation (and stay-cation!) fun in Sarasota County.
Places to Picnic
We're not sure if there have been any conclusive studies on the topic, but we have a theory: Lunch simply tastes better when enjoyed outdoors - in the shade or in the sunshine, on a blanket on the beach or at a picnic table in the park. At any rate, we certainly feel that it's a theory worthy of thorough field testing, so we've packed our baskets and sought out some of the best spots to have a picnic in Sarasota County.
Bring a big umbrella (or rent one from the pavillion when you arrive) to protect your beach picnic from the sun and the sand, if you prefer your picnics with a side of salty surf. Among Sarasota County's public beaches, Siesta Key, Lido Beach, and Venice Beach, are some of the most popular picnic spots, dotted on the daily with colorful beach umbrellas. The public beach parks also offer picnic amenities, including tree-shaded picnic areas with tables, charcoal grills and playgrounds for the kids.
More secluded beaches such as Caspersen Beach in Venice, Manasota Beach and Stump Pass Beach State Park in Englewood are less busy than the popular beaches, and make terrific spots for more quiet, private picnics. There's fun and adventure for the whole family to be found in off-the-beaten-path nature trails, and in sharks teeth-hunting along these less crowded and combed-over beaches in the south county.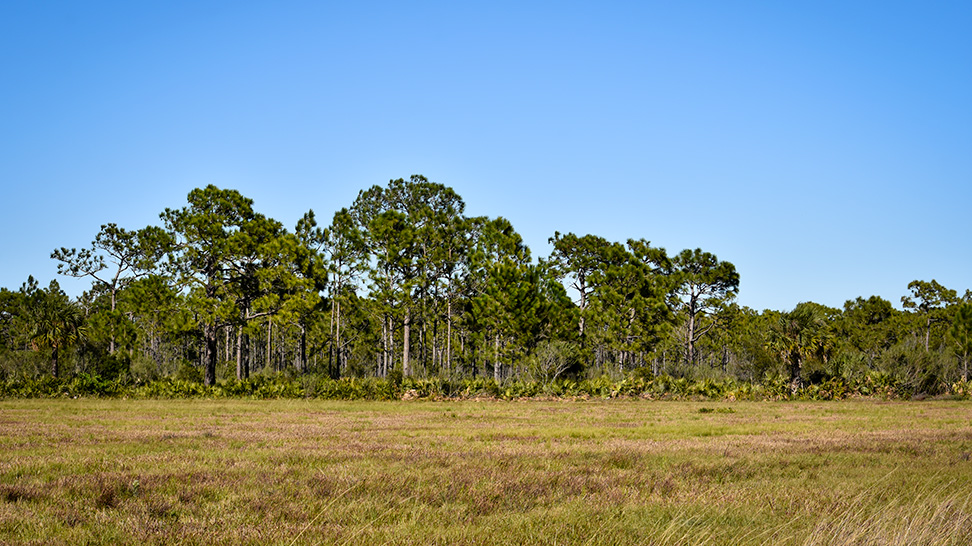 Stay off the beaten path, but get a change of scenery by heading east of the beaches, inland toward Red Bug Slough Preserve and Myakka State Park. Red Bug Slough is one of Sarasota's best-kept secrets, a 72-acre preserve with pine flatwoods, hammocks, open prairie space, hiking trails around the swamp basin and a fishing dock. Kids have room to roam and explore without straying dangerously far from civilization - the preserve is nestled at the heart of suburbia. A picnic at Myakka State Park is a day-long affair. Myakka State Park is one of the largest and oldest state parks in Florida, featuring wetlands, prairies, hammocks and pinelands, with hiking and biking trails, picnic areas, fishing, canoeing and kayaking.
Don't forget the food! Packing a picnic can be a lot of work. Stop in for picnic supplies at Detwiler's Market in Venice or Sarasota - or let someone else do the work! Let Nancy's BBQ pack a smokey barbeque picnic or drop in to Morton's Gourmet Market for a good selection of prepared picnic food items a la carte.
Animal Encounters in Sarasota
Get to know some of Sarasota's finest residents of the non-human variety, from flamingos to sharks, by spending the day at family-oriented local wildlife and marine habitats.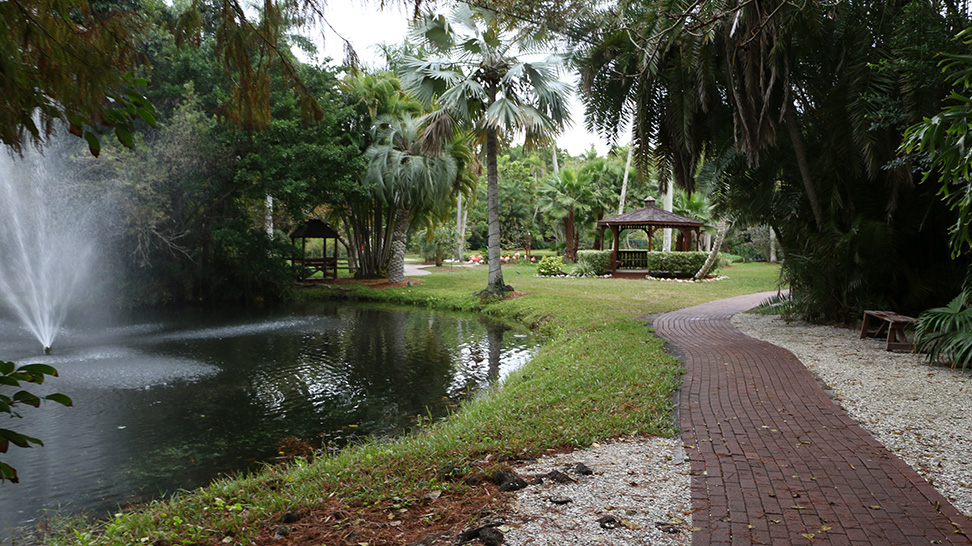 Sarasota Jungle Gardens is a tropical adventure for the whole family, and features 10 acres of botanical gardens and sanctuary for unique animals. The Jungle Gardens is home to more than 150 varieties of native and exotic animals, including parrots and flamingos; iguanas, snakes and alligators; primates, and other small mammals. Feed the flamingos, and check out the daily bird and reptile show at the Jungle Gardens; entertaining and educationally-engaging for all ages.
Explore the wonders of the deep sea at Mote Marine Laboratory and Aquarium, where you'll have an opportunity to interact with manatees, sharks, tropical fish, sea turtles and numerous other inhabitants of the oceans, bays and other aquatic habitats of Florida's Gulf coast. Mote Marine is an educational research and sea-life rehabilitation center and aquarium open to the public seven days a week, 365 days a year. The aquarium offers interactive exhibits, like the "touchable rays" and reef animals exhibit, and the open water "Shark Zone" where visitors can get up close with sharks, and sift for sharks teeth and fossils in "Fossil Creek."
In addition to experiencing the exotic wildlife at places like Sarasota Jungle Gardens and Mote Marine, visitors can get a taste of farm life at Dakin Dairy Farm in Myakka City. Visit the dairy farm located in the agricultural region of east Sarasota County, where family fun abounds with an education hay ride. Kids can learn where milk comes from and how butter is made, have the opportunity bottle-feed a baby calf, and even experience a good 'ole fashioned pig race.
Learn While You Play
For more "wild and educational" adventures beyond the Dakin Dairy farm, the labs at Mote Marine and the tropical habitats of Sarasota Jungle Gardens, pay a visit to the educational exploration-spaces in Sarasota where playtime and discovery go hand-in-hand.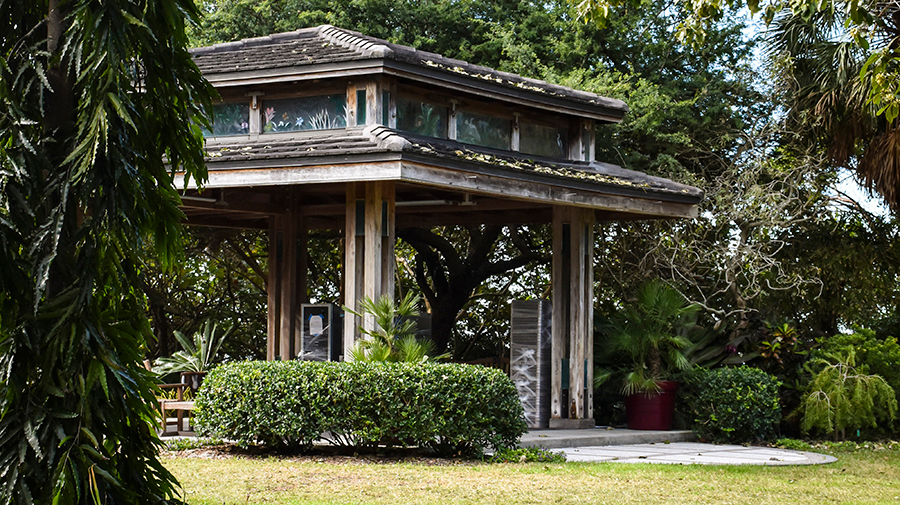 If the kids try to suggest that "looking at plants is a boring idea," a trip to Selby Botanical Gardens may just change their minds. The Ann Goldstein Children's Rainforest exhibit, in particular, is a family-friendly space for education, exploration, and especially play (which is, of course, what makes the education part so much fun). The centerpiece of the Children's Rainforest is the 100 year-old banyan tree, whose sprawling roots and cavernous nooks and crannies are irresistible to explorers young and old. The Children's Rainforest also includes a 12-foot waterfall and forest pool featuring an aquatic rainforest ecosystem, a 27-foot high rainforest canopy walk and rope bridge, an educational epiphyte canyon, interactive rainforest research stations, and a lawn featuring fun swings and a view of tropical food plants, like papaya and banana trees.
Grab a field guide and go on a nature scavenger hunt at the Crowley Nature and Cultural History Center in Myakka. To reduce the human impact on the natural landscape and its wildlife inhabitants, the nature trails and the pioneer museum at are only open to the public four days a week. From 10 a.m. to sundown, Thursday through Sunday, the 190-acre property along the Myakka River is open to the public. The Crowley Center website offers a Naturalist Field Guide pictures to help identify native inhabitants explorers may find in their hikes.
Wear 'Em Out
Need to burn off a little, or maybe a lot, of excess energy? We understand the appeal of planning an outing so active and exciting that it ensures tuckered-out kids will be ready for an early bedtime without a fight. Here are some places you can bring your family to splash, bounce, climb and play 'til the kids are ready to fall asleep in the back seat for the trip home: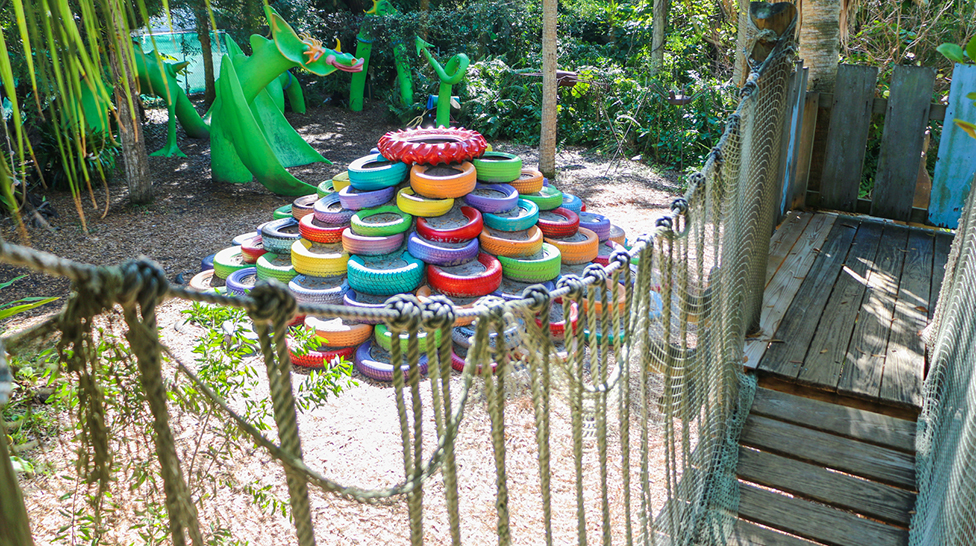 Little ones and parents alike will be drawn to the magic at the Sarasota Children's Garden, an art garden and playground with a pirate ship, a larger-than-life friendly dragon named Snuffy, a fairy garden, a butterfly garden, a giant chessboard, an "amazing maze," a "fruity oops mountain" (made from brightly-painted tires) and more mysteries to be discovered. The Children's Garden is a great spot to bring all ages, including infants and toddlers to play and explore in a truly imaginative play-space.
On a hot day (and we have lots of those, here) the playground and water play-fountains at downtown Sarasota's Bayfront Island Park is the place to go. The park features a playground and splash park, where kids can cool down in the fountains, and there are plenty of shady spots where parents can throw down a blanket or sit at a picnic table to keep an eye on the fun. Island Park includes a path along the bay suitable for walking, rollerblading, and biking, and is pet friendly.
Toward the eastern end of downtown Sarasota, Payne Park is a family space for all ages, including teenagers. The circus-themed playground features jungle gyms and swings aplenty, as well as interactive musical play-things. Older kids and teens in particular may be drawn to the Payne Park skate park, open to all ages. The 30,000 square foot concrete skate park features a flow course and a street course, with vert ramps, bowls, ledges, and stair rails throughout to suit any skate style.
Going stir crazy on a rainy day? Nothing can tire out a kid like an afternoon of bouncing at indoor trampoline parks like Jumpin' Fun and Sky Zone. These ultimate bounce houses are fun for all ages, featuring open-jump trampoline areas, trampoline dodgeball courts, "foam zones" filled with foam cubes to dive into from trampolines, and trampoline basketball courts for sky-high slam dunks.
The Bottom Line
Our best recommendation for making the most of Sarasota County during your warm-weather family vacation and creating lifetime memories is to get out there and explore. From the Gulf Coast beaches extending from Lido to Englewood, to the hiking trails in the wetlands and the Florida wilderness, and from the farmland in the east county to the underwater habitats of sharks and starfish at Mote Marine… We've given you quite a bit of ground to cover--so get out there and make the best of your vacation!