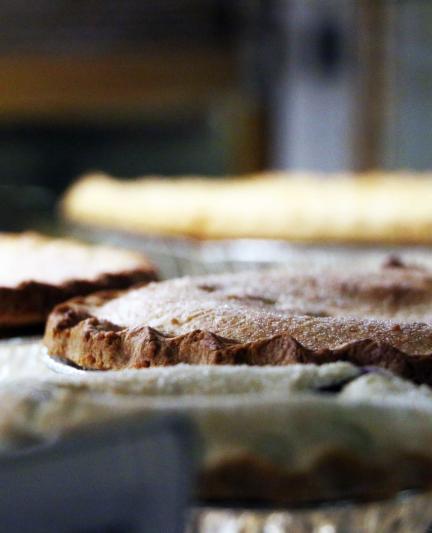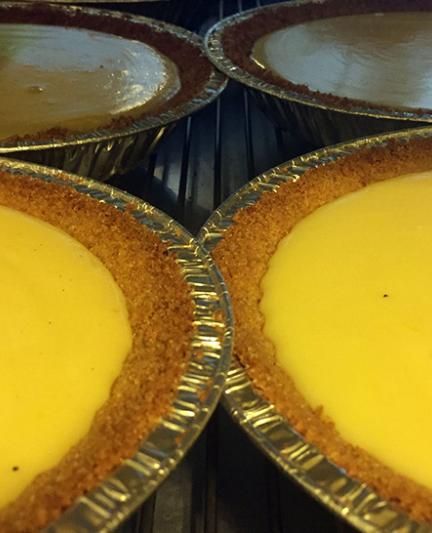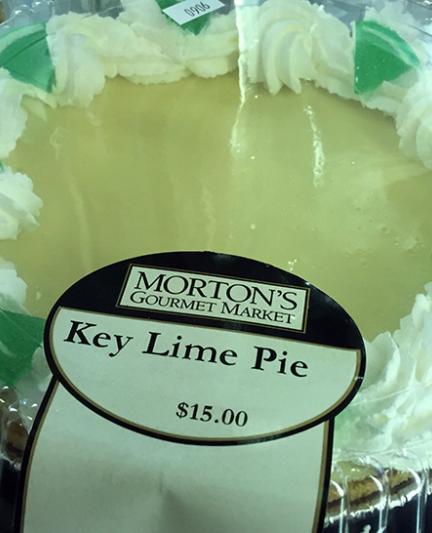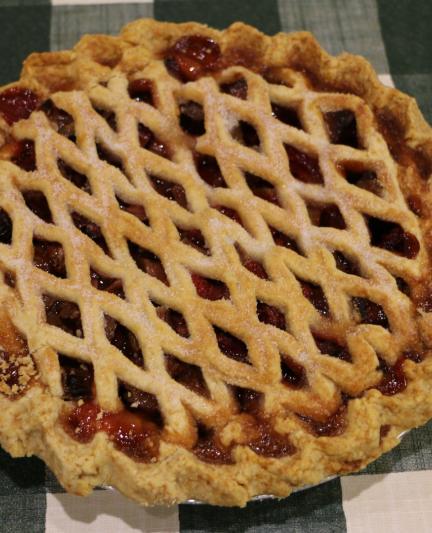 Pi Day Pie Roundup
Every March 14th, the world celebrates "Pi Day" – here's how in Sarasota
Though this annual holiday commemorates the mathematical constant of pi (π), or its equivalent of 3.14, no math expertise is required for this particular read—just a palette for a circular baked dish bursting with a flavorful filling. So, what better way to celebrate the day with a slice of pie from one of Sarasota County's iconic bakeries? Enjoy this local pie roundup for sourcing a sweet, or savory, slice this March 14th, and any day after that.
Home of the award-winning Key Lime Pie on a stick, Caribbean Pie Co. has been producing key lime pie for over 30 years in the Sarasota area. And though its location has changed several times, its recipe has not—made by hand in small batches using local, natural ingredients whenever possible. All pies can be ordered in a gluten-free graham or chocolate crust for an additional charge. In addition to its tart, sweet and tangy key lime recipe with a flaky graham cracker crust, the Chocolate Silk pie is another must-try. Oreo crust, a bottom layer of chocolate ganache and a top layer of fluffy chocolate mousse, a slice or whole pie comes topped with shaved chocolate and homemade whipped cream.
Caribbean Pie Co. is served in many local fine restaurants and sold in area grocery and specialty food stores. Additionally, the bakery can be found under a bright green tent at the Sarasota Farmers Market, Venice Farmers Market and Bradenton Farmers Market on Saturdays; Englewood Farmers Market on Thursdays; and Lakewood Ranch Farmers Market on Sundays.
Within a quaint, iconic Amish community, Sarasota's Pinecraft has been around since the 1920s. To this day, the cultural enclave thrives with Amish and Mennonites of every sect and stripe—and bringing with them their beloved family-baked goods. The Yoder's franchise is very much a part of the heartbeat of the Pinecraft neighborhood, whose pies have won many local accolades and awards over the years. Baked fresh from scratch every morning, The Yoder's Amish Village includes a restaurant to order dessert from dining in or to-go, as well as a Fresh Market to buy whole pies and take home with you.
Their famous Chocolate Peanut Butter pie continues to be a top favorite for many—packed with a chocolate graham cracker crust, filled with creamy peanut butter custard and sprinkled with candied peanuts to add crunch. But, the list of flavors is truly much longer than that—including 'Cream Pies' such as Banana Cream, Chocolate Cream, Coconut Cream, Fresh Strawberry, Homemade Butterscotch. Other traditional fruit-baked pies include apple, blueberry, cherry, Dutch apple crumb, pumpkin, black raspberry, peach, rhubarb, blackberry and more.
Also located within Pinecraft's Amish neighborhood, you will find the well-traveled Der Dutchman Restaurant of traditional comfort foods and simple ingredients. Offering many of the same cream and fruit pie flavors as its neighbor Yoder's, Der Dutchman also has a few other standouts such as Lemon Meringue, Custard and Southern Pecan. Additionally, the Bananas Foster curves any sweet tooth with a chocolate graham cracker crust, topped with slices of fresh bananas, drizzled in rum caramel and then filled with banana custard and a sweet cream topping.
You can order off the menu within the restaurant or within its takeout counter full of baked goods in the foyer. Hope you plan to save plenty of room from dinner.
Another destination for the famous Florida Key Lime custard, this quaint bakery and gift shop packs a punch—with slices and whole pies of its creamy topping flavored with the real key lime juice, citrusy lime zest and an option for a chocolate lattice topping. In addition, find other tropical flavors like Lemon Beach, Orange Creamsicle, Passionfruit and Coconut, as well as Pumpkin Pecan Streusel and Apple Cranberry with Walnut Streusel.
Floribbean Flo's Tropical Bakery is a great stop—at the storefront location or online–if you're looking to have some pie packaged and delivered locally as a gift.
This flagship, family farmhouse market has five different storefront locations within Sarasota County—all with a great bakery of scratch-made goods. No preservatives, nothing artificial, made with less sugar, free-range eggs and always handcrafted the old-fashioned way. It is said that everything out of the bakery put on the grocery store floor is "Mrs. Detwiler approved." ​The selection is always farm-fresh, seasonal and rotating, so don't hesitate to stop in one of its locations and check out its delicious pie lineup.
With professionally trained pastry chefs and a strong local following of decadent baked goods, you'll find Morton's Bakery within Morton's Gourmet Market in Southside Village. There, you'll find pies beautiful enough to purchase for big birthdays and weddings. Using only the finest ingredients to produce its award-winning desserts, find Key Lime Pie, other seasonal fruit pies, a Strawberry Margarita Pie, Chocolate Cream Pie and more in-house creations that are sure to impress your guests.
Not all pies are meant to be sweet. As the token savory option of pie indulgence, look no further than Bootsy's Pot Pies. Heart-healthy and made from all-natural ingredients, Bootsy's menu of single-serving mini pies include a classic Roasted Chicken Pot Pie but also includes off-the-cuff variants, such as Turkey Chili Pot Pie, Beef Burgundy Pot Pie, Cottage Pie (Angus brisket and chuck), Wild Caught Gulf Shrimp Creole Poe Pie and a Vegetable Medley rendition. Each pie is filled and half-baked to order, then packaged for pick-up with storing and baking instructions. If you are still craving some dessert after your savory dish, try out the Bourbon Sweet Potato Pie, made simply with roasted and mashed sweet potatoes, plenty of Kentucky Bourbon and dolloped with fresh whipped cream.
Bootsy's Pot Pies is currently sold exclusively at Two Chef's On Hillview, a new gastronomy shop on Hillview Street in Sarasota, but as of March, they will also be available at its new production facility.