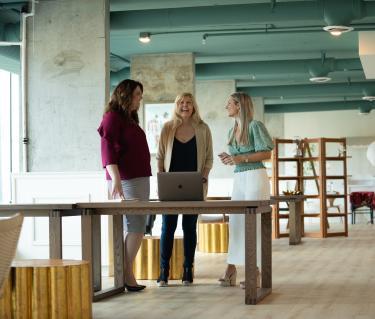 The Perfect Workation
If you were going to choose a place to combine work and play, Sarasota would top almost everyone's list.
With its near-perfect weather, beautiful beaches, cultural and artistic amenities, and wonderful places to stay, Sarasota is ideal for those who will be packing their laptops and cellphones along with their bathing suits and suntan lotion.

Sarasota's hotels offer a variety of amenities for today's business traveler. While most now offer free Wi-Fi and Internet services, in-room desks, and multiple phone lines, many, including the Hyatt-Regency Sarasota, the Ritz-Carlton, Sarasota and Art Ovation, also offer their own business centers with private rooms for meetings, audio-visual accessibility, and more. One hotel has gone beyond offering these services for locals as well as Sarasota's out-of-town guests.
When Monaca Onstad opened her new business, Onplace, she needed space for an office and other amenities without the high costs normally associated with renting an office. What she found was Kompose, a hotel situated on University Avenue, near the Sarasota-Bradenton Airport. "I opened my business about three weeks ago," Monaca said. "I was looking for an office space that had a welcoming common area, private office and conference space. Unfortunately, most of the prices were prohibitive," she said. "And then I found Kompose." Onstad rents space there on a monthly basis, and says she uses her dedicated office there two to three times a week.
Memberships (hourly, daily, weekly or monthly) can only be purchased through liquidspace.com, and include a private office, plus use of all of the hotel's amenities, including the pool, gym, and its wellness and treatment rooms. Hotel rooms, on the other hand, can be purchased online or by calling Kompose at 941-330-1160. "You can tailor it to your specific needs," Onstad explained. "Kompose is a full-service hotel, of course. But if all you need is a quiet place to work, they offer that. If you want to take advantage of their amenities, you can do that, too. Or, if you just need a conference room for a single-day event, that is also available," she said. She added that it is also perfect for travelers with layovers, who can rent a comfortable space to plug in and get some work done while waiting for their next flight.
So, whether you are a local in need of work space with state-of-the-art amenities, or a traveler mixing business and pleasure, Sarasota's hotels offer all the tools and amenities to make your next stay a memorable one.