One Destination for Multiple Generations
Here's how three families describe Sarasota and her islands as a perfect vacation fit for through the years—from children to parents to grandparents!
Longboat Key has always been a timeless catalyst for memory making among vacationers from all over the country. If LBK were a time capsule, it would indeed hold reflections of priceless moments and lifetime events from people that come in as guests, but leave as family.
Below are three such families, who have special history with Longboat, and choose to stay at The Sand Cay Beach Resort every year as their vacation retreat.
The Gilberts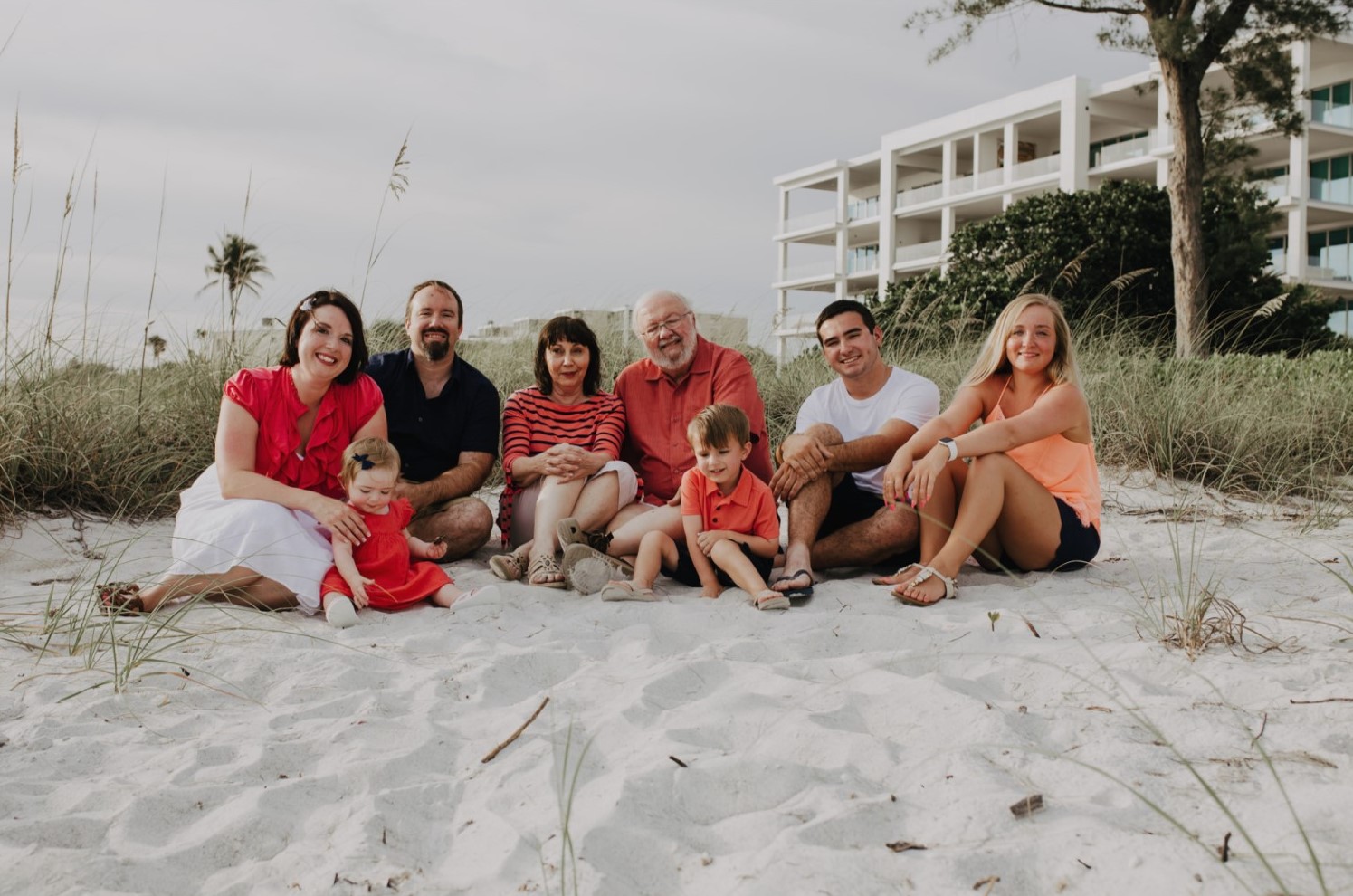 Hailing from Wentzville, Mo., Dan Gilbert, who works in car manufacturing, and his wife Jennifer Gilbert who works for a health insurance company, took their first vacation together, to Longboat Key, as soon as their son Evan turned 1. They headed for Longboat Key with four of five of their children: Lexie (now 24), Dustin (now 21), Libby (now 18), Evan (now 5), and later Savannah (now 3).
"We found Longboat Key after looking for hours for a place to stay, and we loved the views the condo provided as well as the beach access."
Family Bonding
"I loved Evan getting to work on trains with his grandpa and burying Dustin in the sand. Dan and I make the dinner cruise on Sarasota Bay a MUST date night. We also enjoy shopping in St. Armands Circle and a visit to the Mote Marine Aquarium. Dan has recently started building train sets with his dad and we brought this project on the trip up with us!"
As far as restaurants are concerned, the Gilberts swear by the Old Salty Dog (as you head into St. Armands and Sarasota) home of the famous "Salty Dog Special", Wicked Cantina, and, of course, breakfast at the Blue Dolphin.
A Word to the Newcomer
"I would say just soak in every minute together," says Jenny Gilbert. "Evan still talks about his 'beach house' and the time we were all together on the beach. When I'm having a rough day, I close my eyes and imagine I'm at sunset watching the waves come in."
See you Soon!
This latest trip included three generations of Gilberts!
"Hopefully. we will try and come back in October and just spend some time together before everyone goes in their separate directions. Making memories that are forever in your mind are worth every penny."
The O'Conners
With four generations of family members staying on Longboat Key, the oldest born in 1924 and the youngest born in 2017, the O'Conner's agree the island "Has the right mix of getting away from it all, yet provides the excitement of fun activities and events, if you prefer."
Originally from Cincinnati, Ohio, Adele O'Conner spent her adult life in Columbus. She discovered Longboat Key in the early 70s, when she and her then-boyfriend (who later became her husband) stayed at Lido Key, and based on a friend's recommendation, they explored Longboat. They eventually spotted Sand Cay during a beach walk.
"It was as beautiful then as it is now," says Adele.
What makes them keep coming back?
"The beauty and tranquility of the Gulf waters and beach, together with outdoor activities that our entire family has enjoys."
So Much to Do
"Our favorite restaurants include the Blue Dolphin, Oma's, Columbia, and Drunken Poet Cafe. We also frequent the parks on a daily basis, both Bayfront Park and Joan M. Durante Community Park. We frequent St. Armands Circle for shopping and dining and Ed Smith Stadium for baseball. Spring training games are also family favorites. Over the years, we have chartered fishing boats, gone sailing, and jet skied!"
Most Memorable Moment
"My favorite memory is watching our kids play with the other kids they met during our vacation. This went on for many years since most of the kids had the same spring break year after year. Now I see our grandchildren meeting other kids at the beach to build sandcastles and play."
Adele's word to the Longboat Key newcomer, "The best times to visit Longboat Key are in the Spring and Fall. But book early!"
What's most valuable on vacation?
"With a limited number of vacation days due to school and/or work, the ease of getting to the destination is valuable. Sarasota Bradenton International Airport has added new carriers in the past year, Allegiant and Southwest, and it is an easy airport to navigate."
The Dammanns
Steve and Sue Dammann first met one night at a company meeting on Longboat. Sue worked for the company's owner, and Steve worked for an office in a different state. Little did they know that night that they would soon plant their toes on the island's sandy beaches on a more permanent basis.
"Our first visit was in the 80s. We came back in the 90s, stayed in second floor unit again and during that visit Steve asked me to marry him, out on the beach."
With two (now adult) sons, and several grandchildren, the rest is history!
The Start of a Tradition
"Our oldest son and his wife and daughter came to visit us during a stay during the 90s. Their daughter was barely walking and ventured onto the beach and stopped when the water tickled her toes. She loved it. She's now 27 and has been back every year since."
The Dammanns have two sons, one lives in the Houston area and the other son lives in Iowa. "All grandkids have come to Sand Cay in their first year of life and every year since, the youngest is now 16 and the oldest is 30."