New Things to Try in Sarasota in 2021
Whether visiting for the first time ever, or the first time in a while, this guide features new experiences each visitor will enjoy!
Beyond Sarasota County's 35 miles of coastline lies a haven of arts and culture, eclectic events and exquisite dining. The various cities along Florida's Gulf Coast® are as unique as the different sands on each shore. Start your journey with the county's staples – downtown Sarasota, Siesta Key Beach, and the City of Venice – but note, even those have changed a bit. Then, traverse new developments, such as the Rosemary District and the Atlanta Braves CoolToday Park Spring Training facility in North Port. You will quickly discover there's a variety of new ways to experience Sarasota County.
Arriving at Your Destination
Arriving and departing Sarasota County has never been easier. Sarasota-Bradenton International Airport (SRQ) offers 40+ nonstop flights in the U.S. and Canada. The size and layout of SRQ is advantageous, allowing passengers to efficiently transition from the parking lot to the aircraft in a clean and safe environment. There is no need to take a shuttle, train, or walk long distances in a crowded environment.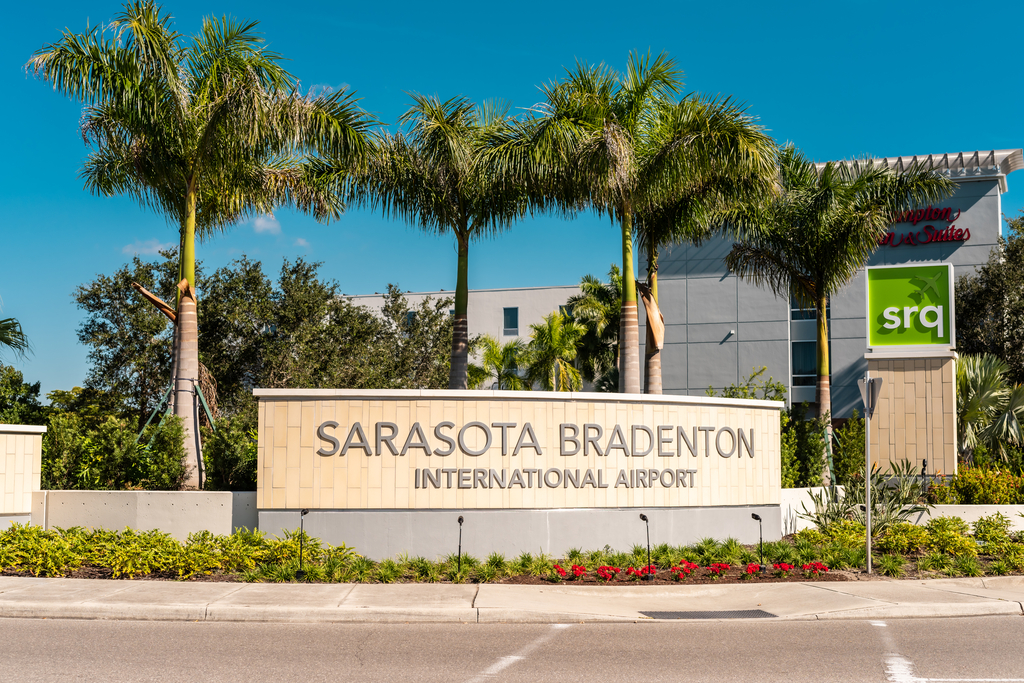 As of Feb. 2021, you can arrive at or depart from SRQ via Southwest, sealing our local airport as a top choice for air travel. In late 2020, the airline announced SRQ as a hub, along with several initial nonstop daily routes, including Atlanta, Baltimore/Washington, Chicago (Midway), Columbus, OH, Houston (Hobby), Indianapolis, Nashville and Pittsburgh. The number of seats, days, and markets for these fares are limited. See a full list of fares, fare rules, and terms and conditions below and at Southwest.com.
You'll also notice it's easier to drive or walk in the downtown corridor, along U.S. 41 thanks to the U.S. 41-Fruitville Road Roundabout. It was completed recently, and is now in use. This enhancement improves connectivity, access, and safety for pedestrian, bicycle and vehicular traffic flow and operations between downtown Sarasota and the Bayfront area.
Just Like New: Places to Stay
Sarasota is no stranger to exceptional accommodations. When every room has a view of clear skies and stunning sunsets, it all comes down to the details. And trust, the following lodging options paid great attention as they revamped Sarasota staples and added to the portfolio.
Lido Beach Resort is considered the most luxurious resort in Lido Key, after completing a major room renovation in all 223 rooms and suites. Additionally, the corridors of both towers were renovated, as well as the 24-hour fitness center. Plus, now, select guest rooms and suites are pet friendly welcoming up to two dogs per room.
Renovations were also recently completed at The Resort at Longboat Key Club, a well-known and popular accommodation located on the beautiful coast of Sarasota County and Condé Nast Traveler Readers' Choice Awards Winner.
Baseball fans will consider the brand-new Hampton Inn & Suites North Port a home run. It features 100 modern and spacious rooms and amenities including an outdoor recreation area, heated pool, beautiful firepit for enjoying the evenings and an onsite bar, the Cocoplum Lounge. Located approximately 5 miles from the Atlanta Braves Spring Training Facility, CoolToday Park and also offering 1,500 sq. ft of meeting space. Hampton Inn & Suites North Port is part of the Hilton CleanStay program.
And though it's not "hot off the press", The Sarasota Modern – located in the up and coming Rosemary District - is still fresh in our minds. This luxury boutique property features minimalist design, artistic flair and three pools. It opened in late 2019 and recently designated with 4 diamond status.
Arts & Culture Attractions Abound
Known as Florida's Cultural Coast®, Sarasota has the only professional ballet, opera and orchestra on Florida's west coast, alongside more than 13 stages and the State's Art Museum, The Ringling. It's also known for the sheer quantity of arts and cultural organizations, which are constantly pushing the limit and transforming to meet consumer demands.
One such organization is the Sarasota Art Museum. The Ringling College of Art + Design opened the region's first museum dedicated to contemporary art by transforming Sarasota's old, historic collegiate-gothic style high school into a state-of-the-art visual arts destination. To sweet the deal, Sarasota Art Museum recently opened Bistro, led Executive Chef Kaytlin Dangaran.
Though their season is virtual at this point, the transformation of the Westcoast Black Theatre Troupe's Theatre Center cannot be forgotten! It was completed in January 2020, but hardly showcased since. Down in South County, Venice Theatre announced the purchase of the 9,518-square-foot Arts Education Building, formerly the City of Venice's Hamilton Building. And, a new community game has launched: Shark Spotting Public Art! Venice Shark Spotting is an interactive public art installation featuring bronze sculptures of 10 shark species native to the area's waters.
On view exclusively at Marie Selby Botanical Gardens' Downtown Sarasota campus from Feb. 13-June 27, 2021, Roy Lichtenstein: Monet's Garden Goes Pop! will showcase the legendary Pop artist's take on several staples of the public imagination: Monet's paintings of his garden and environs at Giverny. The display of these large-scale, rarely seen prints will be accompanied by a complete transformation of the Downtown Sarasota campus's 15 acres into Monet's garden at Giverny – as imagined through the aesthetic of Lichtenstein.
What's Fresh in #SarasotaNature
You can enjoy the outdoors however you'd like. Whether lounging, dining or on an excursion, Sarasota County has ample opportunities to experience Sarasota nature.
Most notably, you should download the new Sarasota Beach Pass on the Visit Sarasota County app to discover lesser-known beaches in the area and win exclusive prizes! If you enjoy walking, jogging, or biking, check out The Legacy Trail . It's currently undergoing an extension project of 7.5 miles – though the current trail is open and accessible.
On the water, The Bay Sarasota project is moving right along and the western portion of the revitalized Mangrove Walkway is now open! In addition to beautiful new landscaping, new benches were recently installed along the northern part of the walkway. Since construction is still ongoing on the eastern part of the bayou, we're encouraging visitors to stay on the designated pathways. Download the latest walking map here.
Another feature off the coast is down on Venice Beach. An ADA mobility mat that provides access for citizens in wheelchairs and scooters was installed at the beach recently. The mat is constructed with a 6-foot wide by 76-foot long section of AccessMat® followed by a 10-foot by 12-foot AccessDeck® platform.
Over at Marie Selby Botanical Garden's Historic Spanish Point campus, the region's only Butterfly House opened, providing an interactive attraction with colorful native Florida butterflies and their favorite flowers. More than 160 butterfly species breed in Florida, and about 200 species migrate through the state. Many butterflies in Florida aren't found anywhere else in North America. Species that might be spotted in the Butterfly House and the Sunshine State include the cloudless sulfur, giant swallowtail, Gulf fritillary, monarch, orange-barred sulphur, and the zebra longwing (the Florida state butterfly).
Wild Kratts®: Ocean Adventure! – an interactive exhibit based on the popular top-rated PBS Kids TV series "Wild Kratts®" – will be featured at Mote Marine Laboratory & Aquarium from Jan. 30 through June 6, and is included in your admission! Children and their families will join the Wild Kratts team to solve problems, help marine animals, discover incredible creature powers, and go on a mission to foil the villains' nefarious plans in this immersive, interactive exhibit. Like every exhibit at Mote, guests will leave with a greater understanding of the role they can play in protecting our ocean ecosystems, while having some fun along the way.
The Circus is Always in Town
Famously renowned as the historical winter home for the Ringling Bros. Circus, visitors can check out The Ringling Circus Museum. You can also train to be in the circus at the The Circus Arts Conservatory, which recently completed a multi-million-dollar renovation. CAC combines professional circus performances, youth training and community outreach, and offers public classes in flying trapeze, aerial silks and other teambuilding activities.
New Sensations for Your Tastebuds
Home to award-winning and legendary restaurants, Sarasota County is brimming with culinary experiences. From outdoor dining, fresh, local seafood to authentic Amish cuisine and new restaurants popping up monthly, you're sure to dine in style as our restaurants overlook beaches, skylines and downtowns, and our many food and wine events are accompanied with local brews and craft cocktails.
Get coastal views, vibes and cuisine at Drift Kitchen & Bar, Lido Beach Resort's newest restaurant on the 8th floor. It's a brilliant option for a more formal meal and boasts 180-degree floor-to-ceiling views of the beautiful Gulf.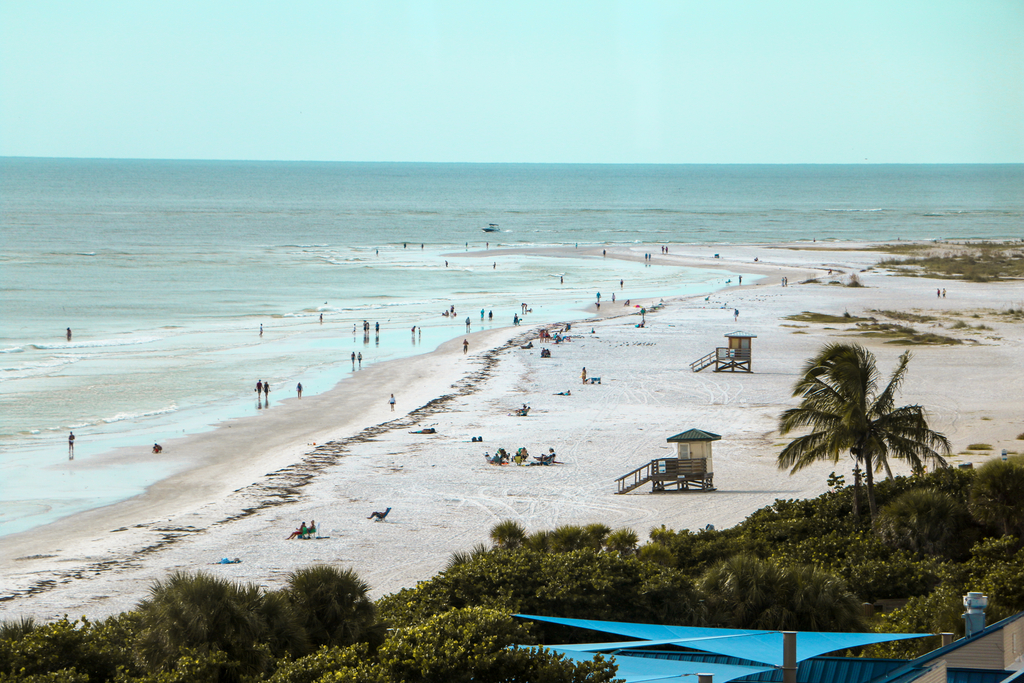 Check out two of Sarasota's classics, which were both recently reinvented, Libby's Neighborhood Brasserie's on Hillview and Clasico Italian Chophouse downtown. While the old concepts were fantastic, the updated versions are superb!
Downtown also welcomed Circo, a new funky taco & bourbon joint, its neighbor SoFresh, a Florida franchise known for fast-casual yet healthy "fuel," and Waters Edge Winery & Bistro. Element steak. seafood. pasta. has re-entered the scene after being purchased and rebranded by Michelle Schlingmann, and over on State Street, Rise Coffee Co. & Nye's Cream Sandwiches - and its extraordinary staff of people with intellectual and development disabilities - is being welcomed to the block!
And since you know how much Sarasota loves to eat local, we're pleased to share Detwiler's Farm Market, a locally owned grocery store chain, opened its fifth location in south Sarasota.