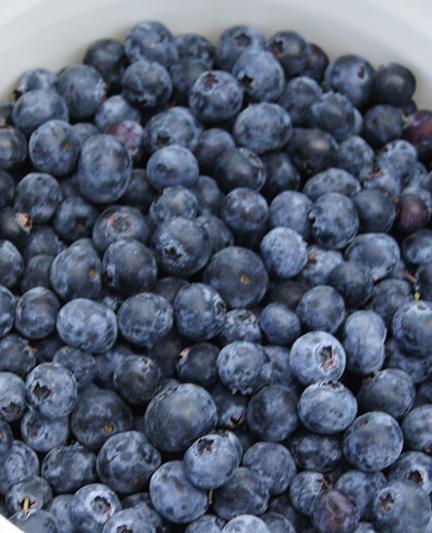 It's Florida Blueberry Season!
Florida's Fresh Blueberry Lemon Bundt Cake
It's Florida blueberry season and an ideal time to bake a Fresh Blueberry Lemon Bundt Cake. Sarasota's Farmers Markets and grocery stores are now showcasing Florida's petite berries picked and delivered daily.
While blueberries have grown wild in Florida for hundreds of years, it is only in the last several decades that farmers began commercially cultivating the crop. With a growing national consciousness in healthy eating, blueberry production in Florida has climbed significantly.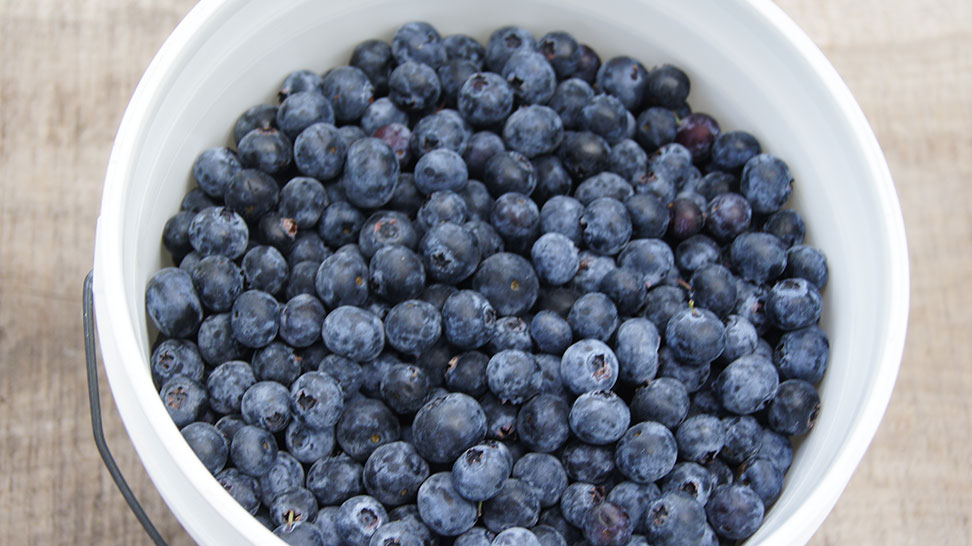 Florida's temperate weather and bright sunshine allows farmers to haul in this early spring crop to serve all who love the fresh, delectable berries. But don't wait long, the season is short but oh, so sweet!
Not only are the cake's fresh blueberry and lemon flavors a delight to savor while enjoying this sweet treat, but it also has a real "wow" factor with an eye-popping presentation. Topped with a lemony icing this showstopper will make the family feel like they have dined at a five-star restaurant.
Locally, O'Brien Family Farms has blueberry bushes on the property for fresh picking for you to pick your own in the Florida sunshine. The farm gladly provides a bucket and instructions for a berry nice day.
Florida Blueberry Lemon Bundt Cake Recipe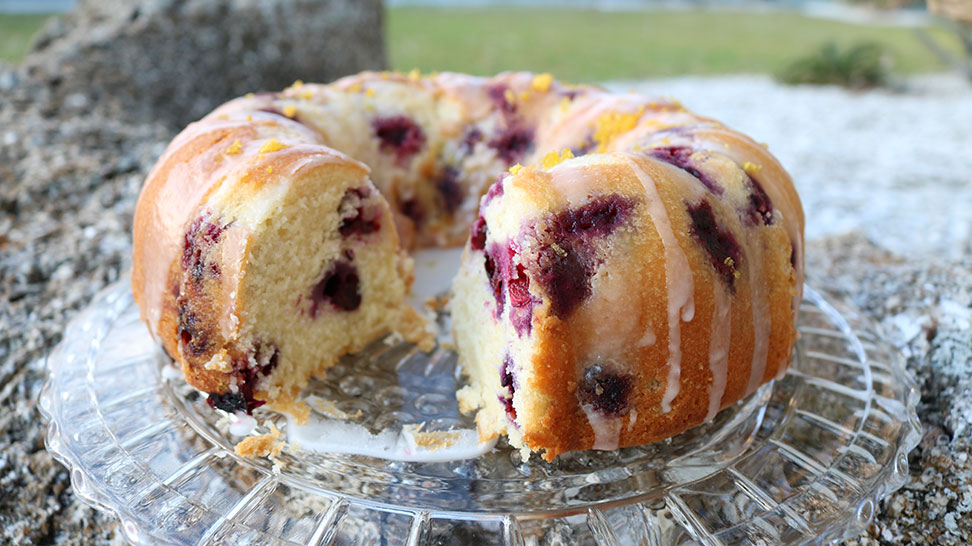 Prep Time: 20 minutes
Servings: 16
Ingredients
Dry Ingredient Mixture
2 ¾ cups of all-purpose flour
1 ½ teaspoons baking powder
¼ teaspoon baking soda
¼ teaspoon salt
Wet Ingredient Mixture
1 cup (2 sticks) unsalted butter, at room temperature
1 ¾ cup sugar
4 eggs
2 Tablespoons lemon juice
1 Tablespoon lemon zest
1 ½ teaspoons vanilla extract
More ingredients
1 cup buttermilk
1 ¼ cups of Florida blueberries
4 medium lemons total (for cake and glaze)
Equipment
Mixer
2 medium bowls
1 rasp, or grater for zest
Glaze Topping
1 ½ cups of confectioners' sugar
6 to 7 teaspoons of lemon juice
1 Tablespoon corn syrup
Lemon zest for garnish
Steps for Cake Recipe
Heat oven to 350 degrees.
Butter and flour a 12-cup bundt pan.
Prepare Dry Ingredients
In a large bowl whisk together 2 ¾ cups of flour, 1 ½ teaspoons baking powder, ¼ teaspoon baking soda, ¼ teaspoon salt. Set aside.
Prepare Wet Ingredients
In another large bowl, using a mixer, beat room temperature butter until smooth.
Add 1 ¾ cups sugar and beat for 2-3 minutes until fluffy. Beat in (4) eggs, one at a time, beating well after each. Add 2 Tablespoons of lemon juice, 1 Tablespoon lemon zest and 1 ½ teaspoons vanilla and beat until combined.
Combine Dry, Wet Ingredients and Buttermilk (Alternating Each) by following these instructions:
Begin adding some of the dry ingredient mixture into the wet mixture, alternating with buttermilk, beginning and ending with the dry ingredients. Beat for 2 minutes on medium high.
Fold in blueberries.
Spoon into the prepared bundt pan.
Bake at 350 degrees for 50 minutes or until inserted toothpick in the center of the cake comes out clean.
Cool on a wire rack for 20 minutes.
Run a sharp knife around edges of the pan.
Cool completely.
Making the Glaze
In a small bowl, mix together 1 ½ cups of confectioners' sugar, 6-7 teaspoons of lemon juice and 1 Tablespoon of corn syrup until smooth. Drizzle over the top of the cake and let it roll down the sides. (If the glaze is too thick add more lemon juice and mix.)
Recipe adapted from FamilyCircle.com
Sarasota native Robin Draper is a columnist, author and owner of the award-winning "Blog of the Year" and "Best Travel Blog" website, AuthenticFlorida.com, a travel and lifestyle blog devoted to the simple and delightful pleasures for Florida living.