It's Easy Eating Green in Sarasota
For health conscious diners eating out can often be a challenge, but not in Sarasota.
Sarasota has a wide selection of restaurants that cater to vegan, vegetarian and gluten-free diners. Even if you aren't a vegetarian, but want to enjoy fresh healthy cuisine created by chefs who specialize in the artful fare, you're in the right place.
To help guide you through a selection of fresh food eateries, here are some choices for your next "eating green" dining experience:
Lila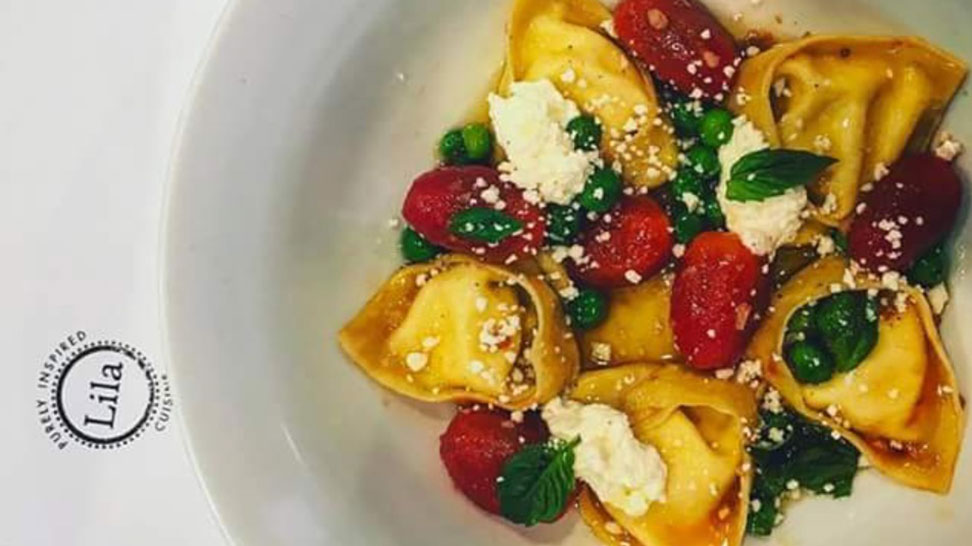 Located on Main Street in the heart of Sarasota's downtown, Lila (pronounced lee-lah) is a vegan friendly restaurant. The fun, contemporary and creative vibe suits this casual eatery that takes pride in its healthy selection of vegan and vegetarian entrees. Vegetables are the star attraction with seasonal menu offerings and favorites including the Vegetable Burger, Quinoa-Sweet Potato Wedges, and the Macro Bowl with chickpeas, sweet potatoes, seaweed, and sauerkraut topped by a tahini vinaigrette. Lila also has non-vegetarian alternatives for seafood and meat lovers.
Ionie Retreat and Raw Food Café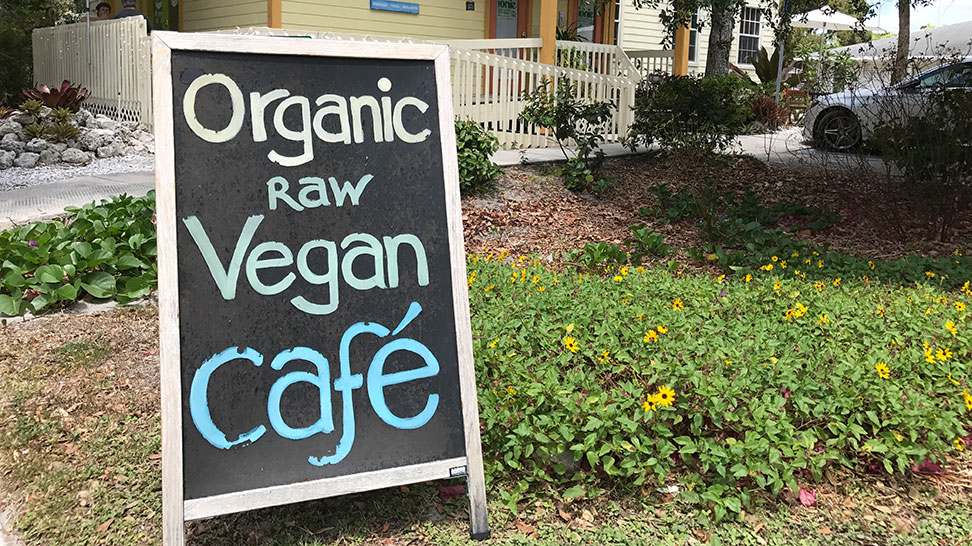 Located on Fruitville Road in downtown Sarasota, Ionie is more than just a restaurant. Situated in a home that is both a cafe and spa, it provides a place where you might want to combine a special day of relaxation with a healthy meal. Ionie's Raw Food Cafe is an intimate eatery with seating indoors and outside specializing in organic, raw food and vegan food. Fresh juices range from carrot juice to Ionie's Assunta, containing a mixture of apples, lemon juice kale blended with spinach, banana and kiwi. For lunch try the Buddha Bowl, the Kelp Pesto or the Lasagna creatively made with zucchini pasta, tomato marinara, spinach and pistachio pesto.
Beauty of Sprouts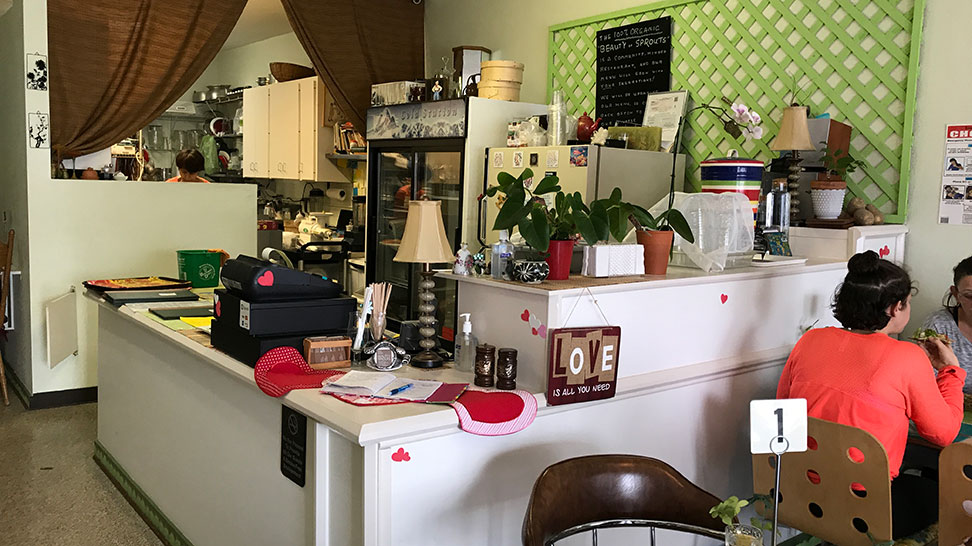 Also located on Fruitville Road in downtown Sarasota, Beauty of Sprouts might be easily overlooked, but you will want to find it. Situated amongst eclectic home and consignment shops, this small specialty cafe is owned by Chef Rano who has created homemade dishes that are primarily raw, vegan, soy and gluten free. Russian born Rano is an award-wining professional chef who makes her own Kombucha, Turmeric Tea, Spring Rolls, Gazpacho Soup, Kale Pizza, Taco Salad, and Pad Thai with kelp noodles. Follow the fresh flavorful meal with a dessert of Lavender Crème Brulee or the Chocolate Bliss.
Green Zebra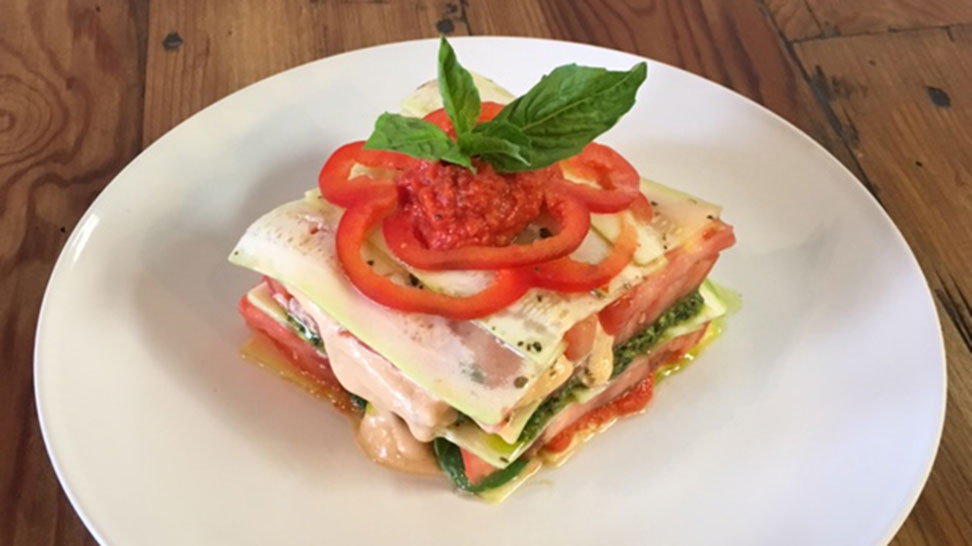 Located on St. Armands Circle, the family owned Green Zebra Restaurant is a welcome haven for the vegetarian. Wander over to the café after a trip to the beach or a shopping spree. The extensive chalkboard menu offers a wide range of healthy choices. Begin with the drink selection of cold pressed juices, blended smoothies, wellness shots and elixirs. Follow your healthy drink with a variety of gluten free, dairy free and vegan options including organic salads, sandwiches and raw entrees. Locals rave about the Rainbow Kale Salad, the Raw Taco Salad and the Raw Tuscan Lasagna.
Simon's Coffee Shop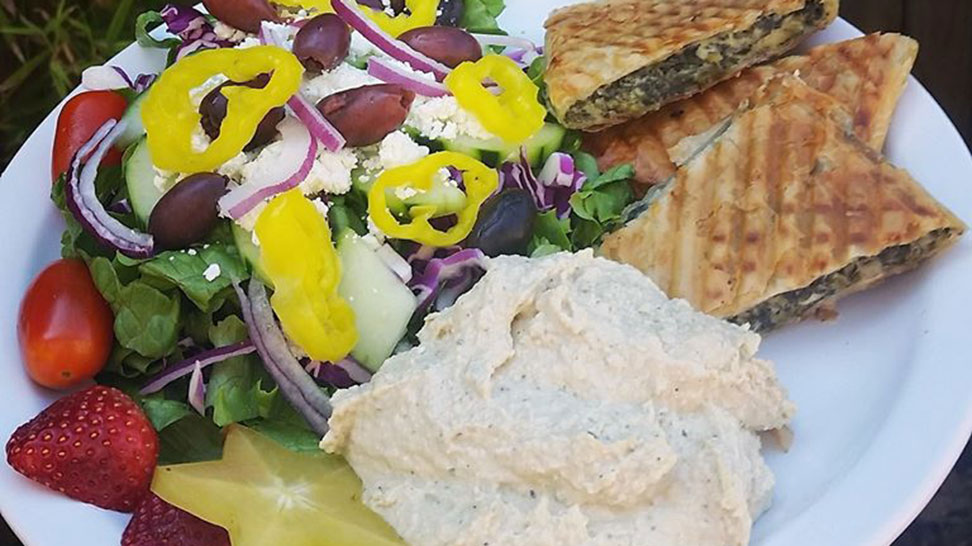 Located in Sarasota off South Tamiami Trail (U.S. 41), the family-owned Simon's Coffee Shop serves much more than coffee. Simon's has been serving healthy foods for 16 years and has become a second home to many guests while serving freshly prepared food daily. But it's the signature warm welcome extended by the family that greets those who dine here. Offering quality beverages and meals, Simon's is best known for the variety of in house prepared meals with rotating daily specials and homemade soups. Folks rave about the Tex Mex Burger (a black bean burger), the Zorba the Greek (Spanakopita and salad) and the Krishna Panini (roasted veggie sandwich, Indian spices).
Veg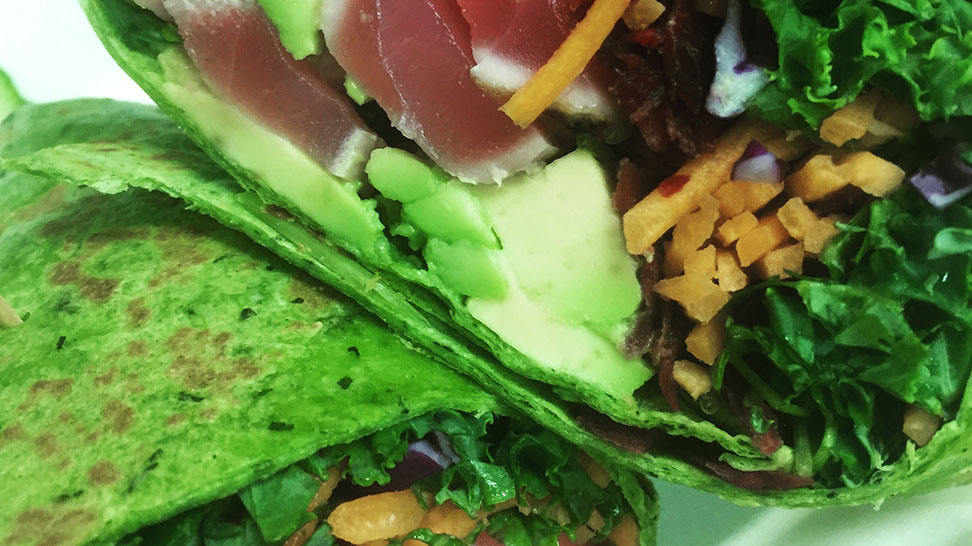 Located in Sarasota's Gulf Gate district (south of Clark Road), Veg has been the go-to vegetarian restaurant for many healthy diners. Catering to vegans and gluten free fans, patrons can enjoy the daily specials of soups, sandwiches, wraps and fish dishes. The Ahi tuna wrap, kale salad and fish tacos are customer favorites. But the Veg Burger and the Vegan BBQ Jackfruit Brisket keep them coming back for more. Whether vegetarian or not, everyone will find a made fresh to order dish at Veg.
Café Evergreen
Located in Nokomis south of Sarasota, Café Evergreen is situated in the 1923 restored post office and bank building. While known for many dishes, it seems that patrons can't get enough of the café's unique beverages that include the Water Kefir drinks, the Evergreen Smoothie and summer coolers made from fresh watermelon. The Café menu changes with the season but the restaurant has developed a reputation for the Vegan Kelp Noodle Stir Fry, the Avocado Sliders, the gluten free Mac'n'Cheese and the house made onion bread. The restaurant offers meat options including the Reuben with house baked Corned Beef.
Healthy on the Go
You can also get healthy takeout food at the local Whole Foods Market and Sprouts Farmers Market, grocery stores specializing in healthy items to take home. And two additional cafes offer quick snacks and juices for carry out:
Nutritious You
Located on Siesta Key tucked into the Southbridge strip mall, Nutritious You offers take out products and plant-based goodies including Cheezy Kale chips, Sweet Beet crackers and Peanut Cacao Energy bars.
CROP
With three locations in Sarasota CROP is all about cold-pressed raw organic produce, where artisan juices are handcrafted daily creating immune-boosting power drinks for the health conscious.
Sarasota native Robin Draper is a columnist and owner of the award-winning "Blog of the Year" and "Best Travel Blog" website, AuthenticFlorida.com, a travel and lifestyle blog.