Hotel & Resort Stays in Siesta Key
Twelve beachfront hotels and resorts to stay just steps from the No. 1 Beach in the U.S.
Dreaming of visiting the '#1 Beach in America'? Siesta Key gets a lot of hype in travel accolades—ranking highly year after year by renowned coastal experts and worldwide travelers—but once you're here, it's easy to see why.
With sugar-white sands, crystal clear water, an electric Siesta Village of shopping and dining, a weekly drum circle on Sundays to dance along with the locals, free yoga on the beach, a local farmer's market, year-round sunshine, watersport activities and rentals galore, waterfront dining and resorts built for relaxation, it really is the perfect vacation destination.
With lots to do, it's only fitting Siesta Key has ample places to stay. From tropical villas and boutique bungalows to luxury high-rise hotels and amenity-filled beach resorts steps from the sand, Siesta Key's packed with plenty of lodging for your next getaway.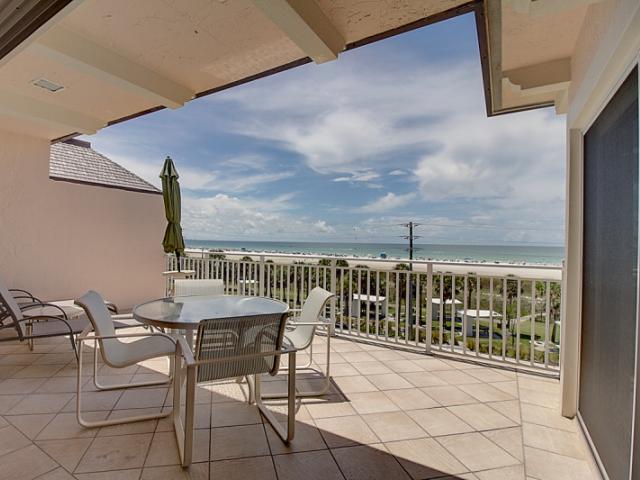 With all beach equipment (including a beach cart) included, enjoy also a heated pool and spa, barbecue, laundry lounge and sky deck. Located at Siesta Key Beach access #7, the Sunset Royale is just 100 yards from the beach and one block from Siesta Village. 711 Beach Rd. #412, Sarasota, 941-548-6001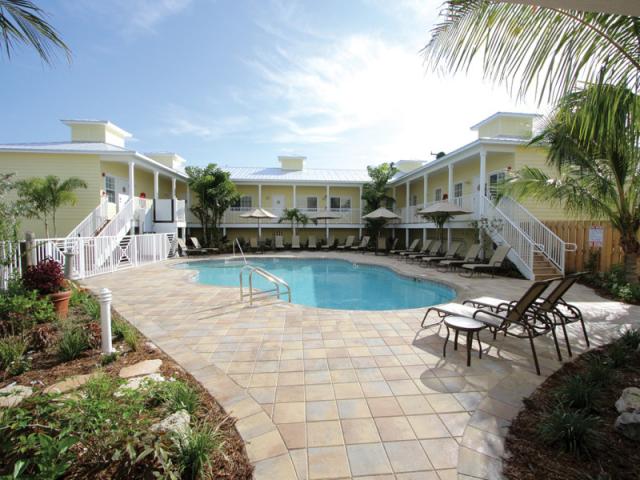 Featuring modern decor, mixed with the youthful attitude of this world-famous destination, the Beach Club is a chic resort option and one of the most desired accommodations on Siesta Key. Each unit features a full-size kitchen, large flat-screen TV and a family-friendly atmosphere. 6732 Sarasea Circle, Sarasota, 941-552-9810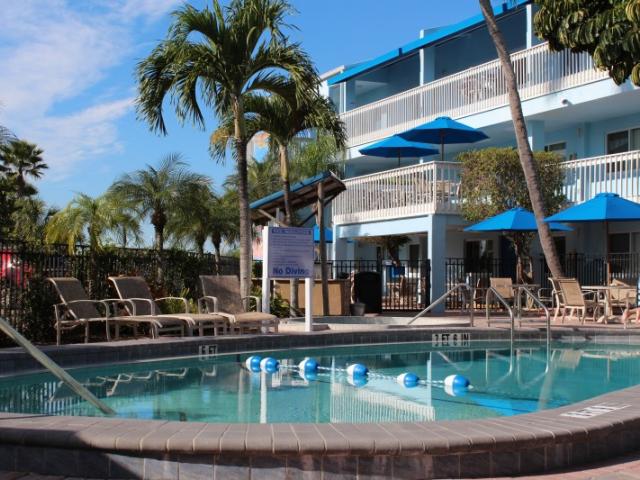 Situated directly on Crescent Beach, Sea Club offers a friendly and homey atmosphere that is relaxing for adults and safe for children. Many a child have taken their first "sea-bath" here. A spa is on-site for guests to take advantage of, as well as bicycles, kayaks and paddleboards for rent. 6744 Sarasea Circle, Sarasota, 941-349-1176
In a lush, tropical setting, the Palms Hotel is a true oasis and fully renovated retro hotel, featuring modern amenities while keeping its historical mid-century integrity and charm. All rooms are accessible from open-air outside walkways and feature private garden courtyards. There is also two outdoor pools, fire pits, tiki torches, hammocks, a BBQ grill area and "chill sections" throughout with hanging day beds. 1800 Stickney Point Rd, Sarasota, 941- 786-4778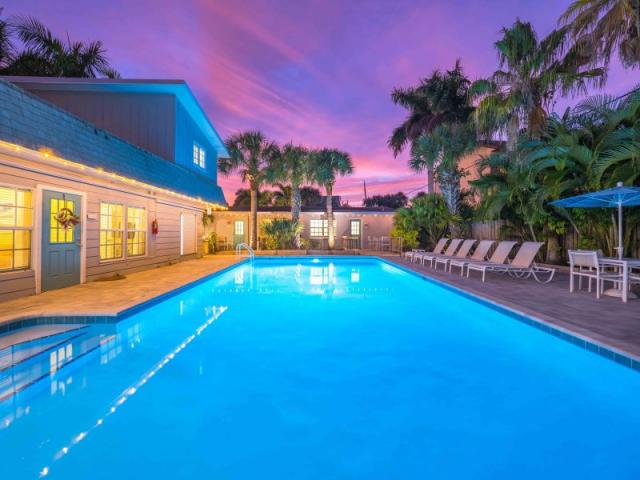 These breezy cottages are designed to give you a personalized feeling from studio size to four bedrooms. If you're looking for a little slice of old Florida charm situated just 100 yards from Turtle Beach, then look no further. The Cottages is the perfect spot for romantic getaways, family vacations, reunions, weddings and more, with beautifully renovated units that are also dog-friendly. 1105 Point of Rocks Rd, Sarasota, 941-346-0113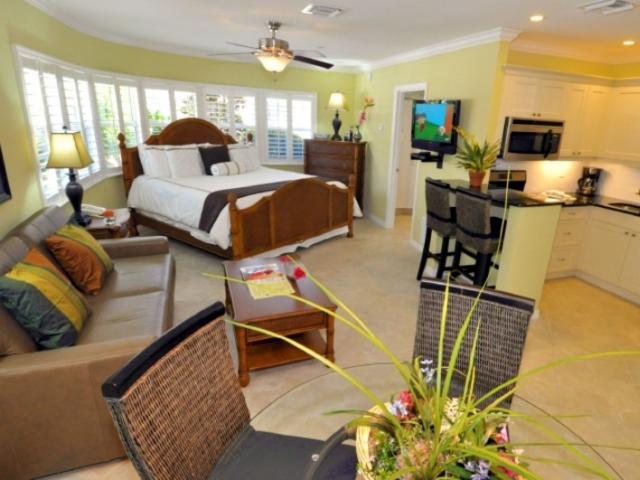 A comfortable yet stylish collection of properties just a short walk from Siesta's shores. While none of the units overlook the gulf, they each offer a colorful garden view while enjoying the fresh Florida air from your own outdoor seating area. Choose the room that matches your budget and meets your needs, from stylish smaller floor plans to luxurious spacious one- or two-bedroom suites. 6717 Sarasea Circle, Sarasota, 941-349-3330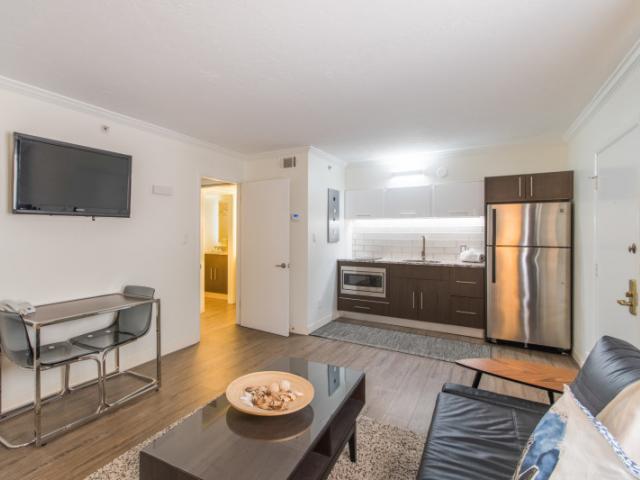 This upscale condominium hotel is just four blocks (3/4 mile) from Siesta Key Public Beach. Featuring a Spanish-tiled roof the Hibiscus Suites offers an 85-degree heated tropical pool with lounge chairs for sunbathing bliss, breakfast, barbecue grills, laundry facilities and daily newspapers, Hibiscus Suites is a great choice for tropical beach lovers. 1735 Stickney Point Rd, Sarasota, 941-921-5797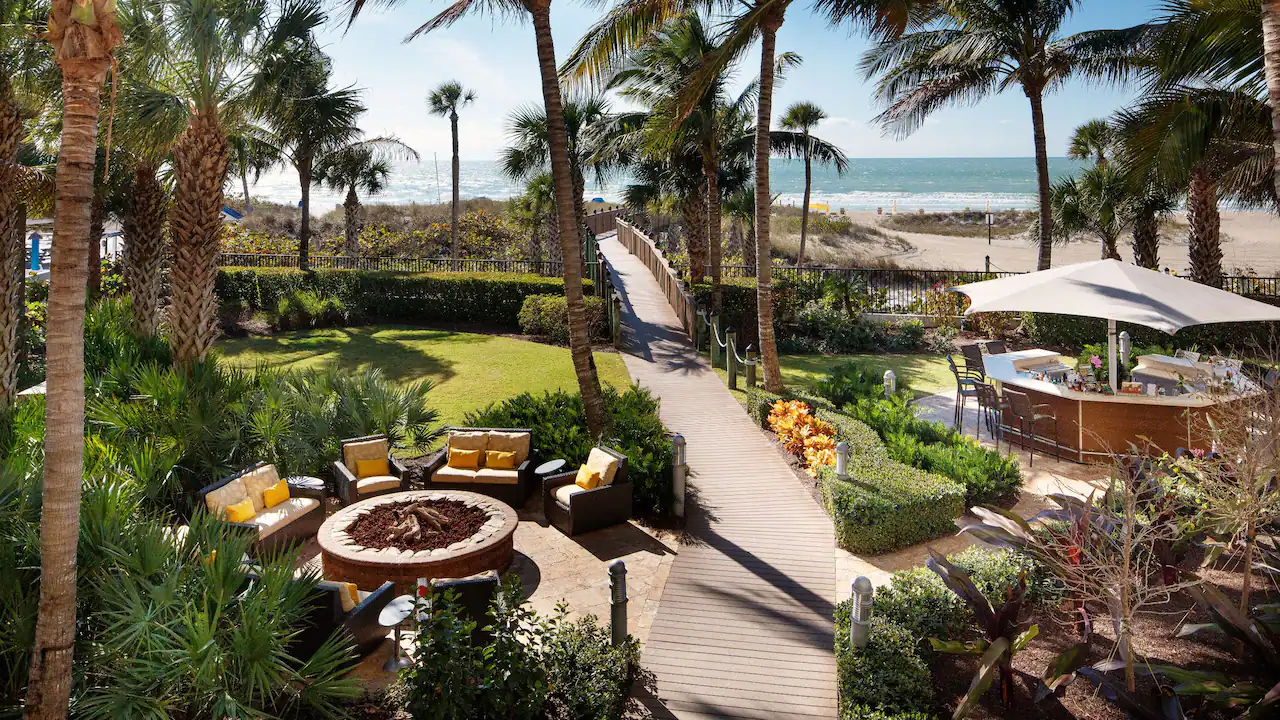 Bask in sophistication at a prized Siesta Key destination hot spot. Set on Crescent Beach, this seaside sanctuary by Hyatt offers front-row cabanas to recreation amid the Gulf of Mexico just steps away from its entrance. Each of its condos offer a spacious floor plan with multiple bedrooms, spa-like bathrooms and luxurious amenities. 915 Seaside Dr, Sarasota, 941-346-5900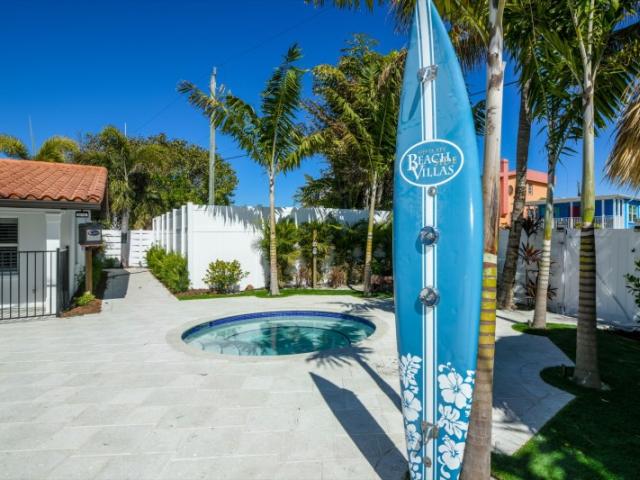 One of Siesta's newest boutique hotels, enjoy being right in the heart of the Village and steps from the Gulf. Boasting a tropical open-air vibe, zero entry pool with fountains of fun, charming tiki huts everywhere and more, Siesta Key Beach Resort & Suites is a great family-friendly and pet-friendly option. 5311 Ocean Blvd, Sarasota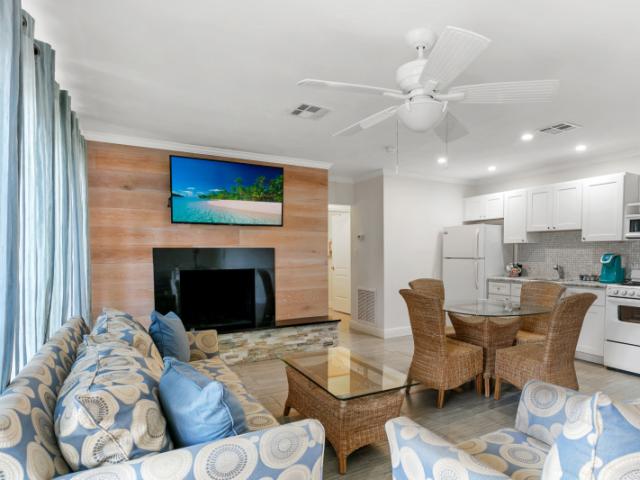 Welcome to a paradise where bliss surrounds you in the form of serenity, sunsets and the shore. Relaxation awaits you under a tiki hut or on a hammock at the Beachside VIllas. Lounge by the pool or walk one block to Siesta Public Beach or the Village. 124 Columbus Blvd, Sarasota, 941-203-5985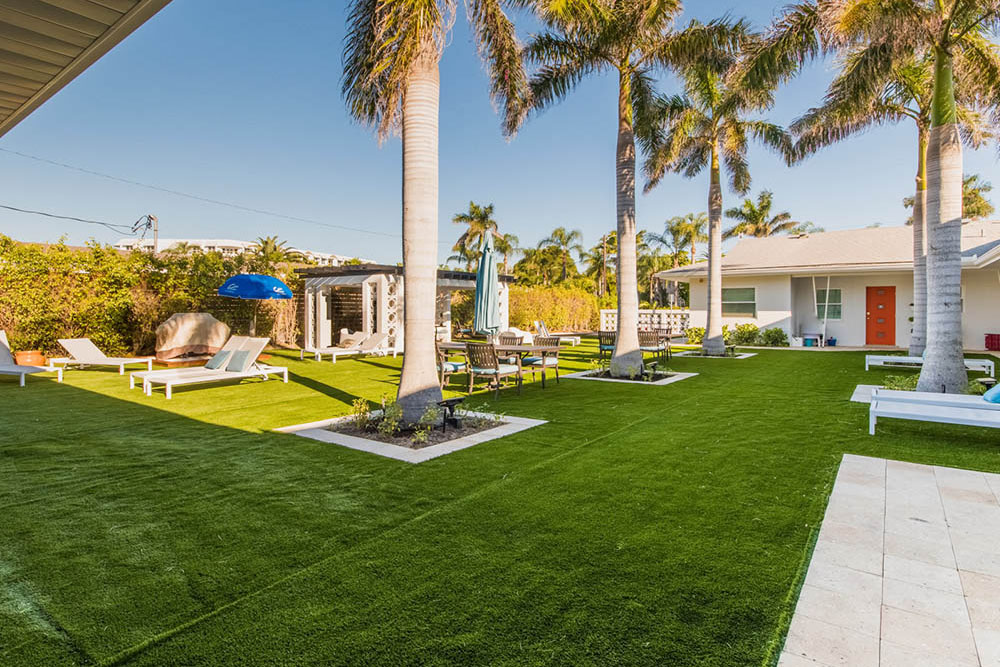 With a mid-century modern boutique-style decor, enjoy a go-at-your-own pace tropical paradise close to Siesta Key's Crescent Beach community. Captiva includes 20 newly renovated rooms and guest suites with full kitchens and living areas as well as a pool and outdoor space for lounging and games. 6772 Sarasea Circle, Sarasota, 941-349-4131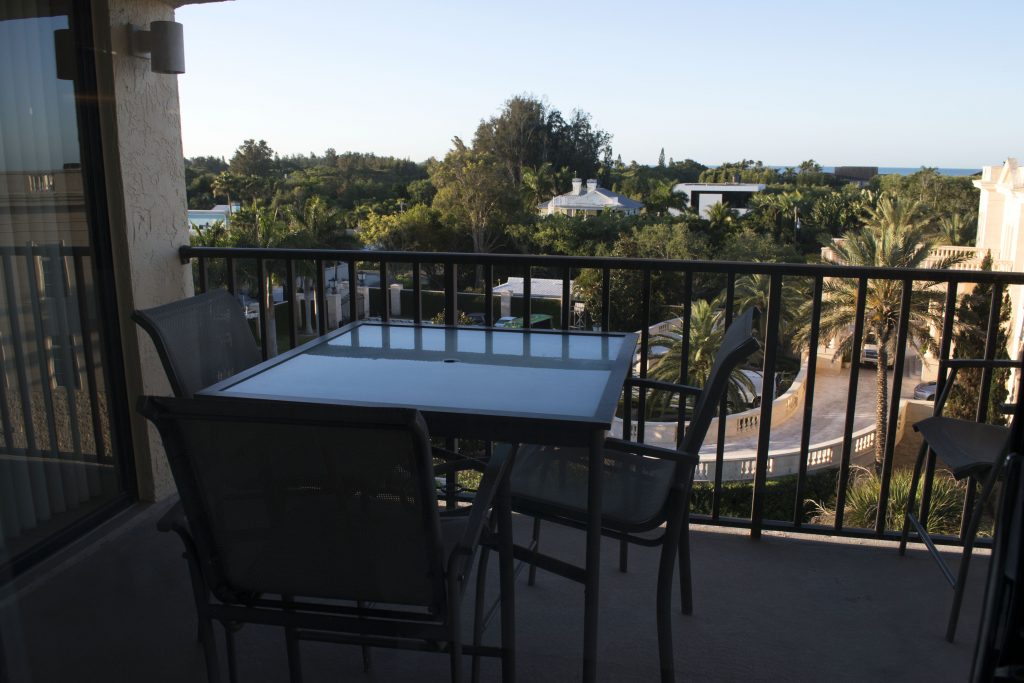 Located directly on Crescent Beach's quartz-white sands, spend your days soaking up the sunshine and swimming in the Gulf of Mexico or swimming in one of the resort's two outdoor pools. Enjoy a gas grill by each of the pools, an outdoor tiki/TV room, a fitness area and fire pit to gather with friends. 1001 Point of Rocks Rd, Sarasota, 941-349-8061
Though not located in Siesta Key, this Best Western is just one mile from Siesta's beautiful beaches and offers an outdoor pool and hot tub. Enjoy a complimentary hot breakfast each morning, as well as a free shuttle service to Siesta Key every day with Jonny's Original Free Ride. 6600 S Tamiami Trail, Sarasota, 941-924-4900