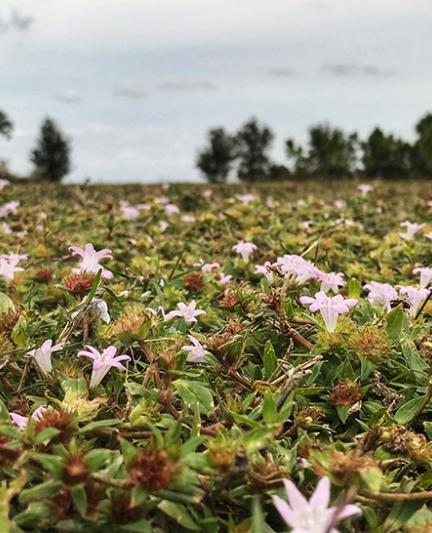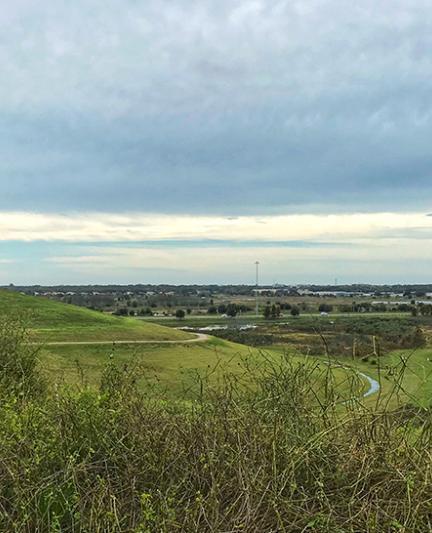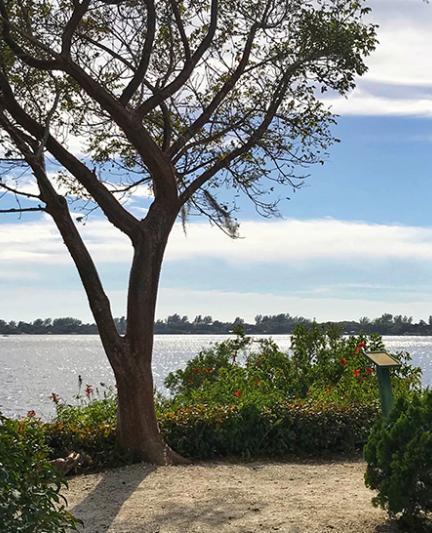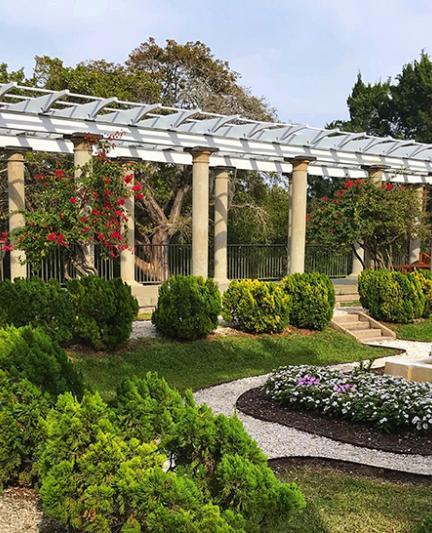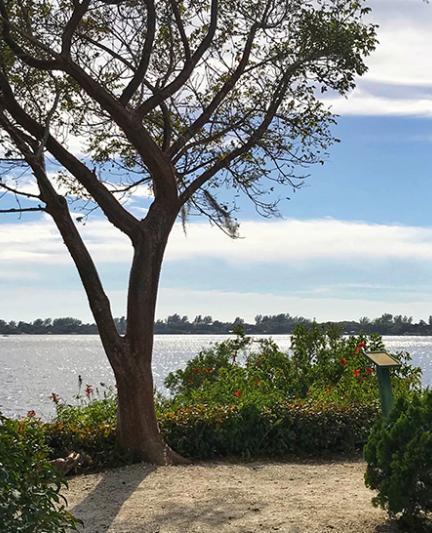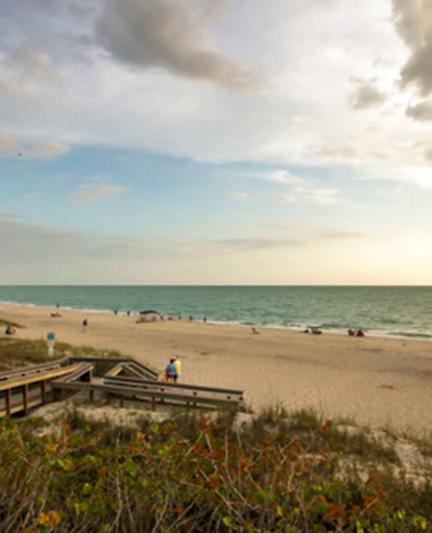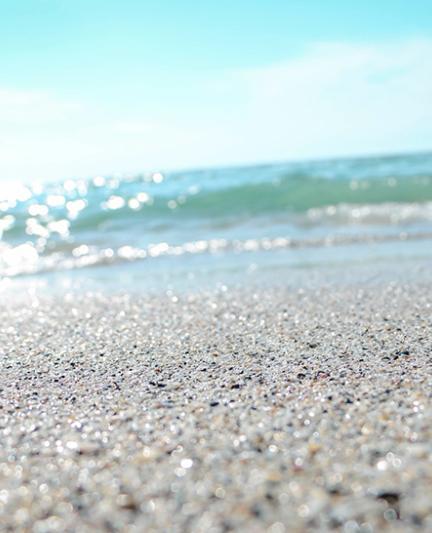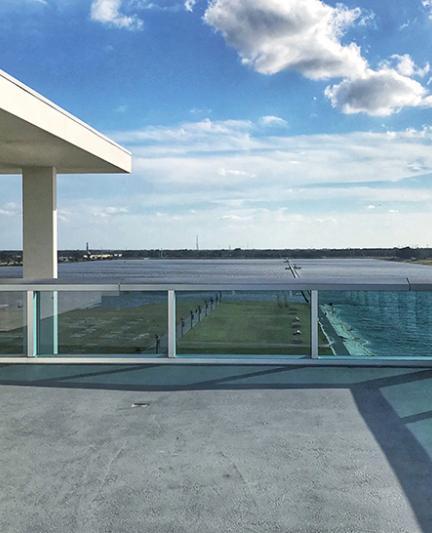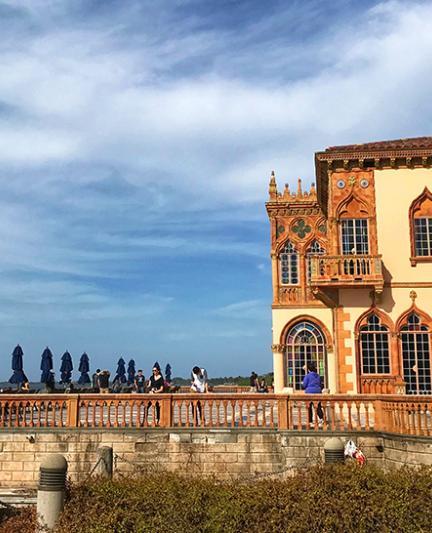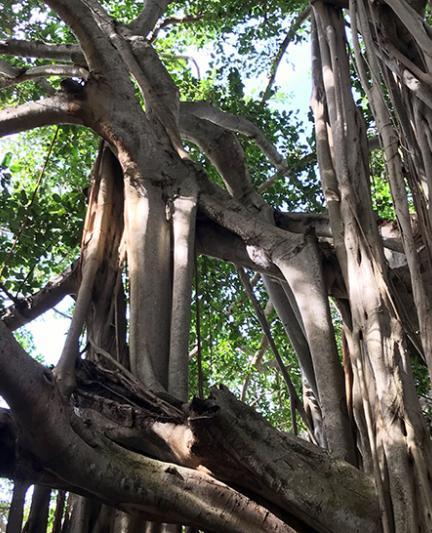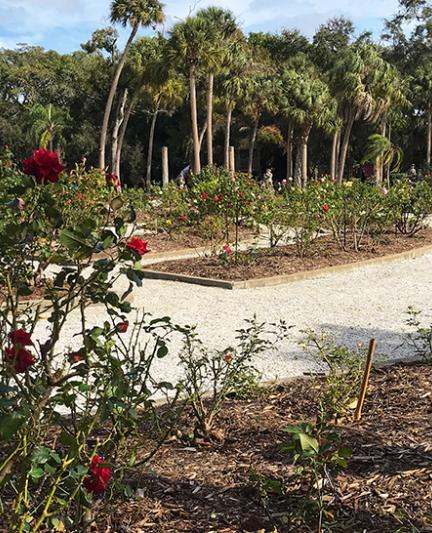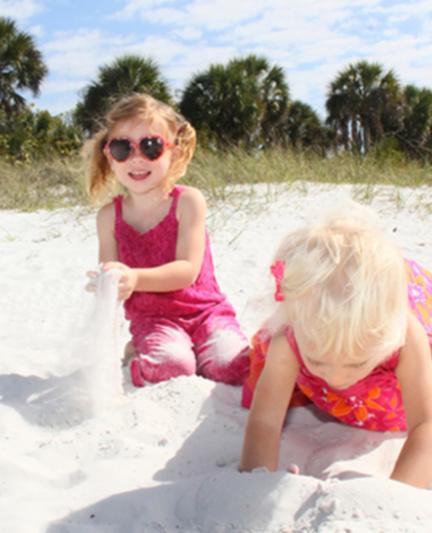 Hidden Outdoor Yoga Spots in Sarasota County
Stretching with an instructor in a studio is nice, one of the best things about yoga is the portability of the practice: Got a flat surface? An able body? An open mind? Time to Nama-stay outdoors for an impromptu session.
Sarasota County's subtropical climate beckons yogis to bring their practice outdoors year-round. Experience the benefits of yoga al fresco at these serene spots in Sarasota County.
Siesta Key: The Healing Power of Quartz Crystal Sand
Siesta Key Beach's lore lies in its rare 99.9 percent quartz crystal sand. Not only does it keep the sand impossibly cool and glistening white, but it's said to hold healing qualities. The crystals are considered a natural conductor for energy and believed to be one of the highest vibratory minerals on earth, which is why healers often choose Siesta Key as a site for meditation events and – you guessed it – yoga.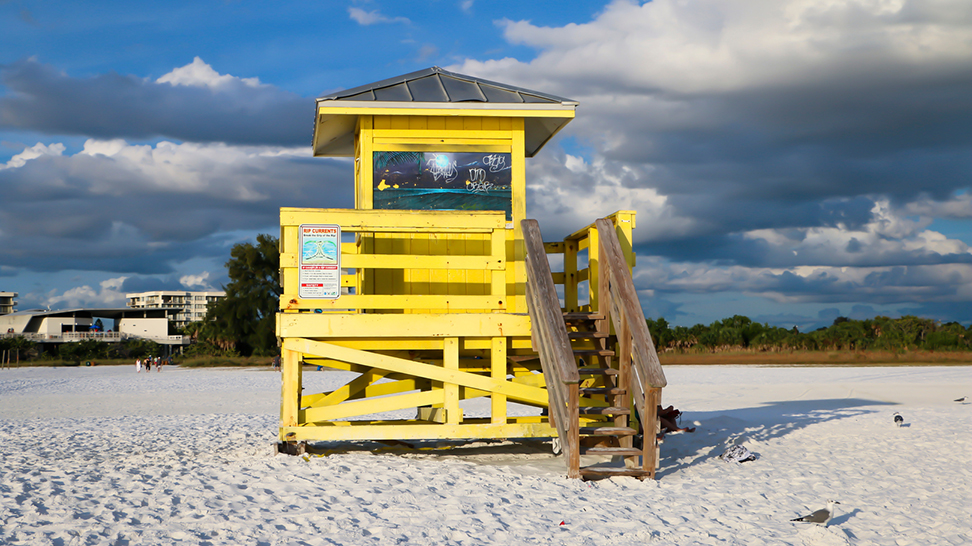 Siesta Key Public Beach
We recommend skipping the yoga mat this time. In fact, don't be shy about getting those crystals all over! Healers suggest the molecular structure of our mineral-based bodies resonate positively with that of Siesta's quartz crystal when we touch the beach. Be sure to take an extra-long savasana — the final resting pose that some teachers call a "yoga nap" — to soak in that powerful powder as much as possible.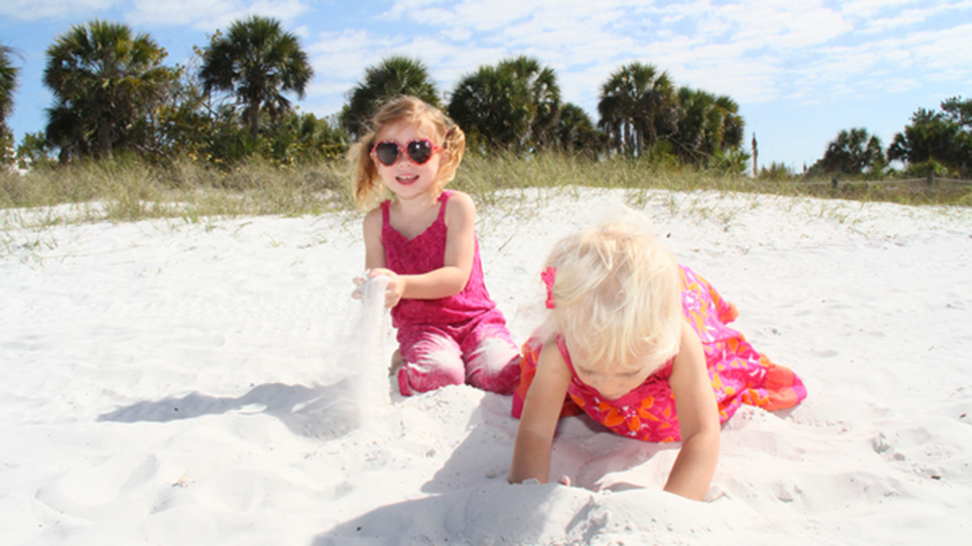 Siesta Key's rare quartz crystal sand.
Shh… Keep Your Practice Private.
While tourists typically flock to Siesta Key and North Lido Beach, the southern end of Lido Key offers a bit more privacy. Find tranquil shade under South Lido's tall Australian pines, or let nature provide a personal platform when the tide goes out, revealing a sandbar! When you're done, paddle through the mangrove tunnels near South Lido Park — the perfect end to a peaceful yoga practice.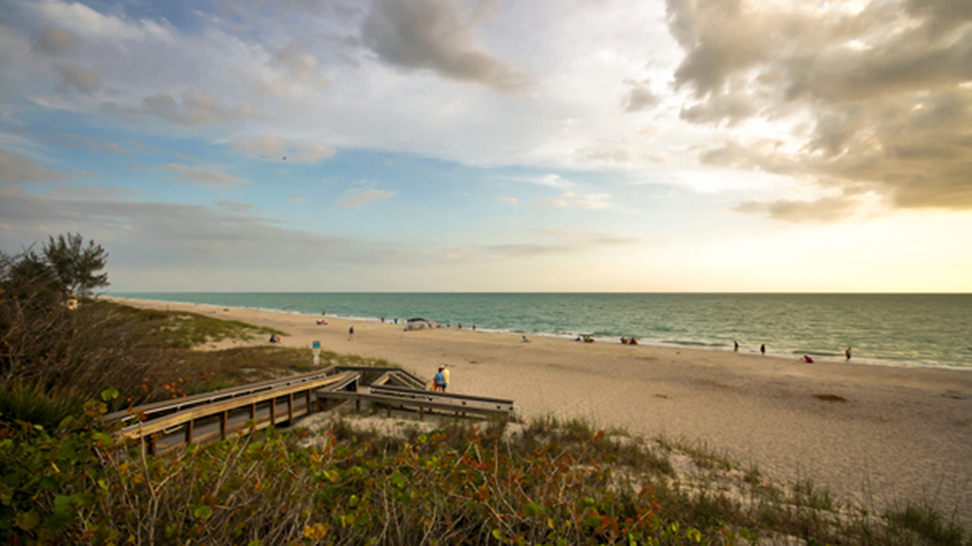 Manasota Key
South of Venice sits one of Sarasota County's best-kept secrets, Manasota Key. A ten-minute walk along the expansive Manasota Beach is almost always guaranteed to lead to a quiet, crowd-free space to practice. The sand here is a uniquely-beautiful collage of colorful shells, small black fossil fragments and quartz, but isn't quite as soft as it is stunning to look at. A towel or mat should provide just the cushion you'll need to appreciate the textured surface of Manasota Key beneath your practice.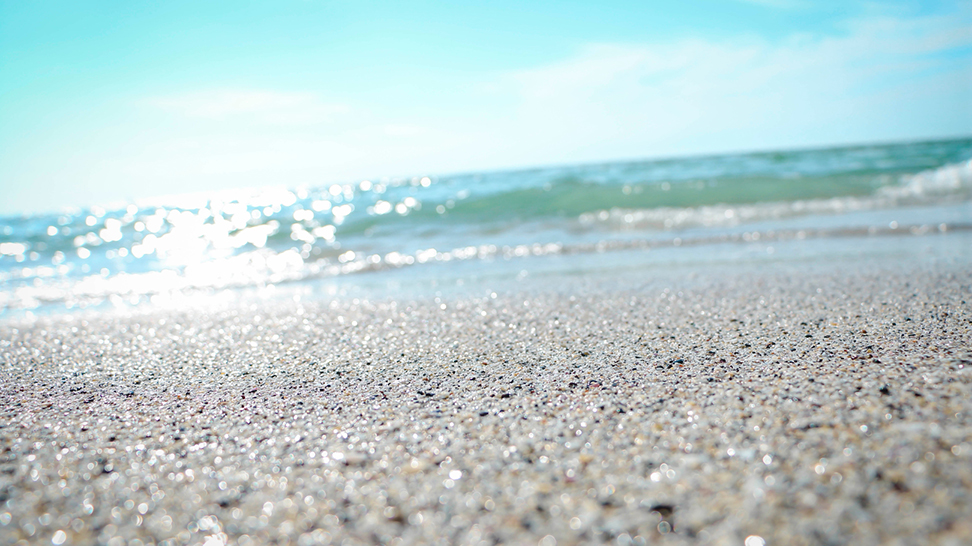 Manasota Key Beach's unique "rainbow" shell texture.
Spread Your Wings at the Celery Fields
They say "the early bird gets the worm," so wake up your wings at the Celery Fields — the birdwatching capital of Sarasota County.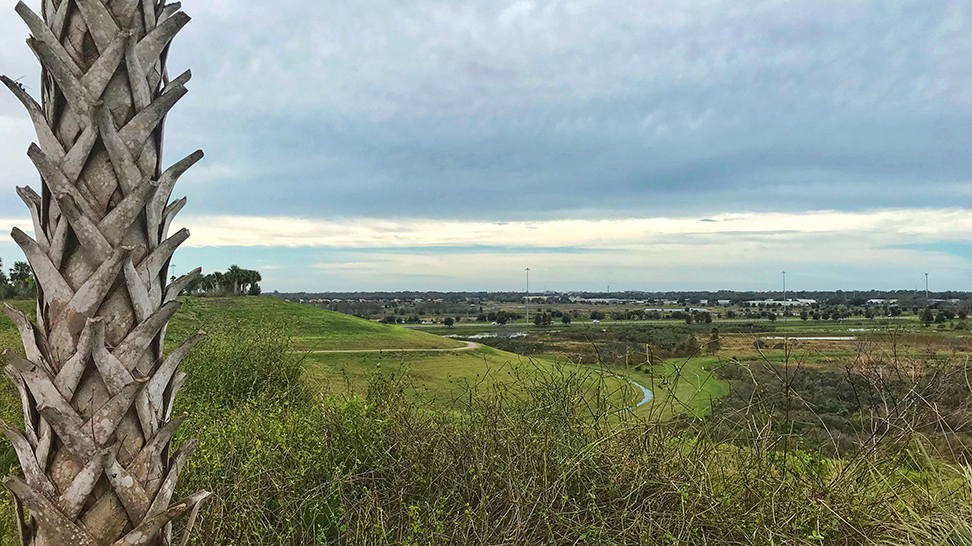 The view from atop the Celery Fields
A short climb to the top of a manmade hill reveals a soft, meadow-like setting, and incredible vista overlooking East Sarasota County wetlands. The Sarasota Audubon Society recommends early morning visits during the peak months of January and February for the best view of the over 200 species of birds who recorded there to date.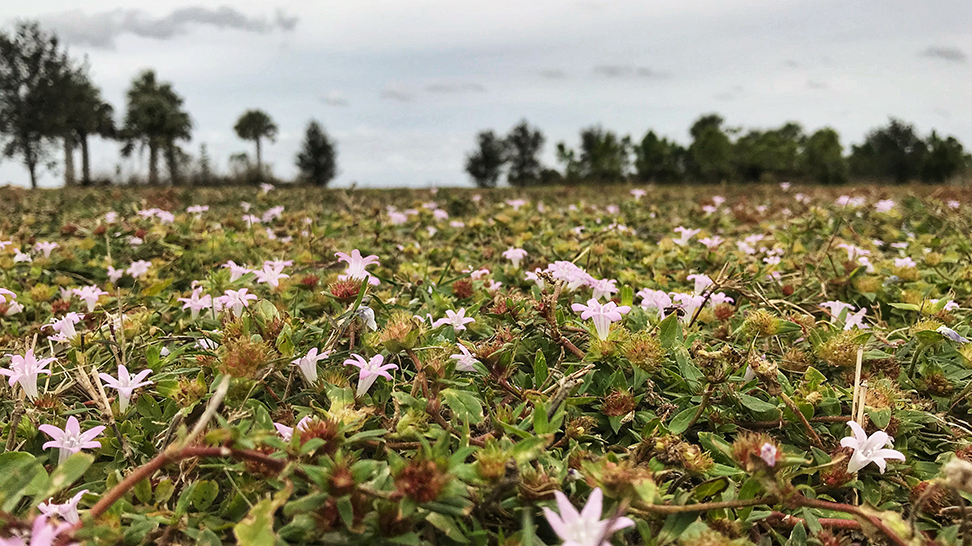 This wildflower bed is waiting for visitors who climb to the hilltop.
We suggest a sunrise yoga at this misty manmade hilltop, where yogis can soak in the serene sights. May the chirps and calls of Celery Field's inhabitants brighten your practice and lighten your spirit.
Reach for New Heights at Nathan Benderson Park
While yoga keeps many grounded, it can be fun to take those moves to new heights.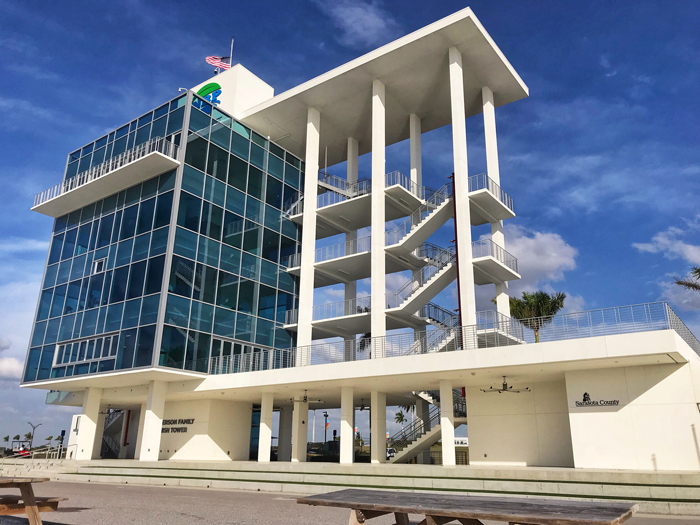 The new Finish Tower at Nathan Benderson Park.
The Finish Tower at Nathan Benderson Park provides an opportunity for yogis to warm up their muscles and catch a quick cardio workout by climbing the six stories of stairs to a 2,600 square feet open-air deck space. Breathe air at a new altitude, and embrace more invigorating views of Sarasota stretching for miles in every direction. Imagine testing your strength and balance in garudasana -- otherwise known as Eagle Pose -- while perched in a setting that offers an eagle's eye view of the world below.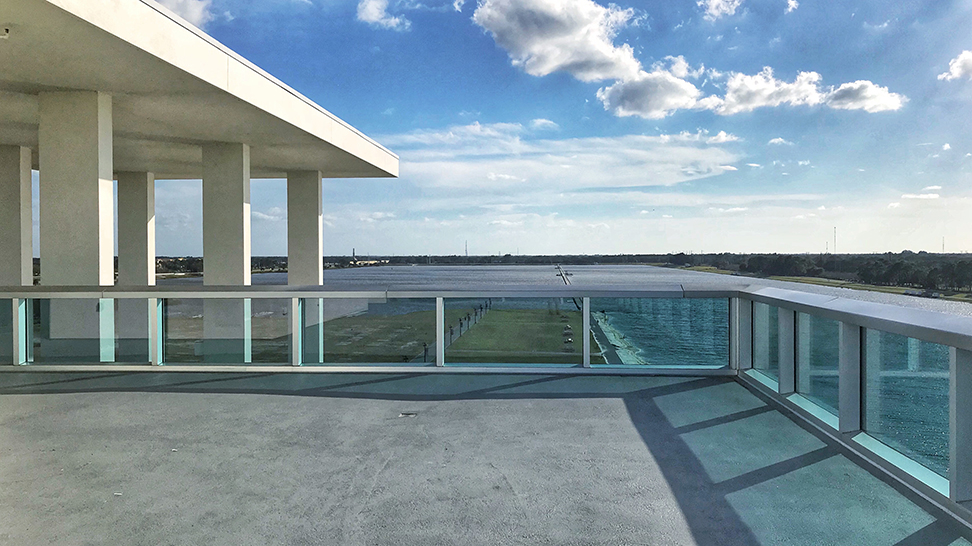 The view from the top of the Finish Tower at Nathan Benderson Park.
Bask Beneath the Banyans, and Smell the Roses at The Ringling
Circus couple John and Mable Ringling's tastes for beauty and pleasure are as evident on the grounds of their estate as in their massive arts collection.
Clusters of banyan trees provide shade and an almost otherworldly sense of seclusion in spots throughout the sprawling grounds. The banyan is the national tree of India — where the roots of yoga, itself, span millennia.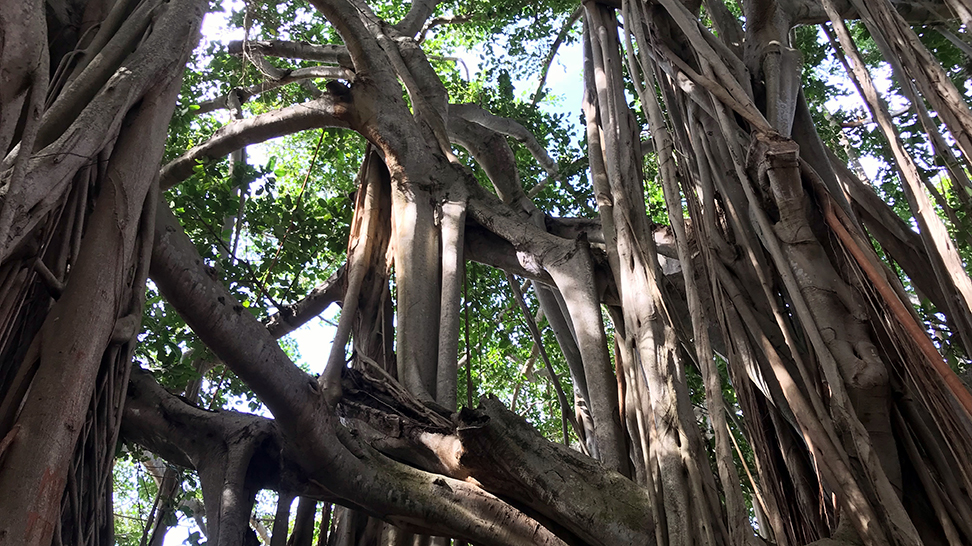 Banyan trees at The Ringling
Nearby Mable Ringling's rose garden sits at the heart of the estate. Admirers have flocked to Mable Ringling's garden for more than 100 years, so instead of stretching, might we suggest some walking meditation through the garden? Set up a map around the garden's perimeter for some aromatherapy, a complement to modern yoga. The scent of roses is said to be beneficial in alleviating depression and anxiety.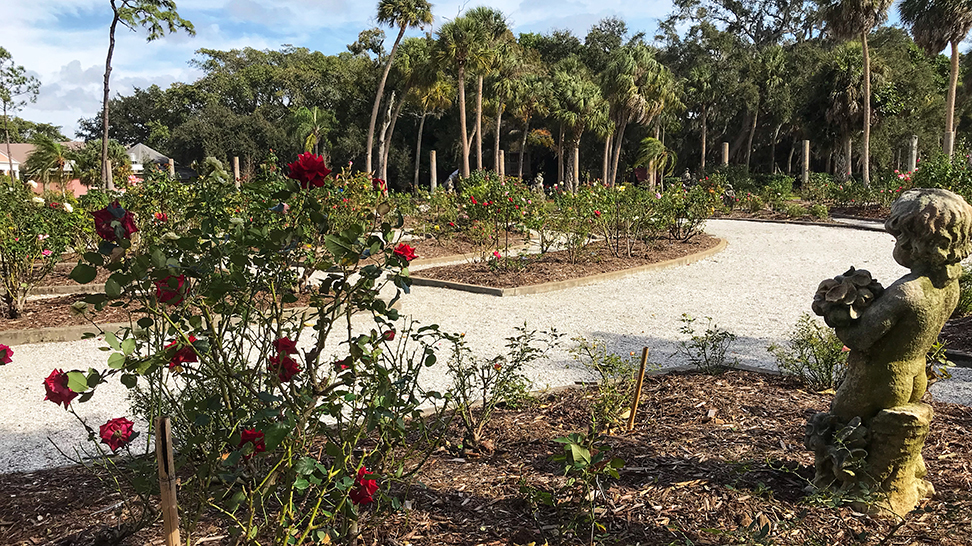 Mable Ringling's famous rose garden.
The Ca d'Zan terrace, where the Ringlings once hosted Roaring Twenties parties on the bay, now hosts yoga parties once a month. Sip on cold-pressed, nutritious green juices from SaraFresh Juice during the Yoga @ The Ringling events held throughout the year.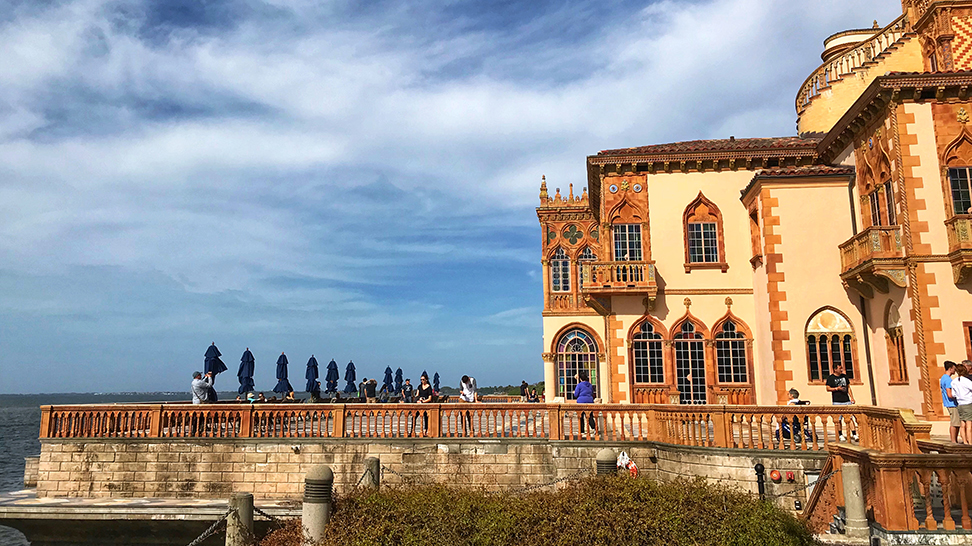 The Ringling's old "Ca d'Zan" mansion and terrace overlooking Sarasota Bay.
Soak "Old Florida" at Historic Spanish Point
Historic Spanish Point has a plethora of spots perfect for yoga and meditation — in an environment that is secluded, tranquil, and uniquely "Old Florida."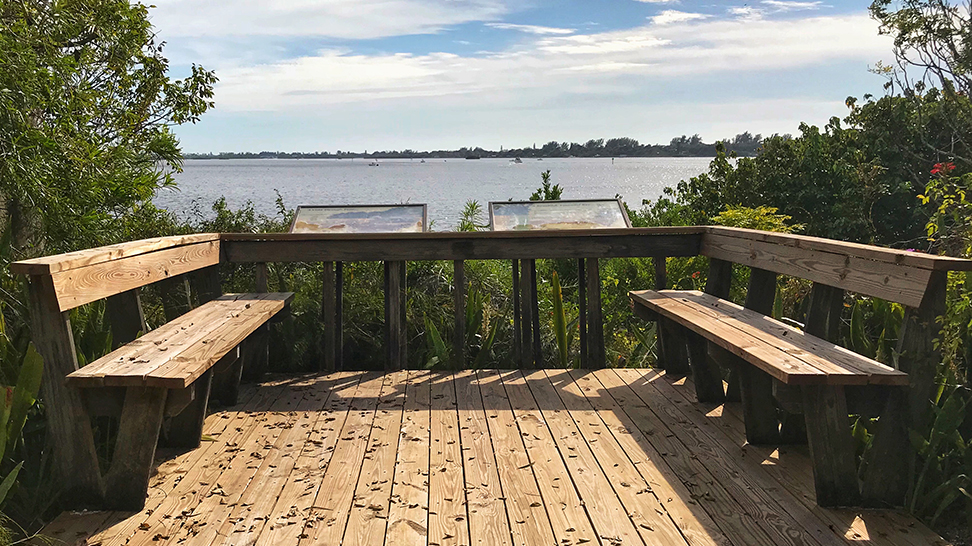 Historic Spanish Point
The 30-acre Palmer estate museum and environmental complex, nestled on Little Sarasota Bay, is home to one of the largest butterfly gardens in Florida, as well as a network of nature trails and boardwalks, and a variety of Florida ecosystems that includes: pine flatwoods, oak hammocks, tropical hammocks, and mangrove-lined coastal beaches.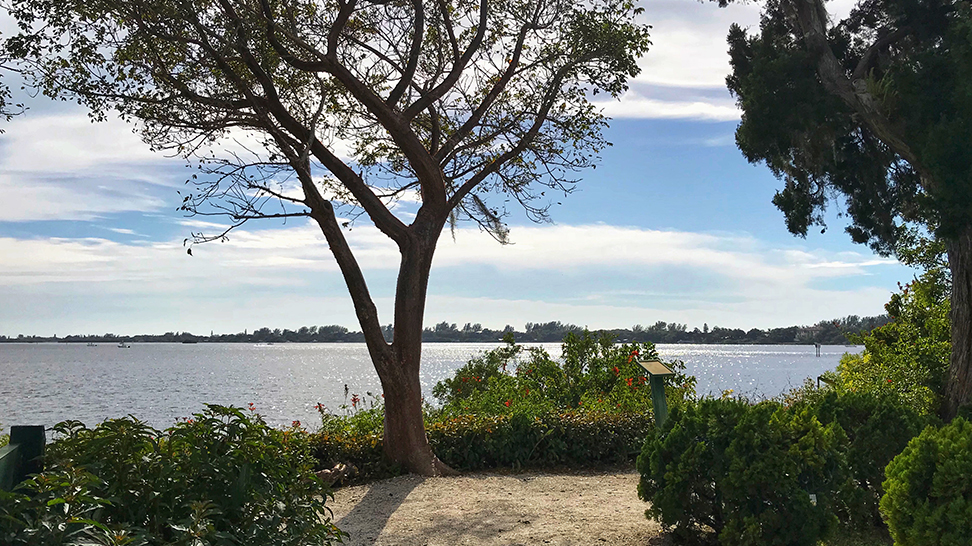 Historic Spanish Point
Bertha Palmer —one of the most important figures in the history of Sarasota and Florida agriculture — created her Sunken Garden and Pergola in 1915. Indulge each of your senses by listening to the sounds of nature, tasting the salt air mingled, smelling tropical florals, and taking in the sight of the classical-style Sunken Garden around you.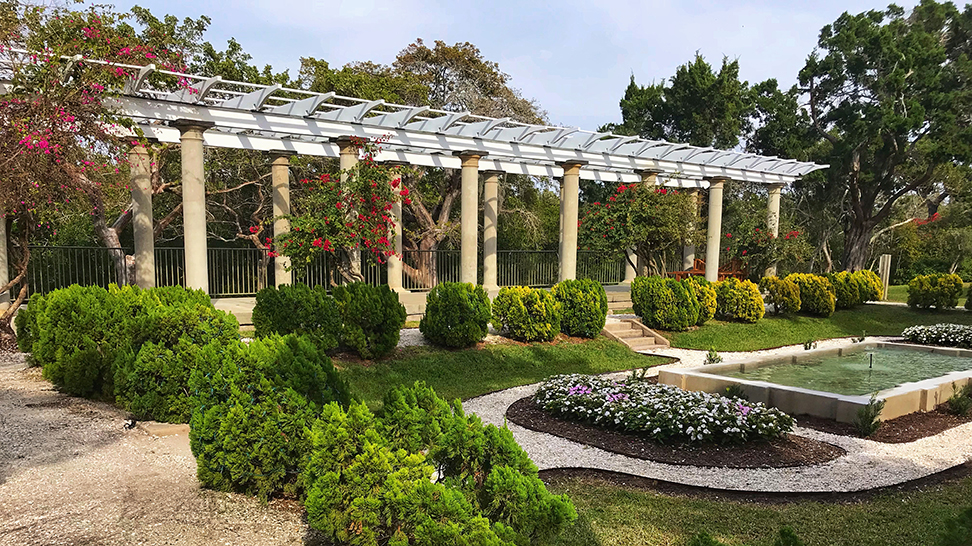 Bertha Palmer's sunken garden.
Historic Spanish Point is the only spot on our list that requires an entrance fee ($15 for adults) — but also offers a yearly annual membership of $60.
Catch a Class at the Sarasota Garden Club
Thirteen individual gardens — including a fern garden, hibiscus garden, and butterfly garden — occupy just over an acre of land at the Sarasota Garden Club, located west of downtown near Sarasota Bay on Boulevard of the Arts.
From October through April, the Sarasota Garden Club offers monthly Yoga in the Garden classes free to members and $10 to non-members, with the first class for free. Enjoy a led class in the company of other yogis in the gardens or in the Garden Club's Great Room.