Go Retro for a "Vintage" Sarasota County Getaway
Take a spin in our time machine, and plan an excursion filled with nostalgic charm from breakfast 'til bedtime
Ever have the urge to plot an escape to a different decade?
Maybe there's a tropical shirt in your closet that's screaming for a kitschy, oh-so-Florida tourist backdrop from the 1950s like flamingos or a tiki lounge? Perhaps you're in the mood for a sophisticated splash of Mid-Century Modern, or the Roaring Twenties sounds like the bee's knees.
Where to Stay
The Sarasota Modern
The Sarasota Modern is a stylish modern hotel in the heart of downtown Sarasota's historic Rosemary District that combines twenty-first century luxuries and amenities with the crisp, minimalist design philosophy that inspired Sarasota Modern architects. It's Mad Men posh with all the comforts of contemporary living.
Hotel Ranola
Hotel Ranola was built in 1926 at the heart of downtown Sarasota to accommodate seasonal residents who typically arrived on Seaboard Coastline Railroad trains to escape the harsh winters up north. Newly renovated, the boutique hotel maintains its Art Deco stylings in nine hip, urban-casual rooms. It's still in a prime location too: within walking distance of the downtown theatre district, restaurants, shopping, nightlife, and more.
Gulf Beach Resort Motel
Gulf Beach Resort Motel is oldest hotel on Lido Key, in operation since 1950. From its vintage signage to the classic shuffleboard courts and poolside tiki bar, Gulf Beach Resort offers the nostalgia of Florida's post World War II tourism boom: it's the perfect place to sink your toes in the sand and queue up your favorite surf rock oldies.
Ways to Start Your Day
A Classic Breakfast
Start the day with an old-fashioned breakfast from two spots serving up straightforward diner fare for more than six decades: Coffee Carousel and the Waffle Stop. With minimal interference to their menus or interior design, it's like stepping inside a time warp. Fans of Elvis Presley must visit the Waffle Stop: the King of Rock & Roll ate there in 1956, and in his honor, the restaurant is brimming with Elvis memorabilia to this day.
Visit a Jazz-Age Mansion
Circus mogul John Ringling and his wife, Mable were among the wealthiest Americans in the 1920s and known for the lavish parties they threw at their Sarasota mansion, Ca d'Zan. Fans of The Great Gatsby shouldn't miss the chance to visit this dazzling, opulent time capsule that captures the splendor of a bygone era.
Join the Circus at Trapeze School
The Ringling Bros. and Barnum & Bailey Circus established its winter headquarters in Sarasota in 1927, creating a current of Big Top culture that shapes the city's character to this day. Get into the swing of your day with flying trapeze classes at the Circus Arts Conservatory. Beginner-level classes are geared toward travelers and bucket-listers, so don't be shy if this is your first twirl on the trapeze.
Tour Sarasota Modern Architecture
Another one of Sarasota's most defining visual characteristics is the architecture of the Sarasota Modern movement: a mid-century design school influenced, in part, by the organic, modern architecture of Frank Lloyd Wright — with a semi-tropical twist. Pay a visit to the Center for Architecture Sarasota (CFAS) gallery and studio to learn more about this influential local modern architecture movement that dates from the 1940s through the 1970s. CFAS also offers architectural trolley tours from starting February through April in 2020.
On Lido Key, architecture buffs can take a self-guided tour of Lido Shores' Sarasota Modern architecture before enjoying a breezy rooftop brunch at Shore, a Sarasota Modern-inspired eatery on St. Armands Circle.
Craft a Retro Wardrobe
Looking for the perfect clothing item or accessory to complete your throwback look? Pay a visit to Canned Ham Vintage or the Hello Again! thrift and consignment shop at the Bazaar on Apricot and Lime. From November - April, Canned Ham Vintage also hosts the Rosemary Indie Market every third Saturday of the month — a treasure trove of quirky, vintage trinkets and handmade indie crafts.
Afternoon Excursions for the Time-Traveling Tourist
Lunch on an Antique Train Car
For a truly local experience that combines historical kitsch with good nosh, grab lunch at the hidden "Weird Florida" gem, Bob's Train. Tucked away just east of downtown off Fruitville Rd., this restaurant occupies four railroad cars that once belonged to the Ringling circus and overflows with circus memorabilia and history.
Commune with Classic Cars
The Sarasota Classic Car Museum is the second oldest continuously running antique car museum in the United States, featuring over 75 classic European and American automobiles, from the turn-of-the-century "horseless carriage" to muscle cars from the 1960s — and even a replica of Abraham Lincoln's funeral carriage. Beat the heat seven days a week in this air-conditioned gallery.
Sample Sarasota's Favorite Prohibition-Era Flavor
During the U.S. Prohibition Era, it was an open secret that speakeasy-style booze cruises took place on the open waters of Sarasota Bay, where the local sheriff had no jurisdiction. Two yachts operating in the 1920s, the Black Cat and the Blue Lantern, were rumored "wet boats" where Sarasotans could sip on smuggled Cuban rum. Pay a visit to Siesta Key Rum for a taste of the Sarasota distillery's award-winning modern take on the hooch locals sipped on the sly during Prohibition.
Snap a "Postcard Perfect" Photo at Sarasota Jungle Gardens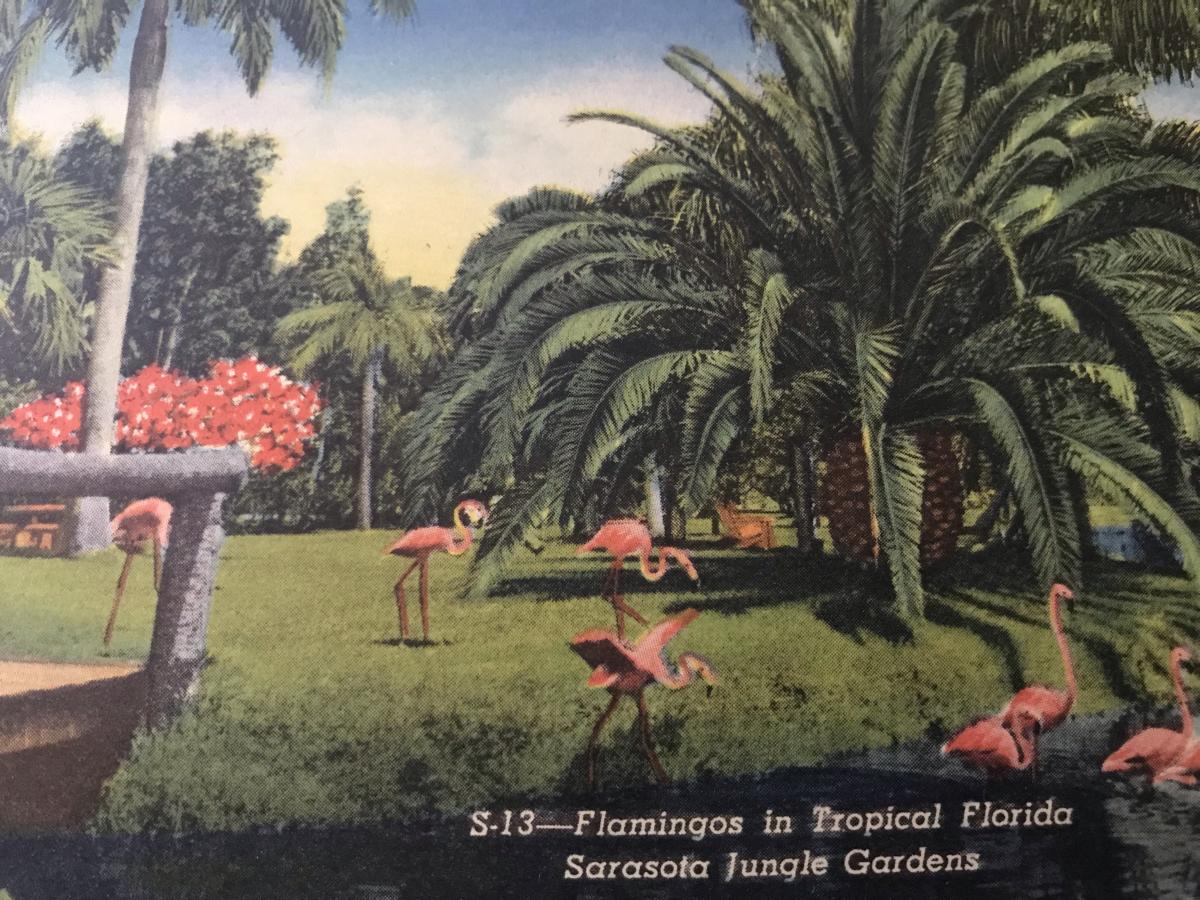 In operation since 1939, Sarasota Jungle Gardens is one of the oldest and longest running tourist attractions in Florida, and to this day, it feels like a classic "Old Florida" tourist trap in all the best ways. Flamingos are the Jungle Gardens most recognizable celebrities, and they're known for being comfortable around guests — so don't be surprised if you come face-to-face with a hot-pink feathered friend. Take advantage of the opportunity for a kitschy photo op!
A Night on the Town
Back-in-Time Dining in Downtown Sarasota
Two of Sarasota's hippest contemporary restaurants are housed in buildings that date back to 1925 in downtown Sarasota — offering a fusion of modern flavors in a historical environment.

Located next to the historic Sarasota Opera House, Umbrellas 1296 cultivates a "modern speakeasy" style that nods to the history of the iconic, ivy-covered Prohibition Era building that houses it. Sage SRQ, an upscale global eatery and rooftop bar, is located in the 1920s building that housed Sarasota's first newspaper.
Take a Time-Traveling Trolley Ride
Discover Sarasota Trolley Tours also offers daytime tours, but we're here to rave about the ones that explore some of the more salacious aspects of local history after the sun goes down. Enjoy a complimentary adult beverage before hopping aboard Discover Sarasota tours like the Haunted Sarasota Trolley Tour or the "Infamous Sarasota" Throwback Happy Hour Tour that highlights Sarasota's scandalous 60s, 70s, and 80s.
Choose Your Retro Cocktail Style: Class or Kitsch
The design influence of Paul Rudolph, one of the pioneering architects of the Sarasota Modern school, is evident in the physical environment –as well as the sophisticated craft cocktails – at Rudolph's at the Sarasota Modern. Rudolph's is a stylized mid-century modern mood right down to its signature cocktails, which it describes as "classic drinks with nouveau flair."
Open since 1954, the Bahi Hut on North Tamiami Trail is among a dwindling number of authentic tiki bars in the United States. The Bahi Hut underwent a remodel to become a non-smoking establishment and undo decades of accumulated smoke damage in 2018 — but it maintains its legacy as one of Sarasota's most treasured "dive" bars. Stop in for a signature Mai Tai or a Sneaky Tiki, and get a taste of true 1950s tropical kitsch that's been lovingly preserved and restored here.
Mr. Swindle's Traveling Peculiarium
Playing in Sarasota and Englewood from Jan. 9 – Feb. 2 in 2020: Mr. Swindle's Peculiarium and Drink-Ory Garden is a throwback to the turn-of-the-century heyday of circus and vaudeville. The 90-minute show promises acrobatics, comedy, and "vintage amusement" in a boutique "Big Top" setting. Guests can also visit the "Drink-Ory Garden" where "Dr. Elixir" serves up potions, bitter brews and "mischievous medicines." We'll leave it to you to decide if you're sipping an apothecary creation that'll soothe any ailment… or if it's just snake oil.