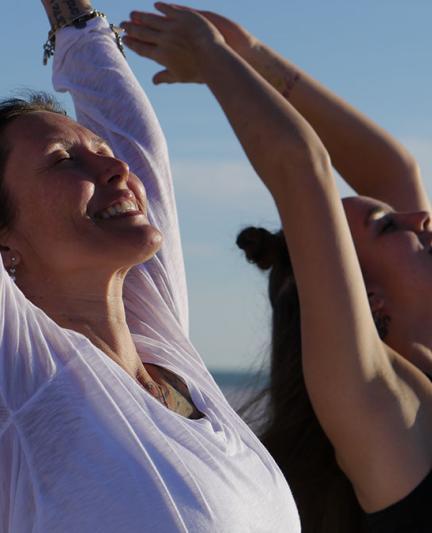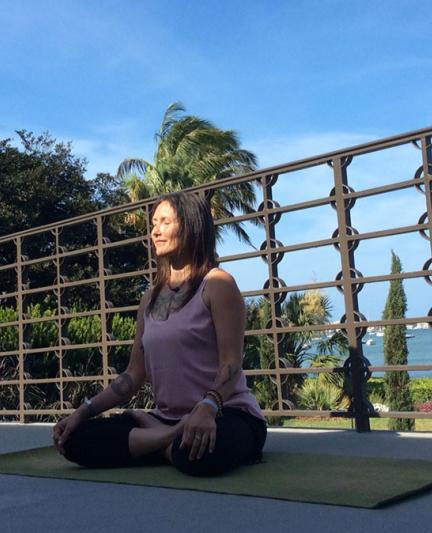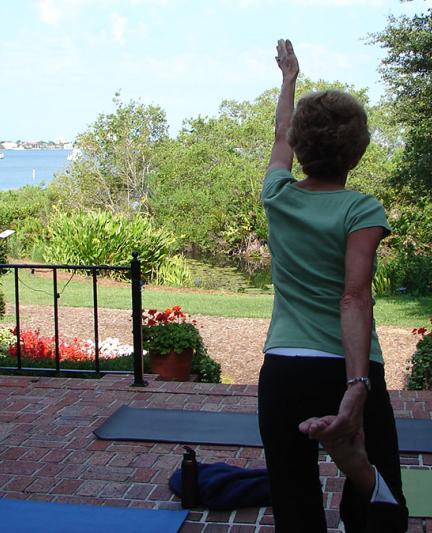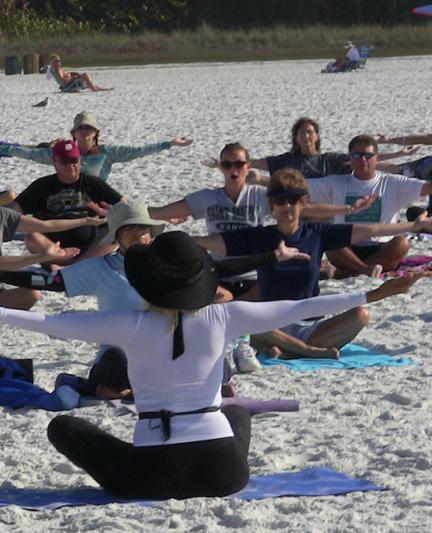 Get Your "Om" on with Yoga in Sarasota
Check out restorative ways to relax and unwind while visiting Sarasota County.
"Om" is the word representing an ancient sound or vibration that is often chanted as a mantra in yoga sessions. The rhythmic aural sensation is believed to touch a deeper chord within our souls reflecting a universal synchronicity connecting humanity to nature. Consider the peaceful feeling you get when experiencing waves lapping onto the beach, a sunrise, a sunset and even the ebb and flow of ocean tides. It's as if the rhythm of nature has melded into our beating hearts.
Within our busy and hectic lives, we can often become disconnected to that sensation. But many have found that yoga can "synch" us back to an inner peace, providing relaxation and restoration.
Om.
Vacations are another way to help achieve that inner peace, so why not combine the two and practice yoga while on vacation?
Tranquility awaits those visiting Sarasota through a variety of venues including yoga studios, beach yoga, garden yoga and even stand up paddleboard (SUP) yoga. Sarasota even has yoga for kids.
Two Local Yoga Studios
There are many yoga studios in Sarasota but here are some picks to help soothe and inspire a more "present" you:
Claudia Baeza's Pineapple Yoga Studio, located in historic Burns Court in downtown Sarasota, offers a welcome home for visitors and locals. Situated in a warm and inviting space this studio has a reputation as a healing home "for wellness, community and spirituality."
Baeza encourages vacationing visitors to come to her studio and shares, "By adding yoga to a vacation it becomes a great way to get refreshed and rejuvenated mentally and physically supporting balance and personal wellbeing."
Claudia and her instructors welcome participants of all levels adding, "Pineapple Yoga Studio offers three levels of Vinyasa Yoga (Beginner/Intro, All Levels/Intermediate, and Advanced Vinyasa), Restorative Yoga, Yin Yoga, Yoga Nidra, Children's Yoga, Stand-Up Paddle Board Yoga, and Yoga Posture Clinics." And if you are unsure about where you fit into so many choices she will gladly guide you.
Another local Sarasota yoga studio is the Mandala Med Spa & Yoga Studio, a minute away from Siesta Key offering a range of yoga classes plus relaxing spa options. Here, you can let your mind and body unplug as you surrender into vacation mode.
Traditional yoga is the main focus at the Mandala Yoga Studio with instructors specializing in all levels - from the beginner to the advanced student - incorporating intuitive and gentle guidance.
Before or after your yoga class, consider the Mandala Spa services that fuse western and eastern medicine offering massage, hot stone, bamboo fusion and Thai massage. You may even want to try a cooling Body Wrap after a day at the beach.
Mandala's Spa Manager, Bond Varela, recommends the Samunprai Herbal Body Massage, a 90-minute Thai herbal treatment to bring deep medicinal heat to aching muscles. This detox treatment will help you get into full "Zen mode."
Beach Yoga
What could be more relaxing than yoga on the beach? Start your day at the beach with a view of the aquamarine Gulf of Mexico while ensconced in the sugary white sand as the gentle beach waves wash ashore.
Yoga on Siesta Beach with Ava has become an institution on the island's public beach as students follow her in stretches and poses on the sugar-soft quartz sand. The class meets between the green and red lifeguard stands; just bring your mat and bare feet. The summer yoga schedule is Monday, Wednesday, Friday and Saturday starting at 8:00 am.
If you are staying in Venice, the place to gain more balance, strength and serenity is in the class, Yoga with Elin. Elin is a certified yoga instructor who brings her unique approach to the Venice Beach Pavilion daily at 8:00 am. But if you like to sleep in try her yoga sunset classes held Monday through Thursday, at 7:00 pm.
Meanwhile on Englewood Beach Loving Light Yoga with Lata and Robert offers gentle yoga for all body types, all ages and all levels Monday through Sunday 8:30 am. The location is the Englewood Beach Park on Manasota Key. And for those who want to take in the spectacular evening, sunset beach yoga is offered there on Wednesdays at 6:30 pm.
All beach yoga classes are free but donations are accepted.
Yoga in Selby Botanical Gardens
Sarasota's Selby Botanical Gardens offers relaxing yoga in the midst of lush, tropical gardens with Bayfront views. Orchids, bromeliads and ferns create a tropical setting for these mindful yoga classes.
Start your Mondays with a serene mind and body by joining classes held on the patio of the Payne Mansion. Instructor Michelle Roy has been teaching yoga for 15 years, guiding students to focus on alignment, breathing techniques and relaxation.
Open to all levels, student drop-ins are welcomed (cash only) or students can pre-register for four-week sessions or purchase a Yoga Pass (eight weeks that can be used throughout the season). Selby Garden members receive a discount.
Yoga at the Ritz-Carlton
Some of us just need the ultimate relaxation package and the go-to place in Sarasota is the Ritz-Carlton. If you are a guest staying at the Ritz-Carlton, try the yoga classes located in the luxurious hotel spa.
The Ritz-Carlton offers a wide range of yoga classes including therapeutic yoga that relieves tension while focusing on breath work. Or try the yoga & Pilates fusion, a class that blends deep stretches with a rhythmic Pilates workout. For those with back, knee, hip or shoulder issues, try the gentler chair yoga class.
After your yoga session, indulge in the Ritz-Carlton Spa where guests find complete relaxation through saunas, steam rooms and whirlpools and a wide range of treatments. Revive yourself with the "Spoil her Silly Package" that includes a back exfoliation and massage, facial and scalp massage. All of this followed by a pedicure, optional healing water experience served with champagne. Celebrate your indulgent day with lunch at the signature Jack Dusty restaurant.
Yoga will help you feel more inner peace and serenity during your time in Sarasota by joining the spirit and body together.
Close your eyes. Contemplate the union of mind, body and spirit. Sounds pretty good, doesn't it?
O-Om-m-m-m.
Shanti (peace).
Sarasota native Robin Draper is a columnist and owner of the award-winning "Blog of the Year" and "Best Travel Blog" website, AuthenticFlorida.com, a travel and lifestyle blog devoted to the simple and delightful pleasures for Florida living.