Feel-good vacation activities in Sarasota
Want to feel good while exploring Sarasota County? Volunteer opportunities help both you and the community!
Who says that doing a good deed should ever have to come at the cost of a good time? In Sarasota, there are plenty of opportunities to have fun while making a positive impact in the community. From coastal cleanups to rescue pet playtime, there are lots of ways the whole family can help out a worthy cause.
We can't promise you won't break a sweat or get your feet wet in some of these local volunteer activities, but we do know that you'll be making a big difference — so if "being the change you want to see in the world" is on your list of New Year's resolutions for 2017, read on to learn more about how you can start local in Sarasota County.
Be a Friend to the Environment
We tend to think highly of our natural resources in Sarasota — and it takes just one visit to the great outdoors and our award-winning beaches to understand why. Florida's Gulf Coast boasts a unique and delicate ecosystem, and the stewardship of environmental volunteers is vital to maintain it.
Volunteers with the Sarasota Bay Estuary Program, whose mission is to restore and protect Sarasota Bay and its surrounding ecosystem, are aptly called the Bay Guardians. The Bay Guardians meet monthly at 9 a.m. on Saturdays to support the SBEP's efforts throughout Sarasota and Manatee County with coastal cleanups, invasive plant removal, and other environmental projects. Because the Bay Guardians work at a different location most months, joining the Saturday morning crew is a great way to become acquainted with the parks and nature preserves of the Sarasota area — and to help improve them for your next visit! Visit the Bay Guardians online to learn about upcoming cleanups.
Get your feet wet for a good cause with the Sarasota Environmental Aquatics (SEA) team at the annual Seagrass Survey, a hands-on way to learn about the value of seagrass in the Gulf Coast ecosystem and the relationship that people have with the environment. Volunteers take the the Sarasota Bay by boat and kayak to count and identify seagrass species and collect data for Sarasota County's Seagrass Monitoring Program. No experience is required to join the Seagrass Survey — just a one-hour orientation the day of the event. Keep an eye on the Sarasota County Water Atlas in spring to sign up for the 2017 Seagrass Survey.
The Friends of Myakka River work to protect the uniquely Floridian ecosystems of Myakka River State Park through annual cleanups, restoration projects, and building projects (such as the canopy walkway) that help protect the park fauna and flora while enhancing the visitor experience. One of the most vital services the Friends of Myakka River provide to the State Park is funding for Park projects, which is largely derived from events hosted by the Friends. Among the Friends most popular fundraising events is the monthly Moon Over Myakka Concerts. $20 admission gets guests some of the best regional music in an unbeatable setting — away from city lights under the stars — and it supports the Friends' mission and projects. Find the Moon Over Myakka concert schedule and get your tickets here.
Socialize a Shelter Pet
Two part question: Did you know that there's a desperate need for kitty cuddlers and puppy walkers in Sarasota County — and could you possibly imagine a more 'feel good' way to do good? Shelter pups and cats all over Sarasota County could use a kind hand to keep them socialized and exercised while they wait for a place in their "fur-ever" homes.
Looking to get matched up on a doggy date? The Humane Society of Sarasota County has a broad selection of volunteer programs, including 'Mini Stay-Cations' and 'Excursion Buddies', which give volunteers a chance to pair up with an adoptable dog for an off-campus excursion for a few hours, a day, or even a weekend. It's a win-win: socializing dogs helps them prepare for life outside the shelter — and a stroll around the park is just more fun with a four-legged friend!
Nate's Honor Animal Rescue also offers a variety of volunteer-based programs to prepare shelter pets for their fur-ever homes. Nate's seeks volunteers to walk dogs, socialize and play with cats, and engage with the Open Paw training program — volunteers as young as 7 years old are welcome!
Are you a friend of felines? Team up with the Cat Depot for cat socialization sessions every Monday through Friday. Kids age 8 and older who are accompanied by an adult are welcome to join in on the fuzzy fun.
For those with a knack for arts and crafts, the Southeastern Guide Dogs has a need for your nimble fingers. When puppies arrive for training, Southeastern Guide Dogs staff use colorful collars to tell them apart from their siblings — and the older dogs also need collars to wear while they're not in training. Help keep the canines fashionable by volunteering to make collars for the pups. Learn more about the project and download a collar-crafting tutorial here.
Want to spend time with superheros in training? The Southeastern Guide Dogs Puppy Kindergarten and Guide Dog Experience are paid volunteer experiences that provide hands-on training opportunities with future guide dogs for all ages. Help prepare puppies for their therapy dog training or experience a blindfold training walk with the more advanced guide dogs in-training during these uniquely interactive volunteer training sessions.
Support the Sarasota Community
Whether we're using our Good Samaritan super powers to lift up a neighbor in a time of need, support an arts organization, or cheer on a kid — every little bit goes a long way.
The Sarasota Garden Club is always looking for volunteers to help keep Sarasota's public and community gardens beautiful and blooming. Among the Sarasota Garden Club's projects are Mable Ringling's 90 year-old rose garden and the Orange Blossom Community Garden, an organic vegetable and herb garden under the direction of the University of Florida/Sarasota County Extension Community Gardens program. Call the Sarasota Garden Club at (941) 955-0875 to learn more about garden volunteer opportunities around Sarasota. To learn more about the Orange Blossom Community Garden and other community gardens in Sarasota County call (941) 861-5000 or email [email protected].
Sometimes one of the most fun and meaningful ways to show your support just means showing up and cheering on a kid. The Miracle League of Manasota joins more than 200 communities across the world in providing kids with disabilities the opportunity to play baseball. During baseball season, Miracle League games take place weekly — and a great way to get involved is simply by attending a game and supporting the players. Volunteer opportunities include serving as a team buddy, helping players navigate the field, and playing catch. Keep an eye out for the 2017 game schedule or click here to learn more about volunteer opportunities.
Shop for a good cause and seek out a treasure at the annual Paris Flea Market hosted by the Sarasota Orchestra Friends. The annual Paris Flea Market presents a dizzying selection of clothing, jewelry, furniture, antiques, books, home wares and more — with all proceeds benefitting the Sarasota Orchestra and its Youth Orchestra Programs. This is the biggest fundraising event hosted by the friends, and one of the most sought-after thrift markets in Sarasota. The Paris Flea Market takes place March 26 and 27, 2017. Don't miss it if you're in town (Sarasota, that is — the Friends bring Paris to us)!
Run For Good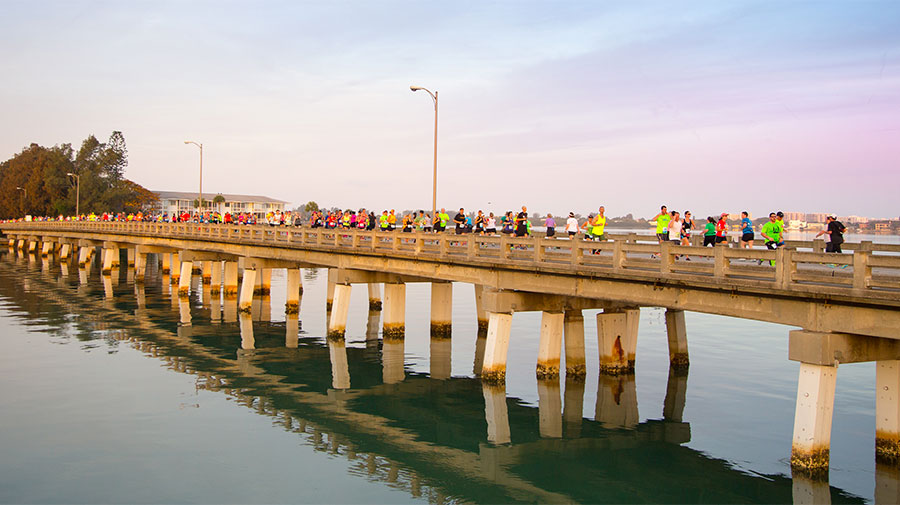 If your New Year's resolutions for 2017 included by philanthropy and fitness, this may be the year to start training for that half marathon. Strap on your athletic shoes — it's time to hit the streets for charity.
Get an early start on marathon season with the Sarasota Music Half Marathon taking place February 5, 2017. Run, walk or cheer along the participants in this annual race that supports a plethora of community partners — and enjoy live music while you're participating! Learn more about the organizations the Sarasota Half Marathon supports by clicking here.
The First Watch Half Marathon takes place on March 19, 2017 in a scenic course over the John Ringling Causeway — and for a good cause of the runner's choice. Sign up this year to support Cure SMA and the HIV/AIDS Education and Law Project (HALP).
Join the 3rd annual SUP & Run 5K on May 20, 2017 at Nathan Benderson Park. The run benefits Operation Second Chance, an organization that supports veterans transitioning back to civilian life and their families after active duty. Participants in the SUP & Run 5K will run the 5K race first, and then hop on standup paddleboards for a 5K paddle around the park.
The Longboat Key Charity 5K Run will take place on October 15, 2017 to benefit the newly formed Women's Sports Museum, the first of its kind in the nation, which will be built in Sarasota. Learn more about the Longboat Key Charity 5K and sign up for the event here.
Get Out and Do Good
Whether you're getting your hands dirty in the garden, your toes wet in the bay, your pants furry at the animal shelter, or your socks sweaty in a charitable race — there are lots of ways to be active in the Sarasota, do good for the community, and have fun.
Why wait? Volunteer today!