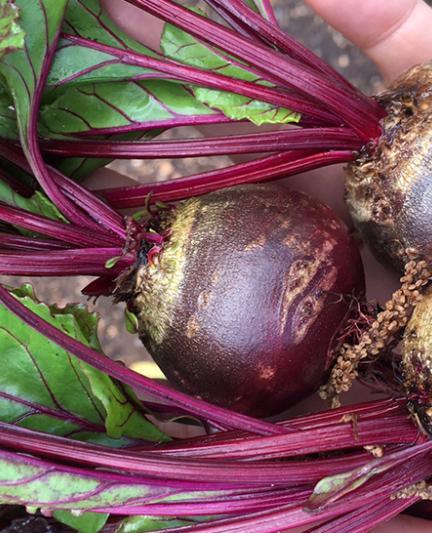 Farmers Market Sarasota: Be on the Lookout for Beets!
While visiting Sarasota County farmers markets this month, pick up some delicious, in-season beets to make this healthy salad at home OR check out one of many local restaurants with beets on the menu.
As kids, we may not have been fond of beets when they showed up on our dinner plates, but I'm sure as we've aged, many of us have gotten over our aversion to these ruby-colored wonders.
Fortunately, it's a great time of year in southwest Florida to find beets on the menus of restaurants: the "Farmer's Greens" salad at Indigenous, the "Salmon Salad" at Made Restaurant, "Bibb Lettuce Salad" at Station 400, "Local Red & Yellow Beet Salad" at Mattison's Forty-One, "Roasted Beet Salad" at Lila, and the "Signature Salad" from Veg.
We can also find a "Beet the Blues" smoothie at Green Zebra Cafe, as well as, tasty juices made with beets at CROP. There's even an "Espresso-Rubbed Yellowfin Tuna" featuring roasted golden beets at Michael's on East, and I'm sure there's something made with beets at Beauty of Sprouts or Mango Bistro.
Locally, Blumenberry Farms is growing a variety called "Bull's Blood" — bright red and rich in flavor - and Chioggia, those beautiful candy striped-looking beets (available at Jessica's Organic Farm). Worden Farm is growing crimson beauties, plentiful right now if you stop by the Sarasota Farmers Market or Lakewood Ranch Farmers Market. Finding beautiful produce at a farmers market is easy, considering all the produce that's in season, so be sure to bring a big bag.
Beets are high in vitamins, minerals and fiber, and they're low in calories and fat. Like many root vegetables, they're versatile, able to be roasted, steamed, juiced, canned, pickled, or even made into that soup called borscht. And if you're lucky to find beets with their greens intact, be sure to eat those too because they're really good for you! Did you know that beet greens are delicious when sautéed in olive oil and butter, sliced garlic, a pinch of red pepper flakes, salt and pepper? They're also good whipped up with other leafy greens in smoothies. And the stems, when chopped and cooked slowly in olive oil and salt, mixed with broccoli stems, Swiss chard or whatever other veggies you like, make a healthy and tasty topping for crusty bread. They can even be minced and pickled in a vinegar/sugar mixture to use as a relish on a tasty sandwich.
Based on their flavor profile, beets pair well with things like green apple, basil, honey, lemon and mint, so if you're inclined to do some cooking in your own kitchen, this recipe is a great combination, considering its citrus dressing dotted with honey, as well as, a healthy dose of fresh basil. It's a flavorful salad that can be enjoyed as either a side dish or a topping for grilled chicken, pork or fish.
Make Your Own Beet Salad!
Spicy Citrus Dressing
Juice and zest of 1 lemon
1 small garlic clove, minced
2 teaspoons honey or brown sugar
1/2 teaspoon ground cumin
1/4 teaspoon kosher salt
Several grinds black pepper
1/3 c. olive oil
Salad
1 lb. fresh, small to medium-sized beets
2 tablespoons olive oil
Pinch kosher salt
Several grinds black pepper
Handful fresh basil, thinly sliced
3-4 green (or red) onions, sliced thinly
1/4 cup toasted walnuts, pistachios or almonds
Instructions
1) In a small bowl, combine and whisk ingredients for Dressing; set aside (or refrigerate) until ready to use.
2) Heat oven to 350 degrees.
3) Wash beets and remove stems/roots. Cut into quarters, place in a baking dish and sprinkle with olive oil, salt and pepper; toss to combine then arrange in one layer. Cover with foil and roast 40-50 minutes until fork done. Remove from oven and cool 10 minutes. Peel/chop each piece, toss into a mixing bowl, then refrigerate 20-30 minutes to cool.
4) Once cool, add some of the dressing, to taste; mix thoroughly.
5) Add basil, onions, nuts and toss very lightly (the goal is to reduce the amount of beet juice that will inevitably discolor the bright greens), then serve.
###
Nicole Coudal is a home chef and food writer based in southwest Florida, where she fishes and cooks using local ingredients. When not on the water, she visits farms, farmer's markets, and other food venues to highlight what's in-season and to create tasty recipes for her blog. Nicole is a regular contributor to Edible Sarasota, as well as, a frequent guest on ABC 7's Suncoast View. Read more at www.MyDeliciousBlog.com.