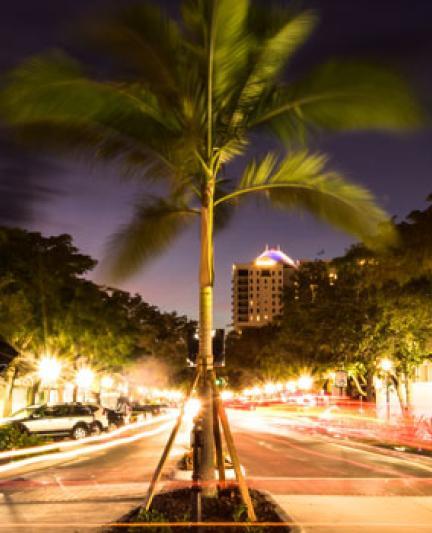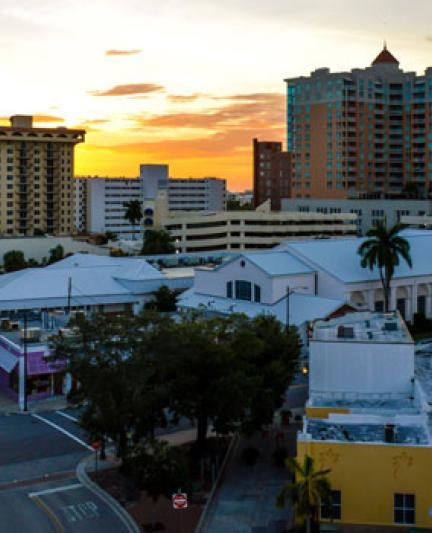 Dine, Do, Watch - City of Sarasota
The city of Sarasota may be smaller than other metropolitan destinations, but there is plenty to do in this city.
Enjoy the bustle of Main Street, the quaint bungalows of the historic downtown area, the art galleries at Towles Court, and the antique stores of Burns Court.
The city of Sarasota may be smaller than other metropolitan destinations, but there is plenty to do in this city. Flavors abound at local restaurants and eateries, such as the sushi and hibachi grill Tsunami, trendy Peruvian spot Selva Grill and the classic Bijou Cafe. Relax at one of several nearby parks or take a stroll along the bayfront and over the iconic Ringling Bridge!
Dining
Breakfast: Lolita Tartine
Wake up and smell the café au lait at Lolita Tartine, an eatery located in Sarasota's eclectic Rosemary District. Freshly baked croissants and tartines with butter and jam flavor the menu. Just close your eyes, smell the espresso, and — voilà! A Parisian breakfast in the Sarasota sunshine.
Lunch: Nancy's BBQ
Loosen your belt for the Southern-style barbecue lunch that awaits at Nancy's Bar-B-Q. A 1940s filling station converted into an oak-fired smokehouse, this is the perfect stop for fueling up with slow-cooked pulled pork and ribs, beef brisket, and smoked chicken slathered in sweet or chipotle BBQ sauce.
Dinner: Mattison's City Grille
Mattison's City Grille is an outdoor restaurant-bar in the heart of downtown Sarasota featuring nightly live music and dancing. Enjoy late-night urban eats, ranging from brick-oven pizzas to seared tuna sashimi, paired with wine, cocktails, and beer.
Spotlight
Pinecraft
Tucked away just minutes from downtown is a unique little Sarasota community known as Pinecraft. Trust us when we pass along this secret: the pie alone is worth the visit to the charming village.
There's no shortage of welcoming folks, local crafts, and comfort food in this haven for the Sarasota Amish and Mennonite community. Pay a visit to Pinecraft's local markets and craftsmen to stock up on fresh fruits, vegetables, homemade jams, baked goods, and crafts such as handmade quilts and wooden furniture.
About that pie — we recommend Yoder's Amish Restaurant, a local staple since 1975, boasting more than 25 varieties of pie, or Der Dutchman, which also features some of the best Amish comfort food in Florida.
Park
Bayfront Park
Watch the sailboats drifting through Sarasota Bay at Bayfront Park or take a walk across the Ringling Bridge, one of the most scenic views on the Gulf Coast with its breathtaking, panoramic views of the bayfront and cityscape. On the other side of the bridge, fish at Bird Key Park and enjoy the refreshing bay breezes.
Arts
Sarasota Orchestra
The Sarasota Orchestra features more than 100 chamber, pops, and youth concerts annually. As one of the most exciting conductors of today, music director Anu Tali programs intriguing seasons featuring the most renowned soloists from around the world. The Youth Orchestra education program is the parent program of the nationally distinguished youth classical music festival, the Sarasota Music Festival.
Sarasota Opera
2016 is an iconic year for the historic Sarasota Opera, as it is set to complete the Verdi Cycle, becoming the only company in the world to perform the complete works of 19th-century Italian Romantic composer Giuseppe Verdi.
Sarasota Ballet
Formed in 1987, the Sarasota Ballet achieved national and international acclaim in 2007 after coming under the direction of English ballet dancer and choreographer Iain Webb, formerly of London's Royal Ballet.
Sarasota Contemporary Dance
Sarasota Contemporary Dance, formerly known as Fuzión Dance Artists, is a company recognized for its diverse, collaborative performances that blend traditional and modern dance with technology, aerial dance, Middle Eastern, and Afro-beat influences.
Florida Studio Theatre
Contemporary American theater, cabaret, improv comedy, dance, readings and discussions with internationally acclaimed performing artists, and plays scripted and performed by local kids are but a few of the delights to be experienced at the Florida Studio Theatre. This theater is home to the annual side-splitting SRQ Improv Festival.
Asolo Repertory Theatre
Asolo Repertory Theatre, in an ongoing partnership with Florida State University's FSU/Asolo Conservatory for Actor Training, is one of the most powerful voices in theater in the southeastern United States, and boasts a diverse repertoire.
Westcoast Black Theatre Troupe
The Florida Gulf Coast's only black theater ensemble, the Westcoast Black Theatre Troupe got its start in 1999 as a small but immensely talented and tenacious underdog on the Sarasota theater scene. Today, the award-winning WBTT performs to sold-out audiences.
Urbanite Theatre
Sarasota's newest and most provocative theater is the contemporary Urbanite Theatre, which celebrated its inaugural season in 2015 with sold-out shows and buzzing reviews. The Urbanite Theatre takes risks and pushes boundaries, presenting edgy fringe productions in an intimate black box setting.
Attractions
The Ringling
The Ringling is the hallmark destination of Sarasota, with art galleries including a premier collection of timeless Renaissance and baroque art and special Modern and Contemporary exhibitions. More than just an art museum, the family-oriented Ringling is also home to a visually striking interactive circus museum and education center, sprawling grounds with an award-winning rose garden, and the Cà d'Zan mansion. The Ringling anticipates welcoming the newest facility — the Center for Asian Art — in early 2016.
Selby Botanical Gardens
Selby Botanical Gardens is a tropical oasis with something to offer guests of all ages. Botanists will delight in the Selby's collection of rare tropical plants — particularly its famous epiphytes (plants that grow on other plants), including bromeliads and orchids. Kids love the Children's Rain Garden, which inspires adventure and eco-education.
Sarasota Jungle Gardens
The call of the wild lures families to days of fun at Sarasota Jungle Gardens, home to more than 150 exotic animals, including parrots, primates, birds of prey, alligators, and other reptiles. Sarasota Jungle Gardens features daily education and entertainment bird and reptile shows, a beautiful butterfly garden, and famously curious resident pink flamingos.