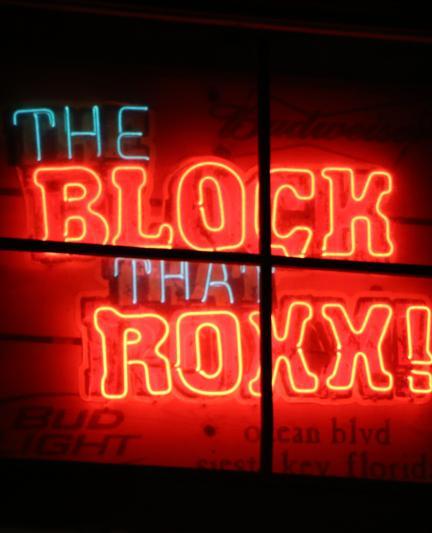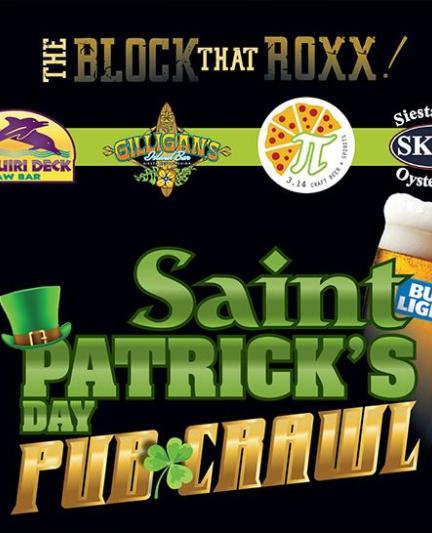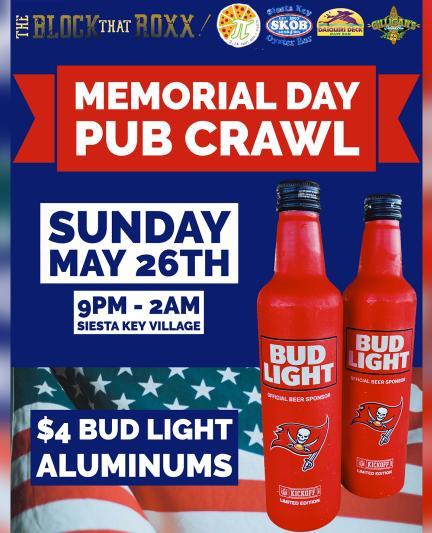 The Block That Roxx! Keeps Party Going on Siesta Key
When Siesta Key Village restaurants band together, there's never a dull moment.
When the sun sets on Siesta Key, the party moves from the world-famous crystal sand to the lit sidewalks of Ocean Boulevard, where every so often a few of the unique restaurants combine forces to guarantee a fun night in flip flops.
"The Block that Roxx!" is a name you'll see hosting annual pub crawls, holiday celebrations and more throughout the year in the Siesta Village. For over a decade, this collaboration has kept the party going with landmark local spots like Daiquiri Deck, Gilligan's Island Bar & Grill and Siesta Key Oyster Bar (SKOB). Pi 3.14 Pizza recently joined in, helping mix Siesta's laid-back lifestyle with a little downtown revelry.
The Block that Roxx events coincide annually with select holidays, starting 2019 with the one most likely to have inspired all block parties…
St. Paddy's Day Pub Crawl: Sunday, March 17, 9 p.m.-2 a.m. (note - event has passed)
Memorial Day Pub Crawl: Sunday, May 26, 9 p.m.-2 a.m.
Labor Day Pub Crawl: Sunday, Sept. 1, 9 p.m.-2 a.m.
Turkey Trot Pub Crawl: Wednesday, Nov. 27, 9 p.m.-2 a.m.
Santa Stumble Pub Crawl: Thursday, Dec. 26, 9 p.m.-2 a.m.
Drinking discounts -- $4 aluminum Bud Light bottles at participating restaurants. This may attract you and your friends, though you shouldn't be afraid to dive into their unique menus as well where craft creations like daiquiris, margaritas, cocktails and more are always available with local flare.
And who says dining out can't be progressive-style? Turn instead to tapas, creating your own mix-and-match menu of oysters, grouper and other local delicacies to brag about to your buddies back home!
With several free ride service options on the Key, getting to the Village safely is a breeze. Let the drink specials be your guide, and we'll see you on the Block!