Biking through Sarasota
Combine exercise, fun and sightseeing in one. Whether you're a competitive cyclist or just looking for a leisurely bike ride, you'll find what you need in Sarasota.
There are many different ways to experience Sarasota County; the best way, though, is on a bicycle. Whether you're looking for bike rentals in Venice Beach, cycles on Siesta Beach, or rides through Sarasota, here's the scoop on where to get the bikes and where to take them.
Bike Tours
Want to explore the area with a dedicated guide? Check out Sarasota Bike Tours. Bikes, helmets, snacks and/or a picnic lunch is provided along with a local guide that provides intimate knowledge of the area with every tour. These tours include excursions through historic sections of downtown, arts districts, Siesta and Lido beaches, Ringling Museum's grounds, and more. They also offer electric chopper tours, for those interested in a more technologically-enhanced bike tour experience. Most trips run from about 5 to 10 miles and cost $50 to 100 per person.
Bike Shops
Real Bikes is located near the Legacy Trail bike overpass over U.S. 41. The store sells a number of top brands of bicycles and bikewear and organizes cycling events. Village Bikes on Bay Road will be on your way to Siesta Key if you are taking the North Bridge. Stop in and check out their selections, talk to the friendly staff, and get recommendations for gear or other more general Sarasota Cycling tips. Pinnacle Wheel Works in Downtown Sarasota will cater to the higher-end cyclist's needs as well as less well-heeled riders. If you're on a shopping trip in the University Town Center, check out Ryder Bikes for all the bikes and gear you'll need for serious cycling sport ambitions (or even if you're just acting the part on vacation, while you have access to our beautiful Sarasota bike paths).
Where to Ride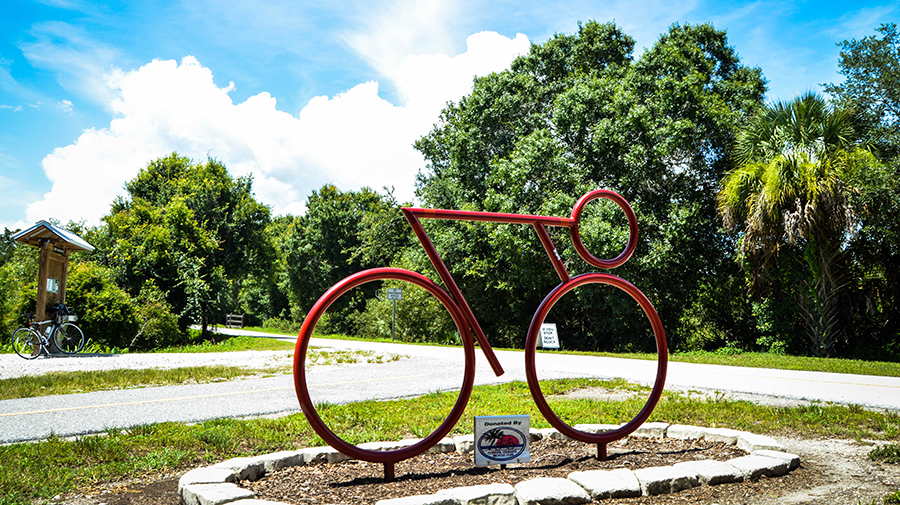 There is no shortage of beautiful scenery ideal for a bike ride in Sarasota County. If you're looking for a quiet ride along the beach, try Lido Beach. You can ride through Siesta Key and stop at the stores in Siesta Village along the way. If you're experienced and comfortable riding in the road, you can ride on the roads or along the main drag, U.S. 41. The bike paths on Longboat Key are breathtaking, with Gulf views as well as views of gorgeous homes.
The Venetian Waterway Trail has bike paths along the water. The trail ends at the Venice Avenue bridge and connects to the Legacy Trail. While the views are gorgeous, there are breaks in the trail, so proceed with caution. The trail is just over 10 miles.
Perhaps the most popular and impressive place to ride in Sarasota is the Legacy Trail. The Legacy Trail was opened in the spring of 2008. Extending over 12 miles, the Legacy Trail runs from just south of Sarasota, near Clark Road, down to Venice. Along the trail, you'll find 15 rest stops that include trailheads with bike access points and free parking. Trailheads can be found in Sarasota at Potter Park, in Osprey at Bay St. Park and Oscar Scherer State Park, Laurel Park and Nokomis Park in Laurel-Nokomis, Patriots Park and at the Venice Train Depot in Venice.
If you get tired along the way, you can rest, refuel, eat a packed snack, use the restroom and even learn more about Sarasota at the different rest areas.
Enjoy the ride!