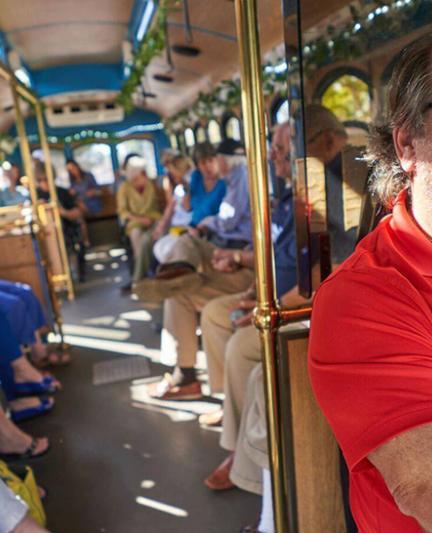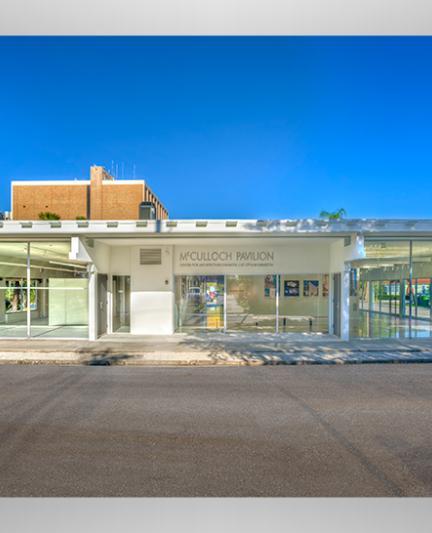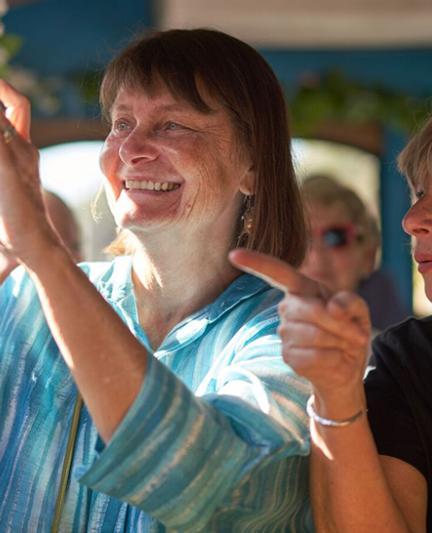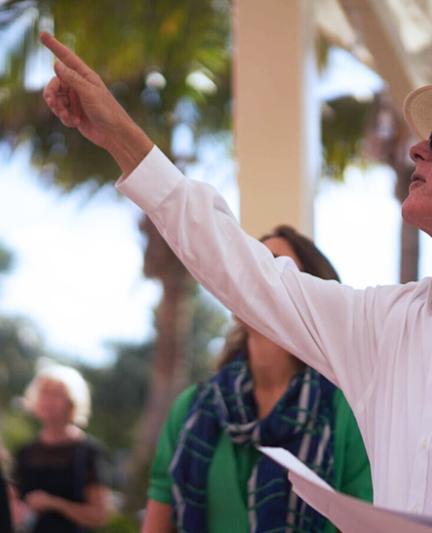 The Beauty of Buildings: Architecture Tours in Sarasota
New trolley tours show off Sarasota's noteworthy architecture at the Center for Architecture Sarasota
If you become enamored of Sarasota during your first visit here, you're not alone. "People tend to come to Sarasota and just fall in love with the whole picture, like a first date that went really well," says Harold Bubil, who was the real estate editor of the Sarasota Herald-Tribune for two decades. "But to get beyond that first date, you really need to get to know a person a little better. And I think understanding our architecture helps people know Sarasota better."
Bubil helps foster an appreciation for Sarasota's built environment during the new Thursday trolley tours he leads for Center for Architecture Sarasota. Upcoming outings take place March 8 and 22, April 5 and 26, and May 10 from 10 a.m. to noon, costing $45 per person ($35 for CFAS members).
The tour takes participants to some of Sarasota's newest, most innovative structures, like the Richard and Barbara Basch Visual Arts Center at Ringling College of Art and Design. The boxy neo-modern structure covered in zinc panels was designed by hometown firm Sweet Sparkman Architects. A pattern of decorative red X-like cutouts adds interest to the exterior, while a cantilevered overhang creates a shady gathering spot for students.
"It's a real gem," says Bubil. "I'd put it right up near the top of the buildings that we have in Sarasota today. When I see buildings like the Basch Visual Arts Center, I get excited about the future of Sarasota architecture."
Another new entry on the local architecture scene is the Center for Asian Art at the Ringling museum complex, designed by Boston firm Machado Silvetti. It's a basic rectangular cube shape that's elevated and covered in green glazed terra cotta tiles. Each one weighs more than 60 pounds and was custom made in different shapes that interlock together like a jigsaw puzzle. "A lot of architects today are using coating rather than geometry to create visual delight," says Bubil.
But the tour doesn't just focus on the present. It also travels through the historic Indian Beach neighborhood, home to 1920s-era Spanish Mediterranean Revival homes like Splendida that have been preserved and updated for 21st-century residents.
It visits well-known local sites like the Van Wezel Performing Arts Hall, an iconic purple building located on Sarasota Bay. It was designed in 1968-69 by William Wesley Peters, who was Frank Lloyd Wright's son-in-law. The hall's ribbed roof line creates a seashell effect, and its signature color was inspired by a shell found on a Japanese beach by Wright's third wife, Olgivanna.
Bubil also, of course, spends time talking about the Sarasota School of Architecture. That mid-20th-century movement produced local buildings like the pagoda-style structure Victor Lundy originally designed for Sarasota's Chamber of Commerce. (It's now the headquarters for the Bay, a group that's creating a master plan for the Sarasota Bayfront area.) Its curved roof clad in blue ceramic tiles from Japan is held up by glulam beams, a structural element made of thin layers of wood that have been adhered together to form laminated timbers.
Lundy used that same striking curved-roof technique for the original sanctuary building at St. Paul Lutheran Church, which the tour also visits. "At a time when the international style was very boxy and rectangular, Lundy was doing architecture that was very artistic and curvaceous," says Bubil.
The tour starts and ends at the Center for Architecture Sarasota, a nonprofit dedicated to increasing awareness of and appreciation for innovative architecture, design, and urban planning. The organization inhabits a circa-1960 commercial building designed by William Rupp and Joseph Farrell to serve as the showroom for the Barkus Furniture Company. CFAS restored it to its former glory, allowing visitors to appreciate its open floor plan, terrazzo floors, and other hallmarks of Sarasota School of Architecture design during lectures, exhibits, and other events.
The center started these tours to help people who may not be architecture buffs learn about some of the city's notable structures. "It's the general public who really does have to understand that good design benefits everybody," says Tammy Hauser, executive director of the Center for Architecture Sarasota.
In addition to Bubil's tour, CFAS also offers another new trolley outing that takes in the city's historic neighborhoods like Burns Court and Gillespie Park. Offered on alternating Thursdays from Bubil's, it's led by Lorrie Muldowney, who served 22 years as a historic preservation specialist for Sarasota County. The two tours run through the beginning of May, then pick back up again in October. And Hauser has lots of ideas and hopes for expanding CFAS tour offerings.
After all, there are plenty of interesting buildings to talk about in the Sarasota area that people interact with on a daily basis. "Architecture is the one art form that you consume not by choice," says Bubil. "If you want to see paintings, you have to make a conscious decision to go to a museum. Architecture is just there. It's the background to your life."