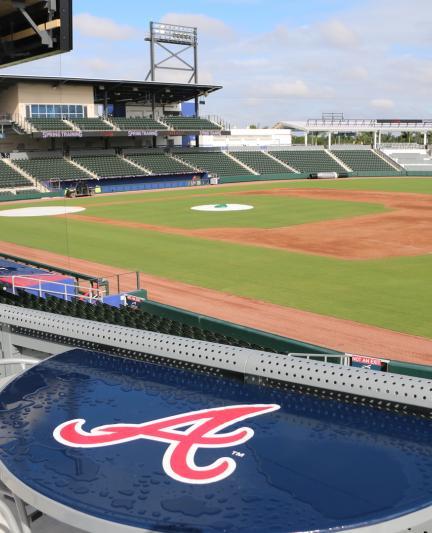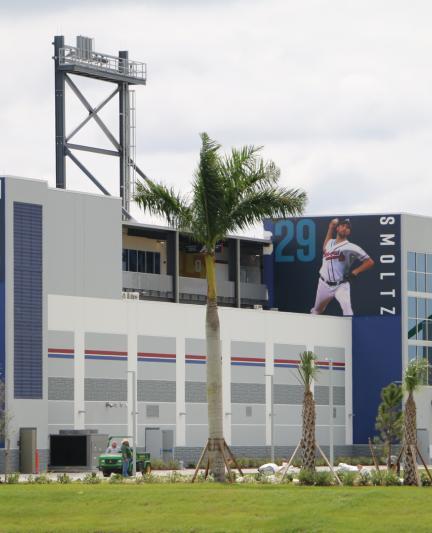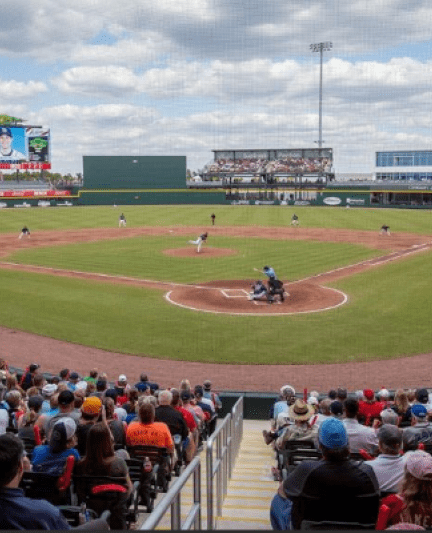 The Atlanta Braves' Home Away From Home
North Port's CoolToday Park is Atlanta Braves major league baseball team's official Spring Training facility.
In case you needed a recap—the Atlanta Braves clinched the 2021 MLB World Series last November with a 7-0 Game 6 victory over the Houston Astros. It was the fourth world title for the 145-year-old franchise and its first big win since 1995. The 2022 Major League season will also mark the first time Sarasota County hosts a World Series champion for Spring Training. Sarasota County's relationship with Spring Training baseball started in 1924 when John Ringling used his connections to bring the New York Giants to town 97 years ago.
The Atlanta team ventures further south every February to the crown jewel of Wellen Park, Florida, and its massive master-planned community between Venice and North Port. Here, they call their Spring Training home base.
CoolToday Park Stadium
Cheering on the game within the diamond at CoolToday Park is a place for anyone to have a great American time—whether a Braves baseball fan or just looking for a good ol' Florida time. The state-of-the-art ballpark has 8,000 seats – 6,200 fixed and 1,800 berm (general admission) seats, and was built from the ground up with the fan experience very much in mind.
CoolToday Park's outdoor/indoor Spring Training complex boasts a spacious concourse walkway that wraps around the entire stadium and encompasses numerous drink rails installed so fans can feel free to stop and watch whoever's at bat as well as unique food vendors and concessions—including the open-year-round, Tomahawk Tiki Bar, as well as several other specialty ballpark offerings revolving around down-home, Southern comfort styles to honor Atlanta cuisine.
Stay up to date on Spring Training's game schedule and purchase tickets here.
Coming Here With a Sports Team?
For assistance with sports accommodations and group housing, Visit Sarasota County's preferred housing partner is HBC Event Services. For all other housing inquiries such as area group hotels lists or RFP dispersal, please contact the VSC Sports team for assistance.
Similarly, head here for group transportation options. To get a sneak peek before heading down this way, take a 360 virtual tour of various area parks, businesses. hotels and more—found at Virtual Tours for Meeting and Sports.
Additional Sports Facilities to Play Ball
Baltimore Orioles at Ed Smith Stadium
The Baltimore Orioles also call Sarasota County their Major League Baseball Spring Training home. Often referred to as "Birdland South," Ed Smith Stadium includes the Buck O'Neil Baseball Complex at Twin Lakes Park, which features all of the ballpark amenities to make any athlete feel like they're in the big leagues. This major league facility features an 8,000-seat stadium, four additional onsite training fields with one practice half-field, five offsite training fields, a clubhouse and covered batting cages and pitching mounds.
Payne Park
Owned and operated by the City of Sarasota Parks & Recreation District, this downtown park is home to the Payne Park Skate Park, Circus Park, Cafe in the Park, a disc golf course and amphitheater. Payne Park was a professional baseball park from 1924 to 1989 in Sarasota, serving as the Spring Training home for the New York Giants, Boston Red Sox, and Chicago White Sox. The stadium closed in 1989 when replaced by Ed Smith Stadium.
Nathan Benderson Park
Further inland, find a unique 600-acre park on a lake that includes North America's premier 2,000-meter sprint rowing course, a multi-function boathouse, athlete training and regatta center, grand stands and a state-of-the-art-boat maintenance and testing facility. One of a handful of sites in the United States identified as having all of the natural attributes that make up a world-class rowing and recreational facility, Nathan Benderson Park began hosting organized regatta competitions in 2009. The community park offers the perfect destination for a range of championship and recreational events, vendor opportunities, team training and development trips and more.
Robert L. Taylor Community Complex
Formerly known as "The Rec," the Robert L. Taylor Community Complex remains an all-encompassing recreation venue, with 13 total acres and 44,000 square feet state-of-the-art facility offering many great programs. The facility features a fitness center, gym, game room, computer lab, family pool and splash pad, rental rooms and much more. Its outdoor park space features a fitness trail, picnic shelters, lit basketball court, covered playgrounds and hosts Sarasota's only public turf multisport field for rent.
Youth Athletic Complex
This Sarasota County-operated specialty park duals as a BMX Supercross facility and sport recreation park. BMX Supercross tracks, tennis courts, youth baseball fields, batting cages, a full-size football field and practice football field are all available at the Youth Athletic Complex.
Arlington Park & Aquatic Complex
Conveniently located less than two miles from downtown Sarasota, Arlington Park offers residents and visitors a 50-meter lap pool, 25-yard instructional pool, outdoor basketball courts, tennis courts, playground, picnic area, outdoor fitness gym, ½-mile walking trail, and dog park. This park is owned and operated by the City of Sarasota Parks & Recreation District.