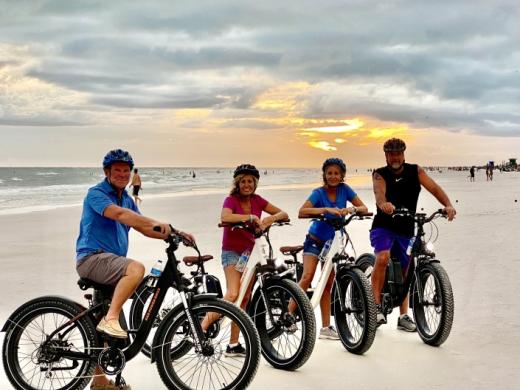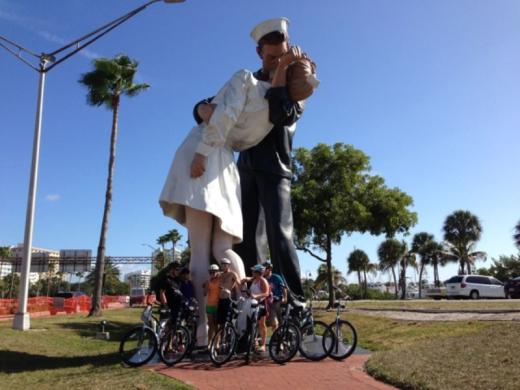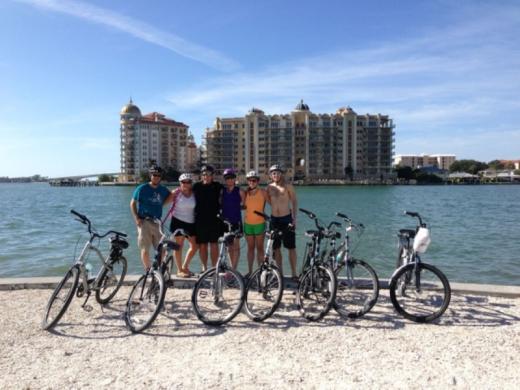 Sarasota Bike Tours
Serving Sarasota Area
(941) 313-0613
[email protected]
We offer casual bicycle tours in Sarasota's Downtown area and surrounding barrier islands.  Most tours are 7-10 miles on comfort cruiser bikes and electric bikes and they are designed to accommodate people of all physical fitness levels. All equipment including helmets and bottled water is provided on every tour. 
Lido Key Sunset Bike Tour
What you'll do on this tour as we explore all of Lido Key via electric bike or comfort cruiser visiting multiple points of interest along the way, stopping by the Lido Beach Casino, South Lido Beach Park to view Siesta Key and Downtown Sarasota over Big Pass. Then we travel past Ted Sperling Park where the most visitors and residents kayak and paddle board through the Mangrove tunnels. We then take back roads through beautiful neighborhoods to view one of a kind Mansions as we proceed to another vantage point under the John Ringling Causeway for more photographs and interesting informational about the area. Then we proceed towards Long Boat Key traveling past more homes of the Rich and Famous on our way to Ken Thompson park for more pics and information about Mote Marine Laboratory, Sarasota Sailing Squadron, Sun coast Bird Sanctuary, Marine Max, The old Salty Dog and New Pass Bait Shop. We do not go over the bridge to Longboat Key on this tour but we will see the area locals call the cove and the area where John Ringling was building a Ritz Carleton Hotel before the Great Depression. For the final leg of our journey we pass through Lido Shores and view many architectural gems created by the Sarasota School of Architecture and the out skirts of Saint Armand's Circle as we proceed to view a epic sunset over the Gulf of Mexico from a secluded location. Please call to ask about custom tours.
Lido Bike & Kayak -
*CALL TO BOOK THIS TOUR
We meet at Lido Beach Public Pavilion then  explore the entire island of Lido Key, enjoy a light lunch passing through St. Armands Circle as we proceed to the Lido Nature preserve where we are outfitted for a kayak tour of the mangrove tunnels.
Duration 4-5 hours Distance 7-9 miles
Downtown Historic Enjoy a leisurely 7 mile ride starting at The Unconditional Surrender Statue in downtown Sarasota, visiting our distinctly different neighborhoods and historical points of interest. From the Bay front to Payne Park learn what make Sarasota such a unique, and well preserved place.
Duration 2 hours Distance 7-9 miles
Ringling Mansion & Sarasota Bay Front This 10 mile ride begins at Pioneer Park and explores the rosemary district, Indian Rocks Beach, U.S.F campus, the John Ringling Mansion and many more points of interest. This tour reveals multiple, seldom seen viewing points along Sarasota bay.
Duration 3 hours Distance 10 miles  
Duration 4 hours Distance 10 miles
Amenities
General Info
Discounts Available
Family-Friendly
Tours Available
Meeting Venues & Services Amenities
Event Managers
Outdoor Space
Sports & Outdoors Facility Details
Equipment/Facility Rentals