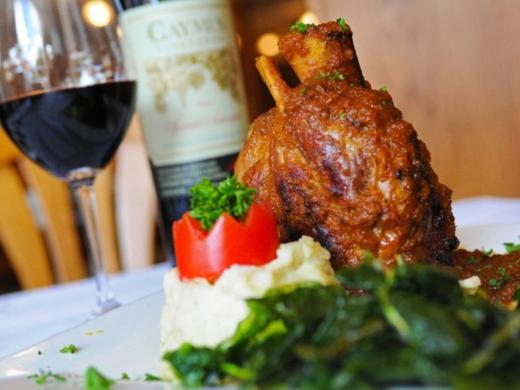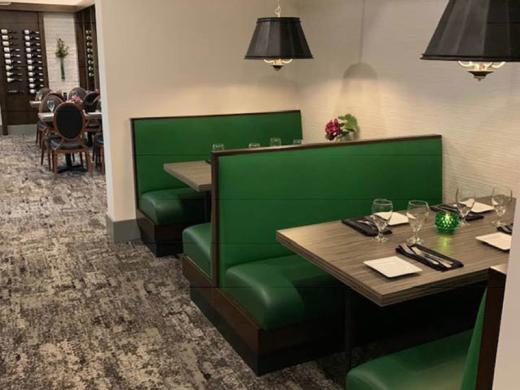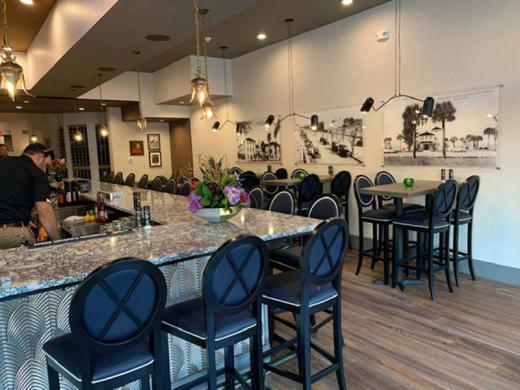 Cafe Venice Restaurant & Bar
101 W. Venice Ave., Venice, FL 34285-1929
(941) 484-1855
[email protected]
A small, intimate bistro-style restaurant, featuring an exquisite menu with New American Cuisine paired with a fine wine selection or a mixed cocktail. Our full service bar is availabe for dining or drinking alike. Casual bar menu available to include burgers, mahi sandwiches, salads, or something on the lighter side-or enjoy our full dinner menu selections. We also offer appetizers and tapas which create a perfect pairing with a nice bottle of wine.
We offer a large selection of wines by the glass, as well as bottle selection. Moderate to Extensive wine list from Napa, Sonoma and Paso Robles and to New Zealand, Spain, Argentina and Italy, we have something to suit your pallet. As our wine selection is ever changing to allow for new varietals, and of course limited production vineyards, it's hard to list our selections for you. However we try to have Caymus, Groth, Chateau Montelina, Ripassa, Brunello, Rioja, Pinot Noir, and of course many wonderful blends available. Oh, did I miss the white wine list, well anything from a buttery and oakey Chardonnay to a light and crisp Sauvignon Blanc or Vigonier.
Are you into Wine Dinners? During the summer months we offer five course wine dinners, pairing each course with something new and exciting. This is an advance reservation only event and typically sells out as seating is limited. Two mondays a month we offer these great wine tasting events, from May through October often selling out before our menus are even finalized. When available we try to bring the wine maker in for these great events.
Although we are not a sports bar, we do have a TV which you will often find on at the bar so that you can enjoy that football game, or world cup or world series game.
Don't drink? That's OK too as we have some non alcoholic beer and wine just for you. Or Simply enjoy a Venice Beach Sunset, and stroll up our main street called Venice Avenue and stop in and enjoy a cappuccino and homemade creme brulee or Key Lime Pie. Cheers!
Just thirty minutes south of Siesta Key, Cafe Venice is located in the downtown historic district of Venice Island, Venice Beach (Sharkstooth Capital of the world). Home of the Ringling Brothers and Barnum and Baily Circus for many years, Venice has had many traveling through.
After your day exploring Ringling Art Museum, or Saint Armands and Lido Beach, and Longboat Key, head south and enjoy the quaint town of Venice. Venice is known for it's wonderful community theatre (Venice Theatre), downtown shopping, natural style beaches especially Casperson Beach and of course the well known sharksteeth, and too many to count nature parks. With Oscar Scherer State Park just a few minutes to our north, and our wonderful Legacy Trail for biking and bicyling adventures, Venice captures the nature lover as well as the adventurer. In fact, Tito Gaona, famous flying trapeze artist, has flying trapeze school just a few blocks south of us at the old circus grounds. We are in the heart of downtown, on our version of Main Street, but actually named Venice Avenue.
We are a small, intimate bistro-style restaurant, featuring an exquisite menu with New American Cuisine. Seafood, pork, steaks-a little bit for everyone but best known for our homemade Jumbo Lump Maryland Style Crabcakes and Pork Ossobucco. Fine Wine Selection. Enjoy the dining experience of white linen table cloths inside, as well as our Florida Casual environment and take pleasure in the best service in town. Not only do we offer a restaurant and a full service bar, we also handle private catering, private parties, office events, wedding receptions, featured wine dinners etc. Let us help you make your special anniversary or birthday celebration the best. Reservations Accepted. Free Parking, street side or in our community parking lot (Centenial Park). Lunch and Dinner Menu available. Craft Beer, large wine Selection and a full service liquor bar. Casual Lunch, Casual Fine Dining for Dinner. It's a resort town of course-no suit or tie necessary! Extended Hours in Season.
Amenities
General Info
Accessible
Bar/Lounge
Family-Friendly
Meeting Facilities
WiFi
Meeting Venues & Services Amenities
Restaurants Amenities
Bar/Lounge
Corking Available
Downtown Dining
Gluten Free Options
Happy Hour
Live Entertainment
Outdoor Dining
Private Dining