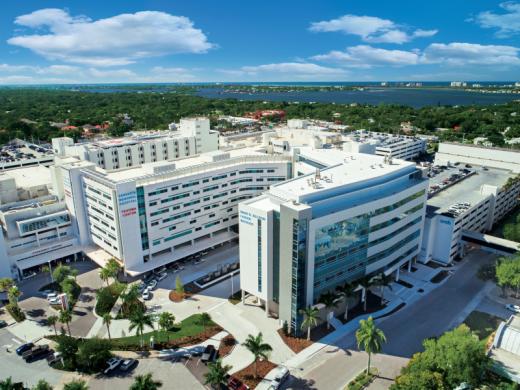 Sarasota Memorial Health Care System - Sarasota Campus
1700 S Tamiami Trl, Sarasota, FL 34239
(941) 917-9000
[email protected]
One of the largest public health systems in Florida, Sarasota Memorial Health Care System has continually evolved from its modest beginning as the county's first community hospital. Our mission to deliver high-quality healthcare for our community has been steadfast since we first began serving patients in 1925 at the 32-bed Sarasota Hospital, and our growth has been shaped by and for the community.
Today, we are a full-service public health system, with two hospitals offering specialized expertise in heart, vascular, cancer, orthopedic and neuroscience services, as well as a state-of-the-art cancer care center and a network of outpatient centers, urgent care centers, laboratories, diagnostic imaging and physician practices, skilled nursing and rehabilitation among our many programs. 
Sarasota Memorial Hospital-Sarasota Campus, with our flagship 895-bed, acute-care hospital and 8-story Brian D. Jellison Cancer Institute Oncology Tower, is the only hospital in Sarasota County providing obstetrical services, pediatrics, Level III neonatal intensive care, psychiatric services for patients of all ages and a Level II Trauma Center.
With the opening of Sarasota Memorial Hospital-Venice in fall 2021, we're able to provide south Sarasota  residents convenient access to the same level of care and 5-Star physicians, staff and systems available at our SMH-Sarasota Campus. SMH-Venice features 110 private rooms, a 28-room Emergency Care Center, 8 surgical suites, 10 birthing suites and a pandemic-ready intensive care unit. 
Sarasota Memorial is powered by more than 8,000 staff, making us Sarasota County's largest employer. Over 750 members of the community contribute their time and skills as hospital volunteers; this includes the 9-member elected and unpaid Sarasota County Public Hospital Board that governs Sarasota Memorial Health Care System.
Amenities
Healthcare
Healthcare Services:


Hospital