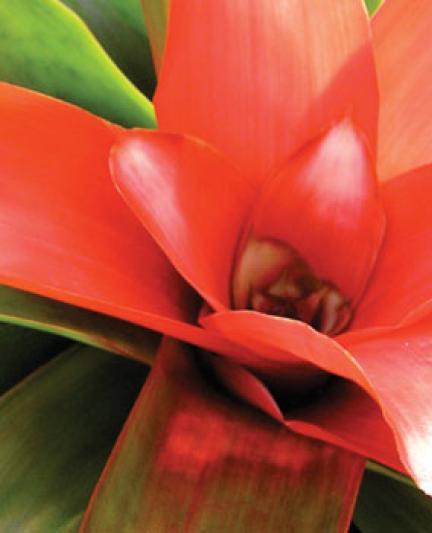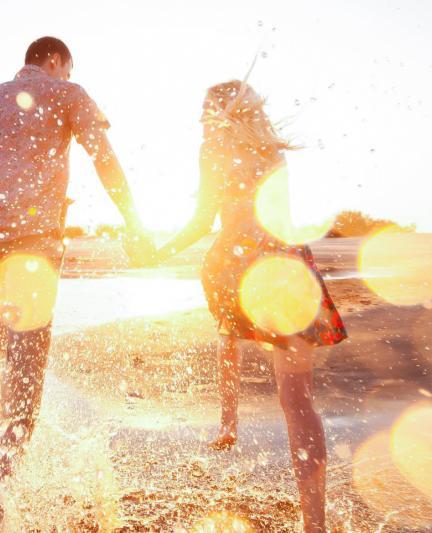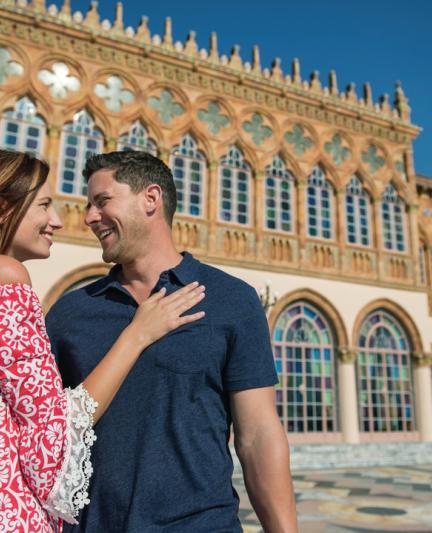 Itinerary: Find Romance During Your Sarasota Vacation
Whether it's our world-class beaches, renowned restaurants or arts scene, love is always in the air.
Day 1
Marie Selby Botanical Gardens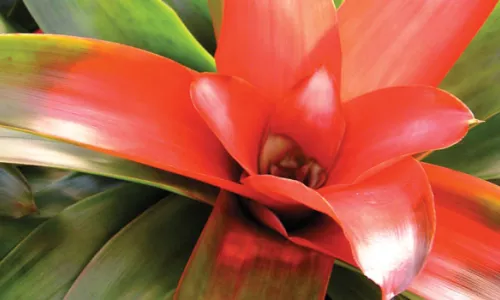 Located on 15 acres in downtown Sarasota, Marie Selby Botanical Gardens features plants and flowers from around the world. The gardens at Selby have different themes, such as tropical plants, a bamboo garden, a butterfly garden, edible plants and lots more. You'll find many spots to sit quietly with your partner and reflect and relax. Selby is nestled right on Sarasota Bay, so much of your visit provides a view of the beautiful bay along with their amazing plants. Take a brisk walk, or slow down to enjoy all of the plants—your choice. Grab a bite to eat at Selby House Café during your visit. Selby also operates the 30-acre Historic Spanish Point campus in Osprey.
Ahhhhh, the Spa... Shining Massage & Facial Clinic
After you spend the morning strolling around Selby, you and your partner deserve some down time. Make your way to Shining Massage & Facial Clinic for wellness, serenity and balance. Shining Massage offers an array of massage styles, including relaxation, deep tissue, hot stone, couples and many more. You and your partner can also feel and look your best with a facial at Shining Massage.
A Romantic Dinner in Downtown Sarasota
Make your way to downtown Sarasota for a romantic dinner. Selva Grill in downtown Sarasota features a menu with Peruvian and other Latin American influences. Bijou Garden Café features a French and California seasonal menu. At either location, you'll have a romantic, delectable dining experience.
Take a Sunset Cruise
Top off your romantic day in Sarasota with a sunset cruise. For years to come, you'll remember being on the water and enjoying the famous Gulf Coast sunset and listening to live music. You can take a sunset cruise with LeBarge Tropical Cruises. Marina Jack II Cruises lets you combine dinner and a sunset view with its sunset dinner cruise.
Day 2
Beach Day on Siesta Key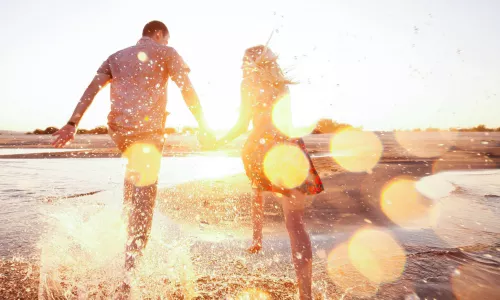 Have a relaxing day at Siesta Beach with your partner. After all, Siesta Beach on Siesta Key is world-famous for its quartz-crystal white sand and turquoise waters. It was even ranked as the #2 Beach in the U.S. in 2023 by TripAdvisor's Traveler's Choice Awards. Plus, the beach has ample parking, restrooms, a concession stand, lifeguards and anything else you may need to stay comfortable while you float in the Gulf, catch some rays or simply take a nap. You're also just minutes away from Siesta Key Village, with shops and restaurants.
Siesta Key Rum
Use your time in Siesta Key to visit an actual rum distillery. Siesta Key Rum produces small-batch rums with flavors like toasted coconut, spiced and coffee, as well as special-release aged rums. There are two to three tours daily most days of the week, and they're free. Book online for the best availability. Siesta Key Rum also has a tasting room. If you don't feel like driving, then take the Siesta Key Breeze Trolley to and from your visit.
Enjoy a Romantic Dinner
Enjoy a romantic dinner while visiting Siesta Key. The Blasé Martini Bar promises creative cuisine and handcrafted martinis, while Miguel's Restaurant serves up French and continental cuisine. You and your partner also can spend some time walking around Siesta Key Village.
Watch a Sunset
There can never be too many sunsets, right? Return back to Siesta Beach to take in an award-winning sunset. Take lots of pictures with your partner!
Day 3
Ca' d'Zan and Mable's Rose Garden at The Ringling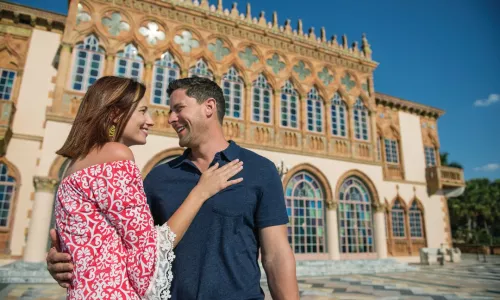 Located right on Sarasota Bay, The Ringling is the estate of the late circus magnate John Ringling and his wife Mable. It includes an art museum, circus museum, gorgeous gardens and grounds, and a gift shop. For your romantic-themed Sarasota visit, make plans to visit The Ringling's Ca' d'Zan, the one-time opulent, ornate home of the Ringlings. You can choose between museum admission and a self-guided tour of the first floor of Ca' d'Zan, or go all in for the tour of all five floors. Whichever one you choose, you'll have mesmerizing views of Sarasota bay and the architecture that's part of Ca' d'Zan.
Another romantic destination at The Ringling is Mable Ringling's Rose Garden, with an Italian-inspired circular design. Find hundreds of beautiful roses, maintained with the help of volunteers. While none of the original blooms from Mable's time are there, some of the varieties still are, like Hybrid Teas and Old Garden Roses. You and your partner also may enjoy walking around the rest of the Ringling grounds.
Stop by the gift shop on your way out and enjoy a leisurely lunch at The Ringling Grillroom.
Stroll at St. Armands Circle
The European feel of St. Armands Circle, a popular, circular-shaped shopping and tourist destination not far from downtown Sarasota, gives off a romantic vibe. It's the perfect spot for shopping, strolling and people watching. Take your time to check out St. Armands' unique shops, selling everything from clothes to beach gear to spices.
Enjoy Another Romantic Dinner
Sarasota has plenty of romantic restaurants, so you won't run out of destinations for a special meal. Tonight, try Euphemia Haye on Longboat Key (don't miss the desserts in the upstairs Haye Loft!) or Flemings Steak House.