Chef Kaytlin Dangaran
Chef Kaytlin Dangaran brings a fresh approach to Bistro at Sarasota Art Museum of Ringling College, where she draws inspiration from her diverse culinary experience and background. Having led restaurants within cultural institutions, she has elevated the museum experience with seasonal and art-inspired menus.
Learning to cook in her mother's kitchen, Chef Dangaran, a Tampa native, recognized at a young age the importance of food and shared meals with her family and her community. As a universal language, she communicates through her culinary creations bringing people from all backgrounds together for a shared experience.
Trained at the French Culinary Institute in Manhattan, Chef Dangaran gained invaluable experience in the kitchen of Gabe Thompson's bustling West Village Italian restaurant dell'anima. Shortly after completing culinary school, she joined the opening team of Thompson's L'Artusi as Sous Chef. Eager to expand her culinary knowledge and skills, Dangaran moved to San Francisco where she worked at the famed Quince and Cotogna.
It was during this time that Dangaran explored seasonal cooking, gaining expertise in a restrained style of creating dishes dictated solely by ingredients' seasonal availability. After two years in San Francisco, Dangaran returned to New York to accept the position of Chef de Cuisine at L'Apicio in the East Village. Ever seeking new opportunities to explore and expand her repertoire, Chef Dangaran relocated to Miami to helm the kitchen at Verde at the Perez Art Museum in Miami prior to opening Bistro at Sarasota Art Museum.
Chef Kaytlin Dangaran
Chef Image
Image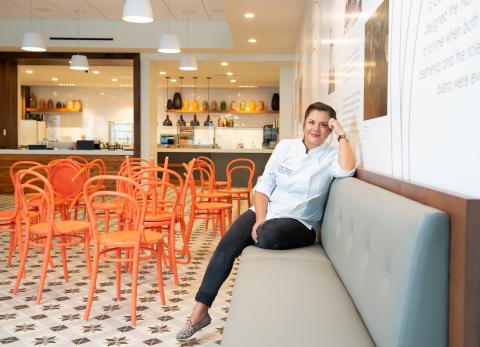 Chef Name
Chef Kaytlin Dangaran
Chef Title
Chef Kaytlin Dangaran