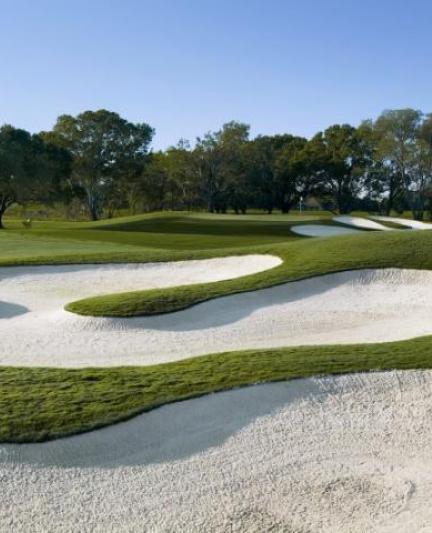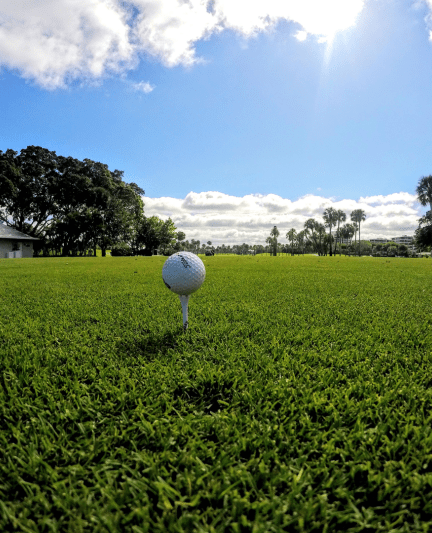 Top Golf Courses to Play in the Sarasota Area
With over 50 courses to choose from and year-round sunshine, Sarasota remains a premier destination to hit balls on the Gulf Coast
Courses range from public to private to resort style and most have hosted a variety of tournaments. There are a multitude of great golf courses in and around Sarasota for both competitive and leisure golf. If you are a true golfer, or just hoping to get on the green soon, you'll want to set up a few rounds at these layouts.
Tatum Ridge Golf Links
For a little more of a fun course to play, try Tatum Ridge Golf Links. Open to the public and only a couple of miles east of I-75 off Fruitville Rd. you'll find this delightful 18-hole layout. It has a Scottish links feel to it, along with Florida wetlands designed by Ted McAnlis. Take on their signature 13th hole – a tough par 5 dogleg over a huge lake. Cut the corner to try for your birdie, but bite off too much and your ball will be wet. Tatum Ridge also has a good full grass practice range and chipping area to hone your game.
University Park Country Club
You may have seen a few holes of the University Park Country Club as you drove by on University Parkway in north Sarasota. Memberships are available for this wonderful 27 hole operation, but the public is also invited to play here. All three nines (all are Ron Garl designs) are equally enjoyable the way they weave through the natural terrain. And with all the different sets of tees you'll feel like you are playing a different course every visit. The greens are top notch, with speed and true rolls, and the course is noted for its great overall condition. Head golf professional, Ashley Hayden, hosts a superb golf academy on their outstanding practice range areas at University Park. They also have an excellent short game area complete with sand bunkers and practice green.
The Meadows Country Club has two 18 hole championship courses ("The Meadows" and "The Highland") and a shorter Par 63 18 hole track called "The Groves". Architect Ron Garl redesigned the Meadows course in 2004 and it is reserved for member play. The Highland course is a trip through Old Florida with solid mature oaks, pines, and ponds. The Groves is a sporty 18 holes that will allow you to walk the course to get a full day of outdoor exercise if you so desire. With its snug fairways and challenging putting surfaces you'll get a full test on this shorter course. Both the Highlands and the Groves are available for outside play by contacting the golf shop. With 54 holes of golf you should always find the right track for you to play your game. Located between the major roads of University Parkway and Fruitville Rd. The Meadows CC is easy to find off 17th Street or Honore Ave.
South of Sarasota in the Venice area are three fine golf layouts all open to the public. Capri Isles Golf Club is one of the oldest courses in Venice with its rolling greens and sparkling lakes. Pleasurable and affordable, you'll enjoy your day there. It's sister clubs are Waterford GC and Calusa Lakes GC. Waterford GC winds through the Waterford development, but seems like you are out in the country on its beautiful 27 holes of golf. Calusa Lakes GC, just over in Nokomis, with its stands of tall pine trees has a bit of a Carolina feel to it, but still enough palm trees and lakes to remind you that you're in Florida. It is another enjoyable track you should try. You may also purchase a membership for these clubs. If you belong to one, you belong to all three. Recent updates and renovations to the courses and clubhouses keep the facilities fresh. Check out GolfInVenice.com to get more info.
TPC Prestancia
The TPC Prestancia, a private club located on Palmer Ranch in southwest Sarasota (not far from Siesta Key), offers 36 holes of championship golf. The Ron Garl designed Stadium Course has been the home to many PGA Champions Tour (Senior) events. The Club Course by Robert Von Hagge was built first, but offers perhaps even a bit stronger challenge. Practice facilities at TPC Prestancia are some of the best around. To play here you need to be a TPC member. There are various categories and levels of membership - some that allow you to play other TPC courses in the TPC network or stick with just your local TPC. You may contact TPC Prestancia for additional details.
Sara Bay Country Club
A little farther north of Sarasota off the Tamiami Trail (Route 41) is the Sara Bay Country Club. First opened in 1926 with the salesmanship of golf legend Bobby Jones, this Donald Ross designed classic has the feel and look of a genuine traditional style club. A private club, Sara Bay offers its members true service along with the club's amenities. Known for having wonderful greens, the course is never overcrowded, even in "season".
Founders Golf Club
Go a bit further east on Fruitville Rd. and you'll find the exclusive Founders Golf Club. As a member-owned, private facility you won't run into a large number of golfers, even on the nicest day. The Robert Trent Jones, Jr. designed course runs through the woods and gentle terrain to offer top championship golf. This is one of the best golf layouts in the Sarasota area. Their beautiful Southern style clubhouse is well appointed to meet all their members' needs.