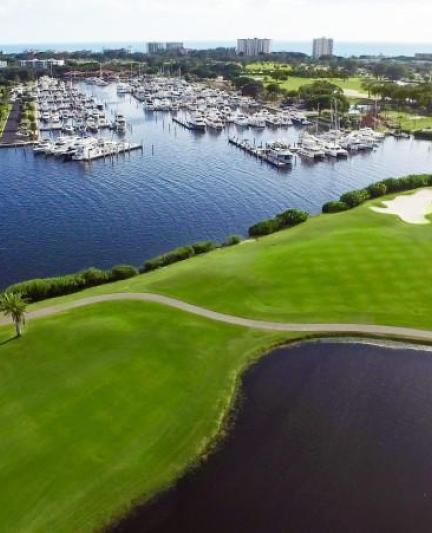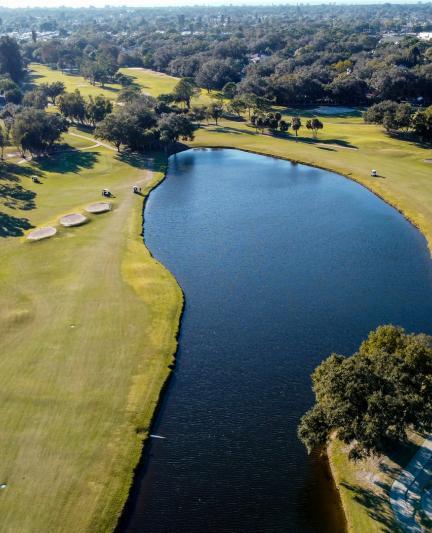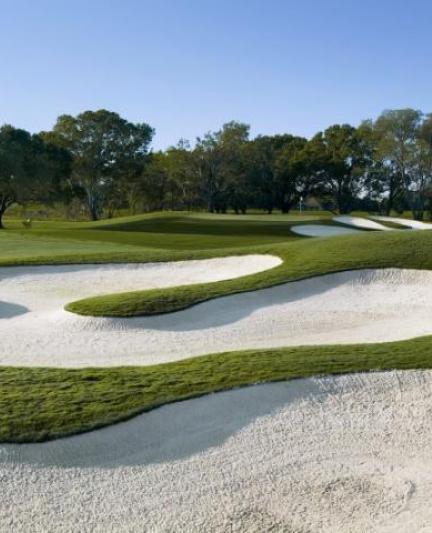 Play Like a Pro: Best Guide to Golfing Sarasota County
From history to present-day, golf has been a permanent part of Sarasota's landscape, where you'll find there are no shortage of courses and country clubs for the golfer to spend an afternoon perfecting their game
From professional to pedestrian, the Sarasota County area has something for golfers of all levels.
Players have been watching golf balls soar against the blue skies of Sarasota County for close to 130 years since John H. Gillespie showed up with his bag of hickory shafts in 1885. He built two golf holes in 1886 near where modern day Main Street now exists.
With Sarasota County's pristine streams, fresh cut fairways, sparkling lakes, sugar-white sand bunkers, and natural wildlife, you can see that old John was on to something.
The area has a wonderful and varied group of golf tracks. Some are hidden, and all are gems. Below are a few to give you an idea of what you may find here. All are open for play to the golfing public (in one manner or another).
Learn more about yardages, ratings and directions to hundreds of courses and communities along Florida's Southwest Coast by checking out Golf Coast Magazine.
Want to really explore area golf? Sign up for the Big Summer Golf Card and earn access to nearly 100 courses in the local area from May through October.
Fans can see the PGA hopefulls each year at the LECOM Suncoast Classic in February at Lakewood National Golf Club in Lakewood Ranch. The tournament is an early stop on the Korn Ferry Tour (previously Web.com tour) season under the warm winter embrace of the southwest Florida sun. Known as the "path to the PGA TOUR," dozens of professionals compete in tournaments like these for with the hopes of finishing high enough in the standings to earn their PGA TOUR card at the end of the season.
Boca Royale Golf & Country Club
Phone: 941-475-6464
A semi-private club just four miles from the glistening Gulf Coast beaches of Manasota Key, Boca Royale Golf & Country Club is a lush gem tucked away in Englewood. Recently renovated holes offer new Champion Ultradwarf greens, and despite nearby residences, the course is lined with towering oak, cypress and palm trees and accompanying native wildlife. The course also added a fun new feature for folks keen to walking the course: automatic golf carts that can tote golf bags anywhere on the course by following a sensor that can be easily cliped to a players' belt. The way of the future?
University Park Country Club
Phone: 941-359-9999
North of the city of Sarasota you'll find University Park Country Club. They offer three superb nines of golf designed by Ron Garl. All three are exciting to play. This was a private club for a long period of time, but now you can give them a call to set up your tee time. With a mind boggling six sets of tees on each nine there are exponential course combinations and yardages that may be achieved. I'd suggest trying one of the middle set of tees since the courses are tough enough without going all the way back to the tips. The course is in great shape and the fairways run firm and fast with speedy, true greens.
Golf in Venice (Capri Isles, Calusa Lakes, Waterford Golf Club)
Phone: 941-484-6621
Golf in Venice oversees three courses "anyone can play" around the popular South County destination: Capri Isles, Calusa Lakes and Waterford Golf Club. Capri Isles offers 18-holes of superb, affordable golf with a challenging layout. Calusa Lakes' rolling fairways and new "Champion Grass greens" make for a delightful 18-hole experience as well. And finally, Waterford provides a sense of relaxation and peace along its extensive 27 holes of golf.
Tatum Ridge Golf Links
Phone: 941-378-4211
Last but not least, named one of Golf Digest's best places to play, Tatum Ridge Golf Links is a Scottish-style links course east of I-75 on Fruitville Road. With a fully stocked pro shop, and a restaurant, Tatum Ridge Golf Links is a full equipped course and also right next to Sun-N-Fun RV Resort and Campground. The course features a signature hole: 504-yards, par-5 13th, a dogleg right, over water.
The Meadows Country Club
Phone: 941-371-6000
The Meadows Country Club is home the three classic Florida courses nestled away just south of the UTC Shopping District in Sarasota. The Meadows is an 18-hole member course designed by Ron Garl featuring six sets of tees ranging from 4,500 to 6,700 yards. The Highlands course is a par 72 championship course recently opened to limited public play. It is a fair course with wide greens and fairways lined with massive Old-Florida oaks and pines up to 6,700 yards long. The Groves course is an Arthur Hills design that rewards shot placement and accuracy with sloping greens and tight fairways. The Meadows offers one of the most competitive Summer memberships in town from May through October.
The Resort at Longboat Key Club
Phone: 941-383-8821
If this luxury AAA four-diamond beachfront resort wasn't enough to attract your attention, The Resort at Longboat Key Club's 45-holes of championship golf along one of Florida's most pristine islands certainly will! Hotel guests or club members can enjoy the tree-lined Harbourside Course runs along Sarasota Bay, or the Links of Longboat Course borders the shimmering turquoise waters of the Gulf of Mexico. The club has earned Golf Digest's prestigious "Best Places to Play" award, and the Ron Garl-designed course continues to serve as premier island golf stop. Note that tee times can be made only one day in advance of play.
Ritz-Carlton Golf Club
Phone: 941-309-2900
The Ritz-Carlton Golf Club is a members' club located in Lakewood Ranch that also allows play by guests staying at the Sarasota bayfront resort. Tucked away on a somewhat-hidden road, you'll approach the guard gate and, to your surprise, be greeted by name and given directions to the magnificent clubhouse. There they will set you up with an incredibly attentive caddie (even if you are riding in a cart). The strong Tom Fazio designed course is one of the best in the area. Tough but fair and always in impeccable condition. Due to the few number of players on the course at any given time, you'll find play brisk.
The course is robust enough to have hosted U.S. Open Qualifying rounds and is a stout par 72, 7,414 yards from the deep tees. Just check into the Ritz-Carlton and make your plans. You will enjoy your day.
Bent Tree Country Club
Phone: 941-371-8200
A favorite of mine and many others is the Bent Tree Country Club. Opened in 1975, Bent Tree has hosted a multitude of LPGA Tour events over the years. As a matter of fact Hall of Famer Nancy Lopez won her very first LPGA Tour event at Bent Tree in her record year of 1978. A private club for many years, it now welcomes outside play.
Tough enough to host U.S. Open Qualifying, it can play difficult from the back tees, but the middle tees are just right for an enjoyable day. I've always found the greens to be in great shape – smooth rolling with just enough speed to keep you on your toes. The natural beauty of Bent Tree, with its softly rolling hills is not a bad course to walk if you are so inclined.
Legacy Golf Club
Phone: 941-907-7920
Over in Lakewood Ranch is a brilliant course – the Legacy Golf Club, designed by one of my favorites, Arnold Palmer. Arnold creates challenging tracks (this one is 7,008 yards from the back tees), but never too hard to enjoy. This par 72 course has extra wide landing areas. The task is when you hit your approach shot to the flag. Be sure to be precise since there is abundant sand and water to make play difficult.
Serenoa Golf Club
Phone: 941-925-2755
Serenoa Golf Club is a pleasant track designed by Mark Alden that has a nice way of meandering through the countryside. Plenty of room to fire away off the tees, but beware – this layout has water in play on all 18 holes. Bring some extra balls. The holes are all a challenge and the putting greens with the over-seeded Poa-trive grass are in top shape. At Serenoa there seems to be an inordinate amount of golfers from international locations. The mere fact that players would travel from halfway around the world to play there should tell you something good about the place.
Misty Creek Country Club
Phone: 941-922-2188
Misty Creek Country Club is another facility that was private, but now you may contact them and book a tee time up to 7 days in advance. This is a tight course with plenty of natural hammock forests, pine trees, and those vexing palmetto bushes that will capture an errant shot. The greens are usually very nice on this par 72, 6,895 yard layout. To make the course feel a little more open you could move up to the forward tees at only 5,208 yards.
Nowhere else have I seen so much wildlife. I've spied bald eagles, deer, and of course a few of the Florida gators in the ponds. It's like a walk in a nature preserve.
Bobby Jones Golf Club
Phone: 941-365-4653
You should not leave the Sarasota city area without visiting the historical Bobby Jones Golf Club—converted temporarily to a nature trails park in 2020 to undergo renovations. Opened in 1927 by Bobby Jones himself, the first course built was designed by none other than the famous Scottish architect, Donald Ross.
Run by the city of Sarasota, the facility offered 45 holes of terrific golf. Ross' original 18 holes are now known as the British Course. It has the two nines named after Jones' two legs of U.K wins (the British Open and the British Amateur) on the way to his historic Grand Slam in 1930. The front nine is called "St. Andrews," while the back nine is named "Hoylake." This is the toughest and longest of the courses at Bobby Jones GC. The next 18 hole layout is called the American Course with its two nines known as "Merion" and "Interlachen" in honor of Jones two U.S. wins - the U.S. Amateur and U.S. Open to secure the Grand Slam. The 6,032 yard American Course is a little less demanding than the British Course, but still very popular with local players. The final nine holes of play at Bobby Jones GC is the Gillespie Executive Course. Named in honor of Sarasota's first golfer, it is only 1,716 yards long. This brief course has six par 3's and a few short par fours to go along with them to allow golfers to get in a quick round of golf and hone their short game.
Bobby Jones Golf Club is expected to re-open sometime in late 2023.
Pelican Pointe Golf & Country Club
Phone: 941-496-4653
Now let's move on to a course just south in Venice – Pelican Pointe Golf & Country Club. Filled with live oaks and wetlands, this course has three nines available for play. The Preserve, the Meadows, and the Hatchet Creek nines make up the 27 holes. A Ted McAnlis design, the course may play as long as 7,182 yards or as short as 5,326 yards – depending on which tees and which nine hole layouts are paired to make the 18 that you may play that day.
Heron Creek Golf & Country Club
Phone: 941-423-6955
Farther south in North Port we find another 27 hole layout called Heron Creek Golf & Country Club. I've always enjoyed this club. It doesn't seem to matter much which two of the three nines you'll be assigned to play on any given day. They are all worthy and entertaining. The Marsh Course wanders through the wetlands and presents plenty of thought-provoking shots. The Oaks Course has ample trees to deal with, and the Creek Course makes you play around the water of the Myakkahatchee Creek to reach home.
Private Courses
Looking to visit our area for a month or longer? Consider a seasonal membership at some of the area's top private clubs.
Sara Bay Country Club
Phone: 941-355-7658
Founded in 1926, Sara Bay Country Club is one of Florida's most venerable private golf clubs. Located just north of downtown Sarasota, legendary architect Donald Ross considered Sara Bay among his personal favorites. The course sports a classic florida layout with tall pines and moss-draped oaks lining fairways along with subtle, undulating greens making for a widely enjoyable round. Sara Bay also offers a rare trial membership for a 30 or 60-day consecutive term (one time use only) and a summer membership from May through October perfect for visitors and part-time residents.
Boca Royale Golf & Country Club
Laurel Oak Country Club
Phone: 941-378-3608
Sarasota's engaging, fun, private Laurel Oak Country Club features 36 holes of championship golf and a state-of-the-art tennis club. Golf legends Gary Player and Rees Jones each designed a breathtaking and challenging 18-hole course at Laurel Oak. Memberships range from golf, to golf & tennis, to just social for those more interested in attending events and enjoying the clubhouse while their relatives hit the course.
TPC Prestancia
Phone: 941-922-2800
TPC Prestancia is a private course tucked away in lush, private Palmer Ranch just minutes from Siesta Key. It offers a range of memberships, including full access to the TPC Passport Program. The Stadium and Club Courses sprawl out over 565 acres of beautifully groomed play space and natural wildlife habitats, and offer a family-friendly 12 tee options allowing for tremendous playability. The Stadium Course features a signature 9th and 18th hole and is inspired by the TPC Network's flagship TPC Sawgrass. An award-winning Golf Pro Shop features an extensive selection of premium golf equipment from industry leaders and Manufacturers demo days where a team of PGA professionals can help fit your clubs.
The Founders Golf Club
Phone: 941-371-9720
The Founders Golf Club is an exclusive facility with a limited Membership and no tee times required, providing an unsurpassed golf experience. An 18-hole golf course designed by Robert Trent Jones Jr. is set within a 700 acre preserve hosting 100-year old majestic oaks and native Florida palm trees. Walking is available and a traditional caddie program is offered.
The Concession Golf Club
Phone: 941-907-0511
The seed of what would become The Concession Golf Club was planted in 1969, with Jack Nicklaus' famous gesture of conceding the final putt in the Ryder Cup to Tony Jacklin, clinching the first tie in the competition's history. Decades later, the two golf legends paired up to design and create The Concession Golf Club in Lakewood Ranch. The goal was to create a course where tournament conditions were the norm and the natural setting is the star. Making its debut in 2006 Golf Digest's "Best New Private Course," the championship golf course is currently ranked Golf Digest as the seventh-best course in Florida. According to the Tampa Bay Business Journal, the course has both the highest rating (76.7) and slope (153) in the Tampa Bay Area. In 2019, The Gimme short course and Snake Acre putting course opened to give players a short but fun & challenging addition to the championship course.