Chef Marc Alton
Marc Alton, Executive Chef of Fins at Sharky's, started his career in the food service industry at the early age of 14 working for his dad in the family bakery. There, he learned about everything from making bread to frying donuts. After graduating from Sarasota High School, Alton completed a two-year apprenticeship at La Chambre, a French restaurant, where he learned the ropes around the kitchen and became well-versed in French cuisine. Alton continued his journey through the food service industry over the next 10 years and worked his way up from Sous Chef to Executive Chef at three different restaurants in Sarasota. Each offered new experiences and challenges, which allowed Alton to grow and develop into the critically-acclaimed Chef he is today.
Alton started working at Sharky's on the Pier over 23 years ago as the Kitchen Manager and quickly rose to Executive Chef. At Sharky's, Alton helped secure wins for the 2010 and 2012 local Iron Chef Award, a huge accomplishment. Alton helped Sharky's grow from a restaurant that originally accommodated 78 seats to an establishment with a wide range of dining options. As the popularity of Sharky's grew, the owners decided to expand. When Fins at Sharky's opened in the Fall of 2013, Alton became the Executive Chef.
Located right next door to Sharky's, Fins at Sharky's opened its doors on December 13th, 2013, added 182 seats for dining and brought a fresh new take to a renowned brand – all while still boasting the most incredible Gulf views on Florida's west coast. Fins at Sharky's menu goes well beyond what customers expect from a beach bar.
"We are dedicated to presenting menu items that embrace our proximity to the Gulf while speaking to a more serious food and wine customer. We are integrating the best of Sharky's, enhanced with inspiration from other sources, to create a unique dining experience," Alton said.
In Alton's spare time, he enjoys traveling, where he says he "eats his way through" countries such as Germany, Austria, Italy and France, just to name a few. Alton is also the founder of Sharky's Ride the Beaches LIVESTRONG fundraising event, which has raised over $369,000 for charity in the last 18 years.
Chef Marc Alton
Chef Image
Image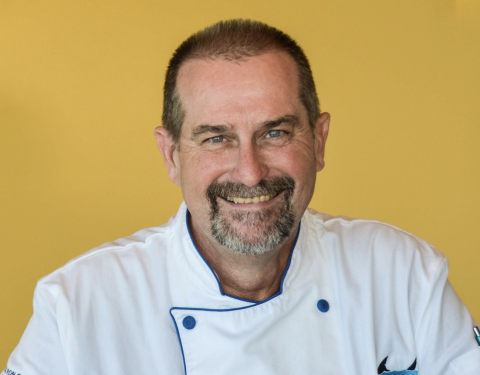 Chef Name
Chef Marc Alton
Chef Title
Chef Marc Alton