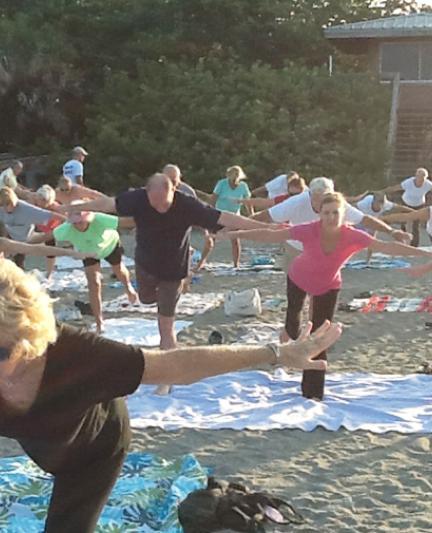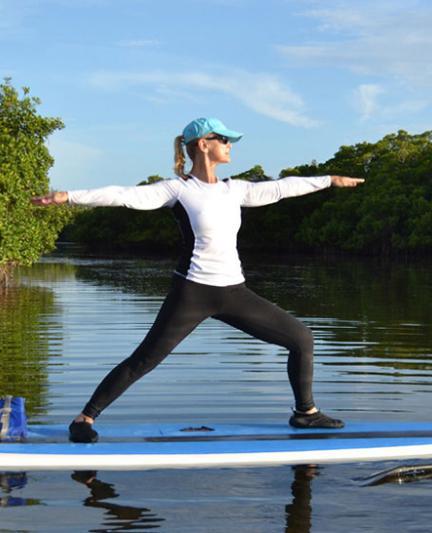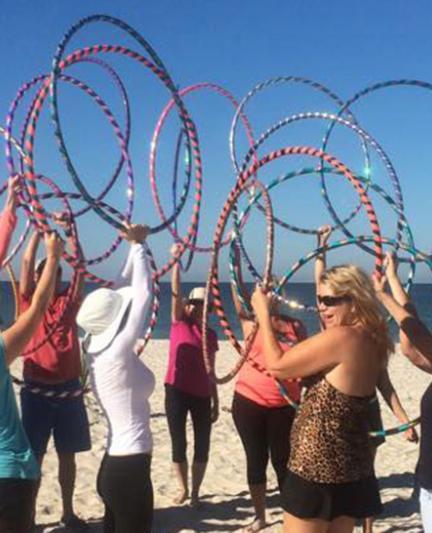 Waterfront Workouts in Sarasota County
Hit the beach for an exercise session in a postcard-worthy setting
There's nothing wrong with spending an afternoon lounging on one of Sarasota County's beautiful beaches, soaking up the sun while lying on the sand. But our beaches also make for great places to get active. Here are four ways to get your daily workout in within eyesight of the Gulf of Mexico.
Strike a Pose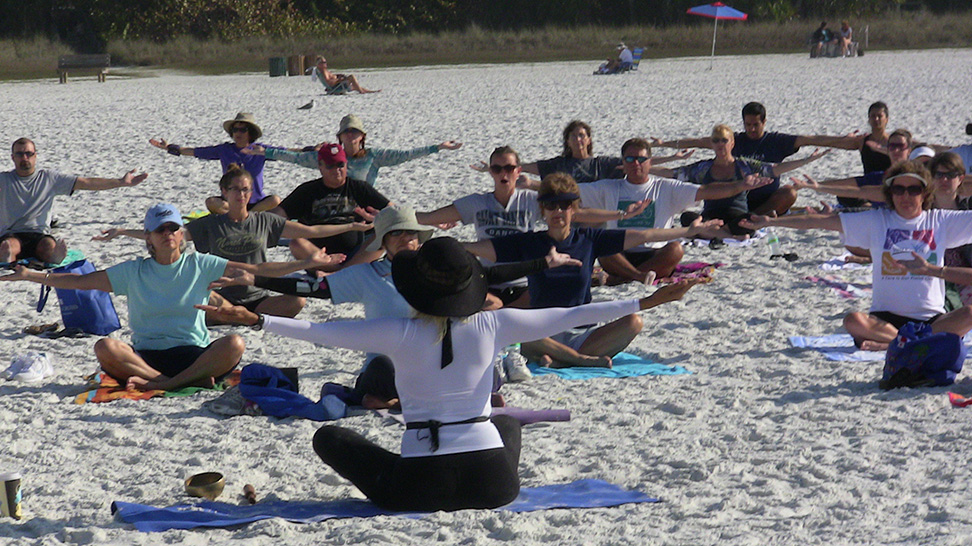 Don't be surprised to find a small crowd gathered at Venice Beach most mornings. They've come down on the sand with towels in hand for Elin Larsen's popular free yoga sessions, which take place Monday through Saturday at 8 and 9 a.m. and on Sunday at 8 a.m. from November through early March.
"It's quiet that time of day," says Larsen, who also offers sunset yoga sessions Monday through Thursday at 5 p.m. "We're usually the only ones on the beach—though sometimes we're 300 strong."
The classes are suitable for all ages and ability levels, with attendees ranging from dedicated retirees to moms positioned on the group's outer edge so their kids can play nearby on the sand. And Larsen has found that there's nothing like working on strength and flexibility steps from the Gulf.
"Being right on the beach, you get wonderful fresh air," she says. "We listen to the water and the birds and watch for pelicans, dolphins, and tarpon jumping. In a room you always have the same environment; out on the beach you never know what you're going to see."
Shake It Off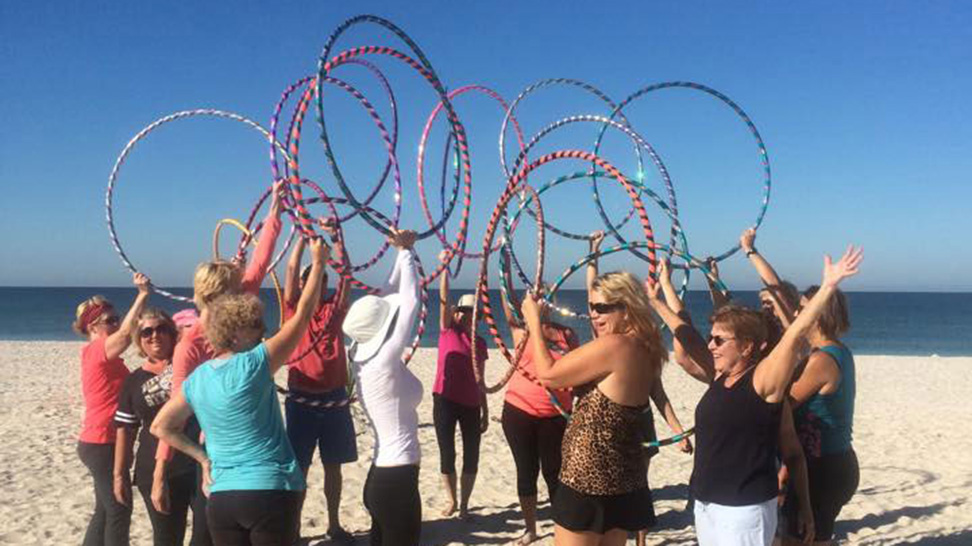 A 1950s-era craze is alive and well on Nokomis Beach, where folks gather on Monday, Wednesday, and Friday mornings at 9 a.m. to shake and swivel their way through a workout. Peace, Love & Hoopiness runs these Hoola-Fit classes, which incorporate elements like dance and mindful movement.
Hula hoops are provided for attendees, who can burn some 400 calories during a 60-minute session. "It's a whole-body workout," says Peace, Love & Hoopiness owner Heather Kirkendall. "And it's a brilliant form of fitness for any age, because it's low impact."
Don't know if your hips have what it takes? Go ahead and give it a try. "The classes are geared for any level," says Kirkendall. "So you can be a brand new hooper or someone who's been hooping for many years and feel like you belong."
The drop-in rate for each class is $15, with sunset sessions also offered on Wednesdays. "It's a cool way to meet some people and have a good time," says Kirkendall. "It's a beautiful location and really gets the happy hormones flowing in your brain."
Get on Board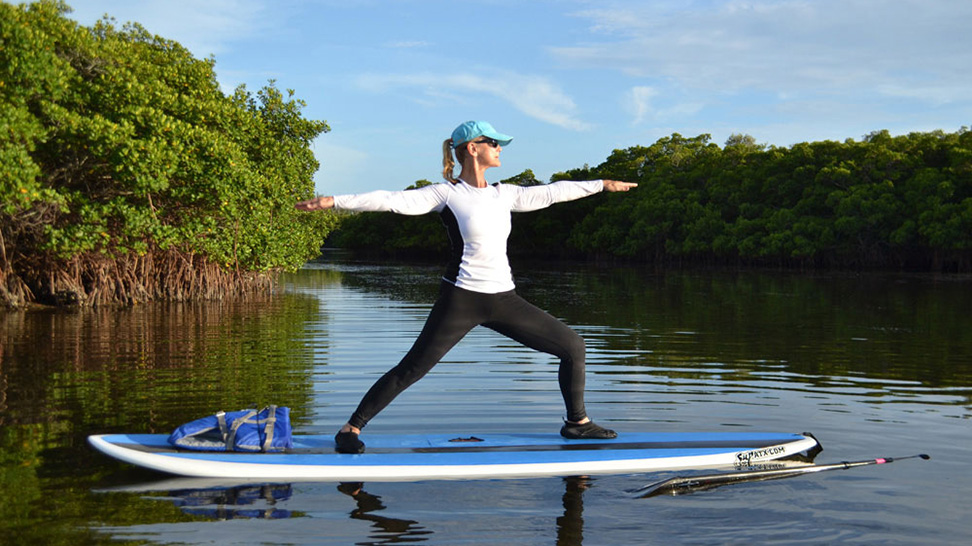 What's better than working out near the water? How about working out on the water? SURFit USA offers standup paddleboard fitness and yoga classes that add an extra element of exercise to the popular sport.
The fitness classes include cardio and strength work and set off from Sarasota's Turtle Beach on Tuesday mornings and South Lido Beach on Thursday mornings, both at 9:30 a.m. The difficultly level is tailored to attendees' abilities. "The classes are fun, because everyone loves to be out on the water," says Karla Gore, SURFit's co-owner. "And it's a really good workout."
Paddleboard yoga classes take place on Wednesday mornings at 10 a.m. and on Saturdays at 5:30 p.m. and depart from Ted Sperling Park at South Lido Beach. "Beginners are welcome and encouraged," says Gore. "The water there is really shallow and calm."
The cost is $25 per class (advance registration required) and includes all needed equipment. "You don't have to bring anything," says Gore. "You just come and the board is waiting for you, then you go out and do your workout."
Make a Run for It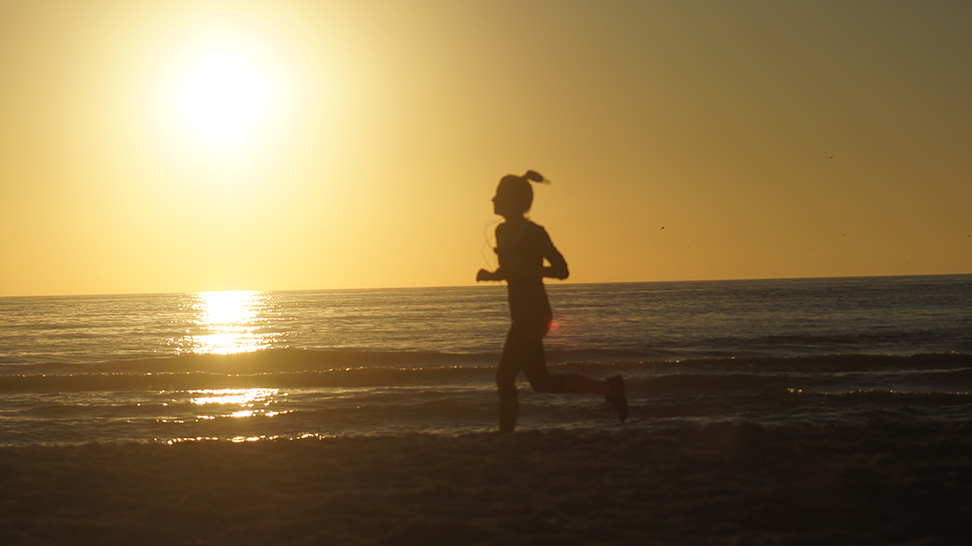 Tired of just pounding the pavement? Runners visiting the area from more landlocked parts of the country might want to lace up their sneakers and hit the sand for a jog along the shoreline.
"I would say the best beach to run on is Siesta Beach," says Kimmy Collister-Sterns, president of the Manasota Track Club. "Especially if it is low tide—it's a lot easier to run on the hard-packed sand by the water's edge."
Runners have options here when it comes to distance. Head south from the main public beach area and back for a three-mile route. Running the entire length of Siesta Beach ups the distance to about six miles.
Casey Key, which straddles the communities of Nokomis and Osprey, also makes a great spot for a run. You can head down to the sand at Nokomis Beach. Or you can run along the barrier island's winding main road, which meanders for several miles and offers stop-you-in-your-tracks views of the Gulf and an impressive array of waterfront mega-mansions. When you're done, you can kick off your shoes, dive into the water, and reward yourself for your exercise efforts with a little relaxation.