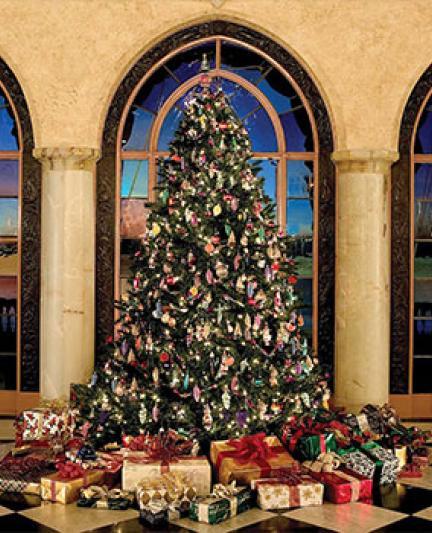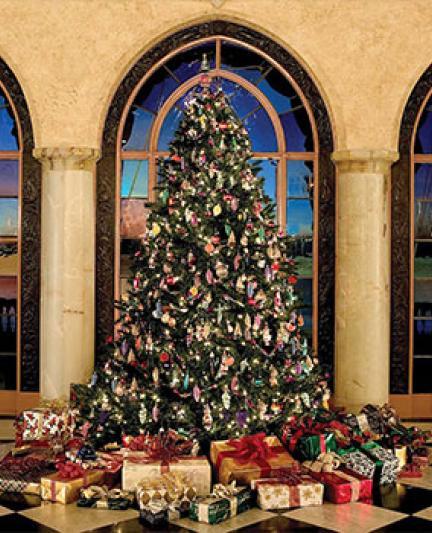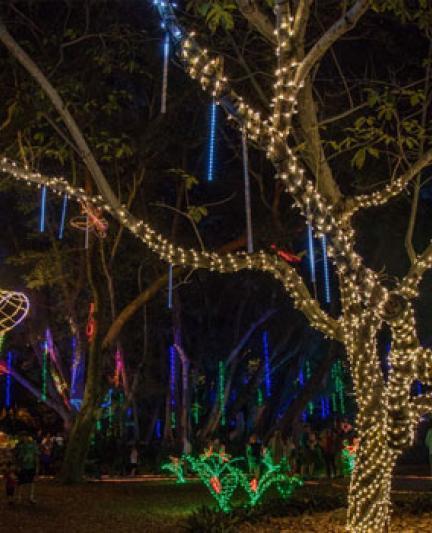 Two Sarasota events offer festive fun for the holidays
Learn more about Sarasota County with a free visitor guide or sign up for our newsletter.
During the holidays, many of us are looking for things to do that are special, unique and memorable. We long for fun happenings that put us in an "authentic" mood for the season.
As we yearn for inspirational and less commercial events that bring out the "best of the season" we won't have to travel far for two special holiday celebrations that are cherished by both Sarasota visitors and locals.
Two non-profit organizations that celebrate the season with visitors in mind are the Selby Botanical Gardens and the Ringling Museum's Ca' d'Zan. Both are decorated for the holidays and offer festive fun for the entire family.
Selby Botanical Gardens Lights in Bloom
When: 6 to 9 p.m. Dec. 16-23; 26-30
For two weeks in December, Lights in Bloom at the Marie Selby Botanical Gardens is one of the most popular family events in Sarasota. Selby Gardens is dedicated to tropical epiphytic plant species and the lush bay front grounds in downtown Sarasota will host its 13th year of Lights in Bloom, with more than one million lights on display.
Visitors stroll through the magical gardens filled with beautifully lit flowers, butterflies, dragonflies and more. Returning this year are displays that have become iconic favorites like the Radiant Rainforest butterflies, the Wishing Tree and a large holiday tree that is created from rows and rows of bromeliads.
Marie Selby, an avid gardener married to oil-tycoon William Selby, passed on her lavish property to the community. Now guests can visit her historic home on 15 acres overlooking Sarasota Bay planted with more than 12,000 living plants.
The Children's Rainforest
The Children's Rainforest draws children and adults of all ages and features an elevated treetop garden, swinging bridges, waterfall, caves and play areas surrounded by huge old banyan trees.
"This year we wanted to give people the cherished spots that have become part of their family memories, but also to add new scenes that will give guests something to talk about," said Roger Capote, senior director of special projects at Selby Gardens, who oversees the light display.
Music
The nightly events also include live music by The Lauren Mitchell Band, children's arts and crafts activities and games. Santa Claus visits nightly through Dec. 23.
Holiday Splendor at the Ringling Museum Home, Ca' d'Zan
When: 5 to 8 p.m. Dec. 8, 15, 22, 29
In Sarasota the John and Mable Ringling Museum of Art covers a 66-acre complex of cultural and historical treasures including gardens, art museums, a circus museum, an historical theatre and a stunning 1920's-era mansion, the Ca' d'Zan.
Seasonal Splendor
During the holidays the Ca' d'Zan sparkles in seasonal splendor. Fireplace mantels, balconies and a 10-foot tree in the Grand Court are all lavishly adorned with greenery and sparkling lights overlooking the Sarasota Bay.
Special for the month of December on Thursday evenings from 5:00 to 8:00 p.m., the Ringling home is open to the public as local student musicians perform during Holiday Nights. Tickets are $15 for adults, and $5 for children.
And if you time your visit during sunset, take advantage of one of the best "photo opps" in Sarasota, outdoors on the balcony overlooking the Bay - as the warm sunset glows against the Italian marble and tiles.
If you miss it
If you miss the Thursday evening events, you can stroll through the home with guided tours (there is a charge), in addition to the Museum's daily admittance fee.
If visiting during the daytime, enjoy touring the entire campus of grounds, gardens and museums. The outdoor grounds are lined with banyan tree groves, live oaks, palms, flowers in bloom and a favorite stop for many - Mable Ringling's Rose Garden.
About the Ringling
One of Florida's most visited attractions, the Ringling Museum of Art is designed to resemble a European palace. Displayed in the museum is the art collection of Italian and Flemish Baroque master paintings and sculptures amassed by John Ringling. The interior courtyard is a Renaissance-style courtyard with fountains. Towering high above is the cast of Michelangelo's David flanked by royal palms and terracotta pots overflowing with bougainvillea. It's the perfect spot for an iconic Sarasota "selfie."
Also at the Museum is the new Center for Asian Art dedicated to its inspiring installations of Asian art holdings. But the newest space is the Monda Gallery of Contemporary Art, presenting works and collaborations by contemporary artists. Additionally, two galleries in the Museum's Searing Wing are dedicated to the permanent collection of modern and contemporary collections as part of "Art of Our Time initiative."
Sarasota native Robin Draper is a columnist and owner of the award-winning "Blog of the Year" and "Best Travel Blog" and website, AuthenticFlorida.com, that features travel and lifestyle topics.