Second Annual SarasotaMOD Festival
Get ready to add yet another item to the list of Sarasota's numerous accolades: Architecture. It may not (yet) be as well known as our beaches, but the Sarasota Architectural Foundation (SAF) is aiming to change that.
This November, the Sarasota Architectural Foundation (SAF) hosts the second Annual SarasotaMOD Festival celebrating Midcentury Architect Paul Rudolph and showcasing the many unique architectural treasures that were part of his pioneering days here in Sarasota.
Sarasota and Midcentury Modern Architecture
Sarasota is one of three prominent cities for midcentury modern architecture, alongside Palm Springs, California, and New Canaan, Connecticut
"Around the turn of the century, the world was experiencing rapid change much like today. Advances in new materials from the industrial revolution left architects feeling lost," says architect and honorary chair Carl Abbot, who taught both at Yale and Harvard.
As it turned out, engineers grabbed the reigns, influencing architecture with design feats like the Eiffel Tower. Two schools of thought emerged from this period: Bauhaus, which highlighted industrial materials, and Organic Architecture, which turned to nature for its designs. Sarasota proved to be the perfect merging ground for both under architects like the world-renowned Paul Rudolph.
Paul Rudolph and Ralph Twitchell
Rudolph, who had studied under Bauhaus Founder Walter Gropius, moved to Sarasota to work with Ralph Twitchell, a founding member of the Sarasota School of Architecture. Twitchell, who came from New York to work on Ca d'Zan, was strongly influenced by Organic Architect Frank Llyod Wright.
Rudolph and Twitchell eventually became partners and their philosophies melded.
"Paul Rudolph blended Organic, Bauhaus, and Regionalism, which was designing for specific location and orientation," says SAF board member Dan Snyder.
Walker Guest House Replica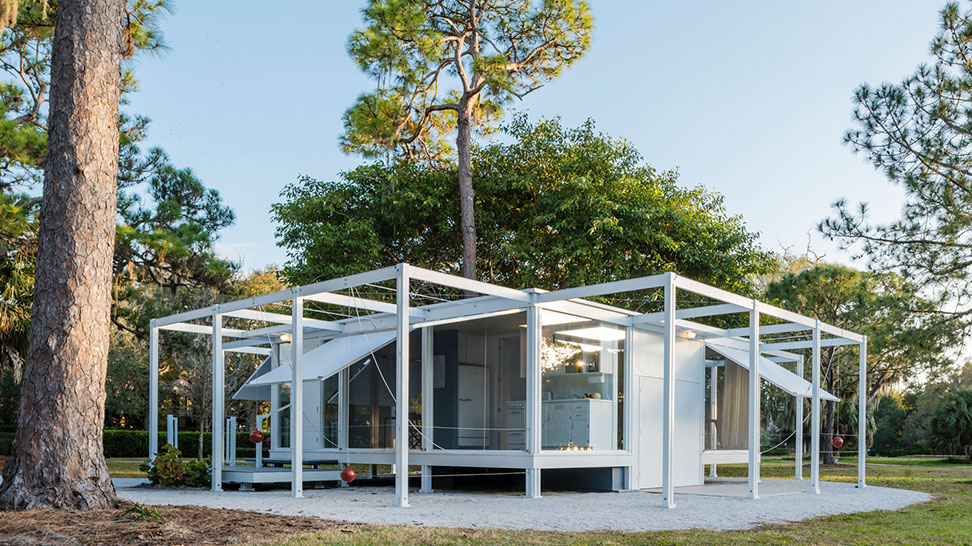 The origin story of Sarasota's Midcentury modern architecture legacy is more important than ever this year, as the opening day festival highlights one of Rudolph's first solo commissions, the Walker Guest House, with an exact replica of the 24x24 tiny cottage on the ground of The Ringling.
"From an energy standpoint, " says Snyder, "it is a very passive, low tech building that utilizes its location and orientation to respond to specific times of the year. Shutters can go up and down in order to best address the hot summer or cooler winter months."
"The John and Mable Ringling Museum of Art kindly let SAF construct this replica as a piece of artwork on its grounds. The house was recreated, transported in pieces, and will reside on the Ringling grounds for a year, after which we hope to see it move on to other national museums," adds SAF board president Janet Minker.
Rudolph's Permanent Works on Display
While this replica is a temporary exhibit, Sarasota is lucky to be home to several permanent Paul Rudolph works, which will be open to a limited number of ticket holders for tours, breakfast, dinners, and cocktail parties.
Guests will be able to experience Rudolph's Umbrella House, the Lamolithic House, the David Cohen House, the Revere Quality House, and the Cocoon House—just to name a few. And one notable event will be a soiree presentation at the 1960 Rudolph addition to Sarasota High School Nov. 7.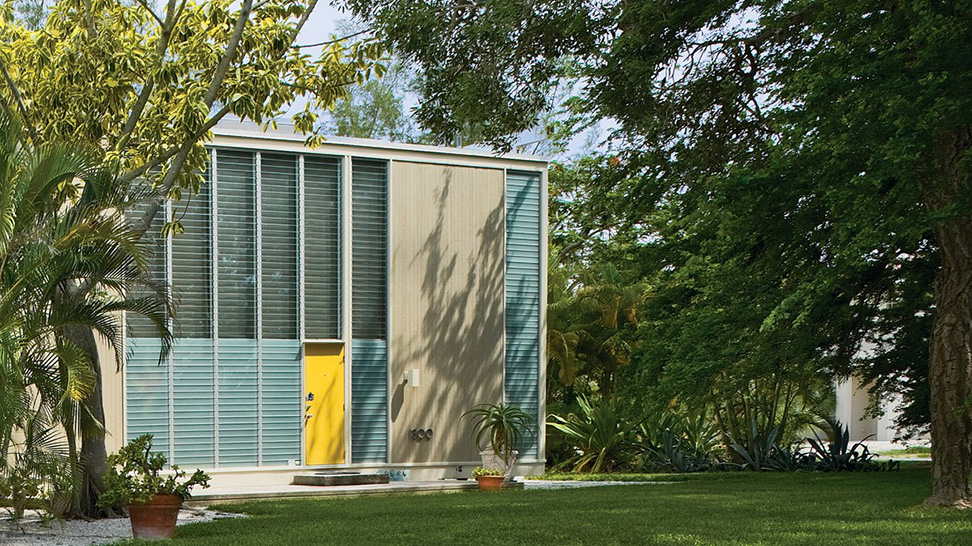 Rudolph's Work Elsewhere
Rudolph's work in Florida attracted worldwide attention and led to commissions for larger projects worldwide – from Hong Kong to Indonesia. This year's festival features authors and panelists all linked to Rudolph. Among them are Joe King and Christopher Domin, co-authors of Paul Rudolph: The Florida Houses, and Timothy Rohan, author of The Architecture of Paul Rudolph. C. Ford Peatross, Founding Director of the Architectural Archive at the Library of Congress, will moderate a panel discussion on Rudolph's legacy, while other prominent architects will reflect on their professional relationships with Rudolph.
When is the Festival?
The second annual SarasotaMOD Festival will be held Nov. 6 to 8. For tickets, visit SarasotaMOD.com.