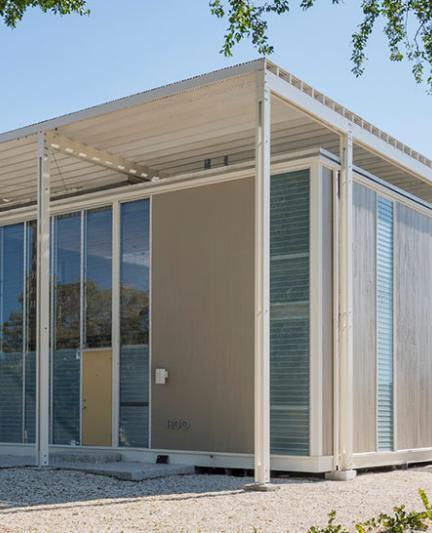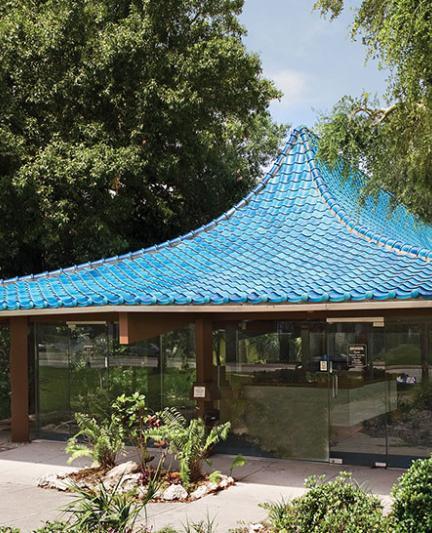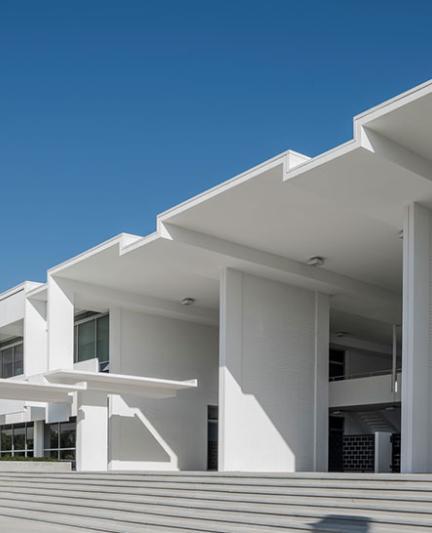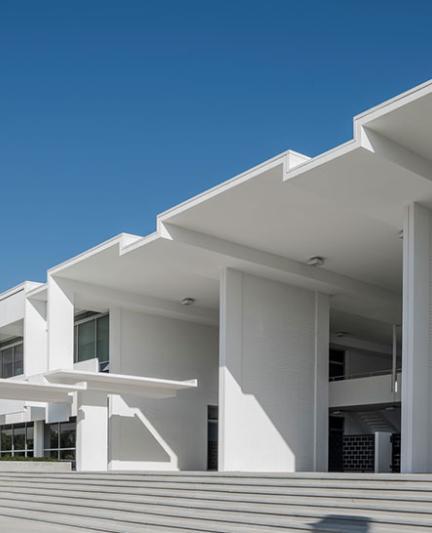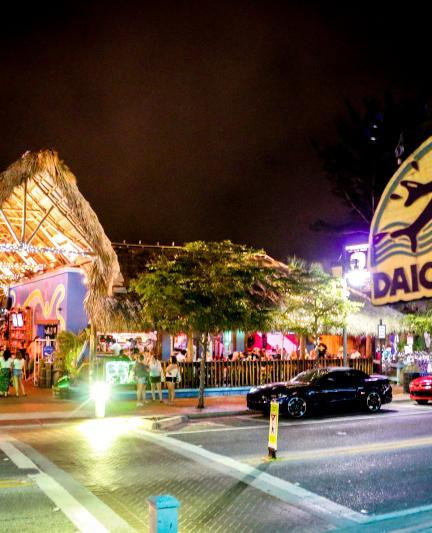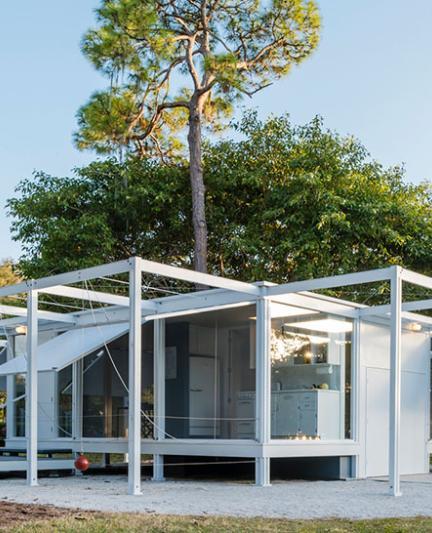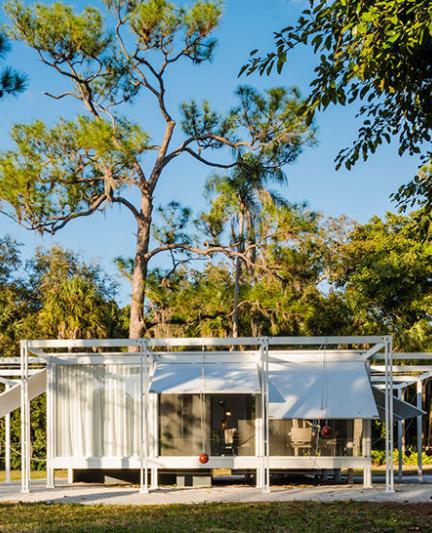 SarasotaMOD 2016: Celebrating the Architectural Legacy of Victor Lundy
SarasotaMOD is a three-day celebration of the Sarasota School of Architecture (also known as Sarasota Modern that runs Nov. 11-13.
The third annual SarasotaMOD festival, presented in partnership by the Sarasota Architectural Foundation and the Sarasota Museum of Art, will take place Nov. 11-13. SarasotaMOD is a three-day celebration of the Sarasota School of Architecture (also known as Sarasota Modern), a regional style of postwar architecture based in west coast Florida.
This year's festival honors the legacy of acclaimed midcentury modernist architect, Victor A. Lundy, a leader in the Sarasota Modern. Lundy's works include "Bubbles Pavilion" for the New York World's Fair of 1964, the U.S. Tax Court Building in Washington D.C., and several iconic structures in Sarasota County.
SarasotaMOD 2016 kicks off on Friday, Nov. 11 with the Opening MOD Party at Lundy's iconic 'Blue Pagoda' building, where city officials will issue the official "Victor Lundy Week" proclamation acknowledging the impact of the 93-year old architectural icon. Following the presentation there will be a Popup Party at Aloft Hotel.
Here's more of what to look forward to at SarasotaMOD:
Saturday Breakfast and a Film at Ringling College of Art + Design
Immerse yourself in the life and legacy of Victor Lundy—no prior knowledge necessary—at a breakfast accompanied by a viewing of the absorbing documentary, Victor Lundy: Sculptor of Space, at Ringling College 8 a.m. to 12 p.m. Nov. 12. Guests for a panel discussion taking place after the screening include the film's director, Joan Brierton; Lundy biographer, Donna Kacmar; founder of the Library of Congress architecture archives, C. Ford Peatros, and architect Frank Folsom Smith, who worked for Lundy in the 1950s.
Sunday Brunch at the Ringling Museum Replica Walker Guest House
Joe King and Christopher Domin, co-authors of Paul Rudolph: The Florida Houses, will be on site to give informal talks during a tree-shaded Sunday Brunch at the replica of Rudolph's Walker Guest House—a sustainable proto-'tiny house' design based on a matrix of 8-foot cubes. The Ringling's Muse restaurant will cater the buffet-style brunch, and SAF docents will be on hand at the house to offer tours and answer questions.
Tours
SarasotaMOD features an array of self-guided walking tours and guided trolley tours throughout the weekend highlighting the architectural legacy of Sarasota Modern leaders such as Victor Lundy, Jonathan Parks, Guy Peterson, Paul Rudolph, Edward "Tim" Seibert, and Phil Hiss.
On Foot: Tour at your own pace through Lido Shores, a subdivision on Lido Key that was once exclusively Sarasota School of Architecture, from 1-4 p.m. on Nov. 12 and 13. Check in at any of the six homes featured in the tour for a wristband, map, and bottled water. Food trucks including Nancy's BBQ and Kona Ice will be in the neighborhood throughout the afternoon with refreshments available.
Two timed tours are offered in Lido Shores on Nov. 12 and 13 at the Hiss Studio, designed by Tim Seibert and built by Phil Hiss and the Umbrella House, designed for Hiss by Paul Rudolph. Both tours include exterior and interior viewings accompanied by talks on the architects' legacy.
Trolley Tours: Catch a ride on two separate trolley tours taking place over SarasotaMOD weekend. Victor Lundy-specific architectural tours will be led by Christopher Wilson, architecture and design history professor at RCAD. A second Sarasota Architecture trolley tour—highlighting midcentury and contemporary architectural landmarks by Paul Rudolph, Ralph Twitchell and Jack West—will be guided by Harold Bubil, real estate editor of the Sarasota Herald-Tribune.
Sites on the Victory Lundy tour include the Blue Pagoda building (1956), Murray Homes building (1957), Waldman building (1958), St. Paul's Lutheran Church (1968) and Fellowship Hall (1959), South Gate Community Center (1956) and Bee Ridge Presbyterian Church (1957).
Sites on the Sarasota Architecture Tour include Sarasota High School (Paul Rudolph 1960), Sarasota City Hall (Jack West, 1966), the Herald Tribune Headquarters (Arquitectonica 2006), the Healy Guest House/Cocoon House (Paul Rudolph and Ralph Twitchell 1950) and the Revere Quality House (Paul Rudolph and Ralph Twitchell 1950).
Closing MOD Party on the Bayou
The Closing MOD Party on the Bayou takes place at the Chappell/Lifeso House, a breathtaking structure conceived by architect Don Chappell in 2000 as a medieval Italian hill town with 12 volumes and 17 different roof levels. Enjoy a tour of the home, along with hors d'oeuvres, champagne and live music overlooking the Pansy Bayou in the Lido Shores neighborhood.
Celebrate SarasotaMOD 2016 — November 11-13
We've provided the blueprint for SarasotaMOD weekend... Now, get out there and celebrate the Sarasota School of Architecture!
For more information about SarasotaMOD, visit www.sarasotamod.com or www.sarasotaarchitecturalfoundation.org.