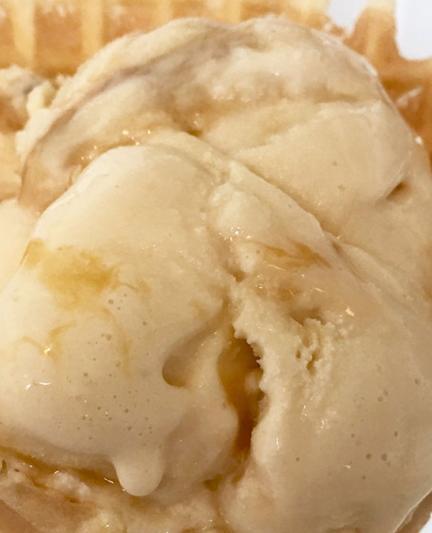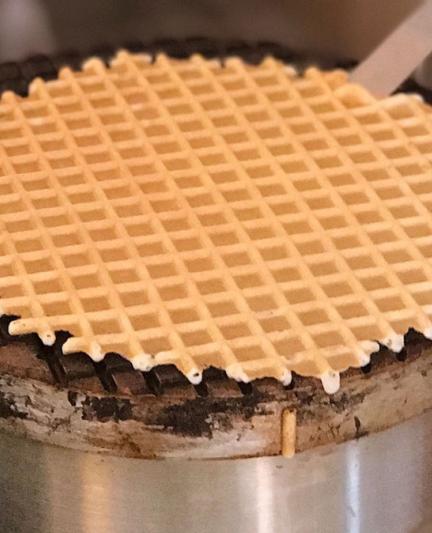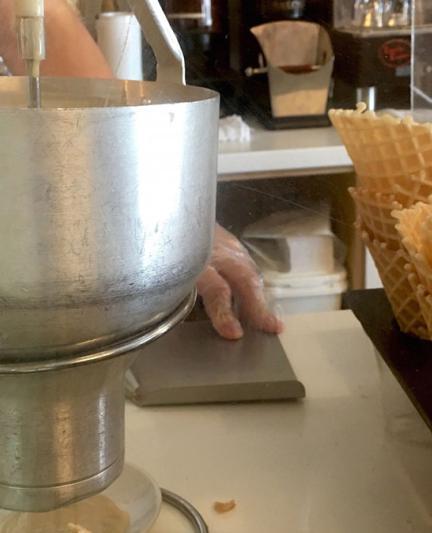 Frozen Treats to Tame Soaring Temps
Looking for a cool treat in the Sarasota County area? Here are a few to try.
Many years ago during a stressful time in my corporate life, I was having doubts about my career, so I asked some co-workers if they were feeling the same way, and if they had contemplated any other type of work. Many thought hard, but one answered immediately, so I knew he had been thinking about it for some time. He said his dream was to own an ice cream shop. When I asked why, he said "Because everyone's happy when you hand them an ice cream cone!"
While I'm certain there are challenges to owning such a business, I do believe there's a lot of truth to what he said. Really. . .who doesn't like to be on the receiving end of a frozen treat? And doesn't everything seem better when you get it? I think life gets a bit simpler at that moment, because you're only focused on four things: 1) licking that cone, 2) contemplating how delicious it is, 3) figuring out how to stop it from dripping down your arm, and 4) wondering what will be in the next bite (personally, I'm always hoping to find a chocolate chunk).
When it comes to frozen treats, we have lots of options these days, like frozen yogurt, hand-crafted popsicles, shaved ice, frozen custard, sorbet, sherbet, soft-serve ice cream, and hand-packed ice cream. There are even specialty places where you choose your mix-ins and pay by the total weight of your bowl (this can be dangerous), and scientific-looking places where liquid nitrogen makes ice cream in front of your eyes. In the Sarasota County area there are definitely many options and, while there's no way to list them all in this post, here are several:
Sarasota
B's Cool Treats
To conjure up memories of childhood, look no further than this biz owned by Brenda Zook. She and her cute yellow/orange 1979 Good Humor truck travel to festivals, private parties and corporate events to serve up frozen treats including Sarasota-made gourmet PopCraft products, Good Humor faves like Strawberry Shortcake and Chocolate Eclair, and Blue Bunny products like the famous Bomb Pop. You can also find her mobile cart at the Sarasota Farmers Market where she offers those delicious PopCraft creations.
Kona Ice
Speaking of mobile cool treats, be on the lookout for these colorful trucks with flashing lights and sounds of tropical music. They serve "hand-crafted gourmet Hawaiian shaved ice treats," with lots of flavors, to boot. You can even tap your favorite flavor(s) from a dispenser on the truck. How cool is that? Tiger's Blood (a mix of strawberry and pina colada) is one of the most popular flavors, so be sure to give that a try. You'll find them at festivals, fairs, school/sports events and birthday parties, so step up to the truck with money in hand to enjoy a cool treat.
Sweetberries Eatery & Frozen Custard
If you like frozen custard AND fresh sandwiches and salads, you should try this place. Local author Michael Osmond and his wife opened their first store in Bradenton in 1999 and they now own additional locations in Sarasota and Gainesville. They mix their creamy frozen custard with nuts, fruit or candy to satisfy your sweet tooth, but you can also get a shake, malt or sundae, so you're sure to find something you like.
Orange Octopus
This cute little spot behind Captain Curt's on Siesta Key offers small batch, handmade ice cream, all served by friendly staff. It's a family-owned business offering 24 flavors, plus delicious waffle cones, all made in-house. Get a cone, shake, sundae, banana split, cool coffee drink, or whatever else, and you won't be disappointed. P.S. The Sea Salt Caramel and Ooey Gooey Brownie flavors are true crowd pleasers.
Settimi's Gelato
As you roam around St. Armand's Circle, be sure to stop here. Gelato is an Italian form of traditional ice cream, but it's made with less fat and air, so the flavors are more concentrated, the texture more smooth and rich. They offer dairy-based options, along with fruit-based and sugar free treats. Here's a tip: try the lemoncello - it's divine.
Venice & Nokomis
When not picking or packing citrus, or making some of the best grapefruit and orange juice you've ever had, folks here are serving up ice cream and sherbet on a year-round basis, and they've been doing it for almost 69 years! They offer generous portions of soft serve - only a few flavors, but all awesome. Mix lime with chocolate, orange with vanilla, pineapple with lime, chocolate with orange, or any combination thereof. Or just one flavor all by itself - there's no bad decision here. Relax on one of the well-worn benches and just lick your cares away. . .
Ciao Gelato
While strolling Venice Avenue in search of a new outfit or a tasty lunch, stop into Ciao Gelato for a cool treat. This little spot offers 'artisan' gelato flavors that are made daily. And if you'd like something hot, you can even get a delicious coffee served alongside pastry. All in all, you're sure to find something to treat yourself.
Bob's Twist N' Shake
As a kid, I was always on the lookout for roadside signs with those iconic twist ice cream cones, hoping my dad would pull the car in for a frozen treat. We don't see those much any more, but if you're in Venice driving down Route 41, you're in luck, because this little spot offers cool treats, as well as, grill options, so stop in for a bit of nostalgia and a cone.
The Soda Fountain
On the west end of Venice Avenue in Venice, you'll find a bit of the past in this quaint spot. I like to sit at the counter and watch the soda jerks prepare my malt or sundae when I'm in the mood for a treat that's definitely not on my diet.
Sweet Melissa's Ice Cream
After enjoying a great day at Nokomis beach, stop into this family run spot on Albee Road. They offer hand-packed ice cream, gelato, sorbet and even soft serve, with lots of flavors of each.
Englewood & North Port
A Better Scoop
This family owned biz in Englewood features Working Cow Ice Cream and house-made waffle cones, along with old fashioned touches like cold treats served in glass dishes. You can get a float, an ice cream soda, a shake, a cone or a sundae, or even take home a pint or quart for your snacking pleasure. According to a local I spoke with, there's a line out the door on Friday nights during the school year, so, if parking lot volume is an indication of a place's popularity, that tells you this place is great.
Swirls N' Curls Ice Cream
Voted "Best in Englewood 2017" so they must be doing something right. You can get a tasty soft-serve or a 'hard scoop' as they call it, with lots of interesting flavors like Mackinau Turtle Fudge, Caramel Caribou, Coffee House Crunch, or Snickerlicious. Or maybe you'd like a sundae or a milkshake? Maybe a frappe or a float? Lots of choices for cool treats when temperatures reach for the sky.
The Shiver Shack
For a variety of treats like ice cream cones, milkshakes, Hawaiian Sno-Cones, and even hot dogs, stop into this place in North Port, which is especially fun for kids. Gosh, they've even got warm pretzels and a nacho station!
###
Nicole Coudal is a home chef and food writer based in southwest Florida, where she fishes and cooks using local ingredients. When not on the water, she visits farms, farmer's markets, and other food-related venues to highlight what's in-season and to create tasty recipes. Read more at www.MyDeliciousBlog.com.