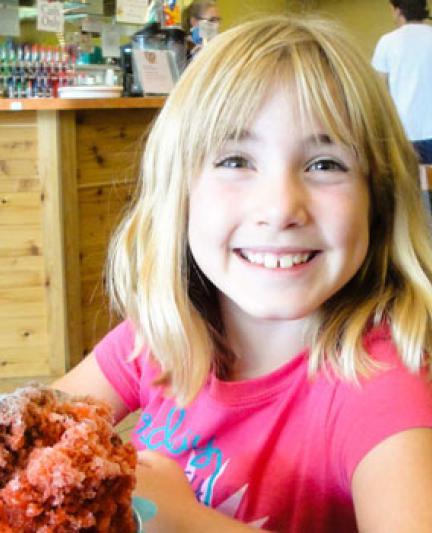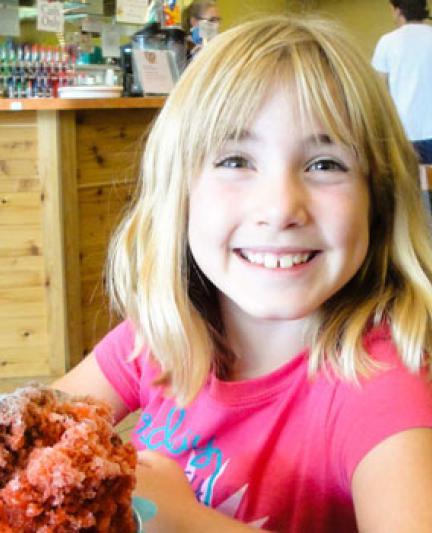 Four sweet spots in Englewood and North Port
We all occasionally crave something to satisfy our sweet tooth. Here are four places to grab an after-meal treat or a little something to get you through the day in Englewood and North Port.
Sometimes, you just need something sweet and sugary to finish off a meal or get you through the day. When the craving for a chocolaty, fruity, or simply decadent treat strikes, head to one of these spots in Englewood and North Port. Your taste buds will thank you, even if your waistline doesn't.
Shaved-ice -- cool and refreshing:
Surfboard-shaped high tables, tiki-themed accessories, and a wood-covered counter area help set a tropical theme at Lindy Lu's Hawaiian Sno-Cones. Customers get greeted with an "Aloha!" when they walk into this cash-only North Port shop, which serves up super-sized shave-ice creations that really hit the spot on a hot day.
Flavor options range from fruity (green apple, watermelon, pineapple) to sweet (cotton candy, bubblegum) to downright unusual (wedding cake, tiger blood). You can mix multiple flavors, add vanilla or coconut ice cream to the bottom of your cup, and top everything off with sweet cream, marshmallow fluff, caramel, or sour spray.
The ice is freshly shaved for each order, and a Play-Doh model on the counter shows just how big the small size is. If that's not enough for you, upsize to a medium, large, or "Big Kahuna."
Donuts -- puffy, sugary goodness:
The line going out the front door and customers who are clearly regulars tell you that Abbe's Donuts is the real deal. This long-time North Port establishment serves up all kinds of donuts for under a buck (cash only) every day from early morning until early evening.
The sweet smell hits you in the parking lot as soon as you step out of the car. Once you've made your way up to the counter, choose from traditional favorites like glazed, chocolate cake, and raspberry jelly or donuts with fillings like peanut butter and coconut cream. Huge cinnamon rolls and apple fritters also prove tempting.
There's a little bit of seating inside, with more tables outside. Grab some paper towels to clean up after, or just continue the indulgence by licking all that sugary goodness off your fingers. A visit to Abbe's is a great way to start the day or enjoy an afternoon pick-me-up.
Pastries -- for breakfast or dessert:
Englewood's Simply Yum Yum Bakery also offers goodies well suited for breakfast or dessert. For the morning hours, pick up a cherry cheese Danish or blueberry muffin. "People go crazy for them," says co-owner Cecile Harrington, who's been baking with her husband, Kevin, since high school.
Options for any-time treats range from crumb-topped Dutch apple squares and hefty donuts to frosted elephant ears and chocolate-frosted peanut butter-chocolate chip bars. For something a little different, try the traditional English dessert of Eccles cake; according to Harrington, the ten-year-old bakery is the only place in the area that makes it. The couple's take on it features puff pastry filled with raspberries, raisins, coconut, lemon, and a little bit of cinnamon.
The shop also whips up specialty orders like its signature Yum Yum Cake, a sour cream coffee cake with French cream filling, and the Raspberry Supreme, a three-layer chocolate cake with raspberry filling, raspberry whipped cream, and a chocolate drizzle. "It's one where you see it and you have to have it," says Harrington.
Ice Cream -- a classic summer staple:
For a traditional summertime cooldown, head to A Better Scoop Ice Cream Shoppe in Englewood. Yellow walls, white beadboard, and navy and white gingham curtain add old-fashioned appeal to the interior. Large chalkboards hang behind the counter, listing ice cream flavors and menu options in multicolored chalk.
Flavors change weekly and could include old-standbys like chocolate and vanilla, trendier combos like salted caramel and cappuccino Kahlua, and kiddie faves like Superman and cookies and cream. Pick your favorite and get a couple of scoops in a homemade waffle cone or whipped up into a milkshake. Or go all out with a hot fudge or butterscotch sundae.
Named with a nod to a local weather possibility, A Better Scoop's Hurricane features vanilla or chocolate ice cream blended with a candy mix-in like M&Ms or Reese's Peanut Butter Cups. The shop bills it as "like a Blizzard, only better." Guess you'll just have to taste it to find out.