Four November Sarasota Events on my "must list"
Here are four very different events I plan on attending
Sarasota certainly does not lack a wild variety of events to attend. I'll often lean towards arts and cultural or musical performance happenings when I'm bookmarking events to check out, but after making the difficult decisions of what to exclude and include, I'll notice that there is never a simple categorical "bucket" that they will fit in. I see this as an enormous "positive," incidentally.
For the month of November, my shortlist (very predictably) took on this accidental "variety show" quality yet again. This makes me quite happy. Somehow, I'll have it all: laughter, artistic inspiration, rock-and-roll drama and celebrations, and jousting knights on the same monthly agenda.
Jon Lovitz at McCurdy's Comedy Theatre
10 p.m. Nov. 5
1923 Ringling Blvd., Sarasota, 34236
941-925-FUNY (3869)
Jon Lovitz was one of my favorite comedians growing up, and he has a bit of a cult following quite apart from my own odd admiration. He created an entire schtick around being vaguely dislikeable by everyone around him while still reading as an oddly sympathetic and witty character actor. His recurring "pathological liar" and "annoying man" characters on SNL were very memorable, and they take on a second life for younger generations today thanks to YouTube. Another odd career achievement of note: his Simpsons-esque animated comedy "the critic", wherein he voiced a universally hated movie critic (also drawn to caricature Lovitz' real-life physical appearance) to great comedic effect.
Jon Lovitz will be forming standup comedy at McCurdy's Comedy Theatre on November 5th. This will be the perfect opportunity for other Sarasota visitors and locals like myself -- who grew up laughing with (and at) Lovitz -- to see him perform live in person. I'll laugh at the jokes, but unlike his "critic" persona, I'll probably have nothing but good things to say about his act.
2016 Siesta Key Crystal Classic Sand Sculpting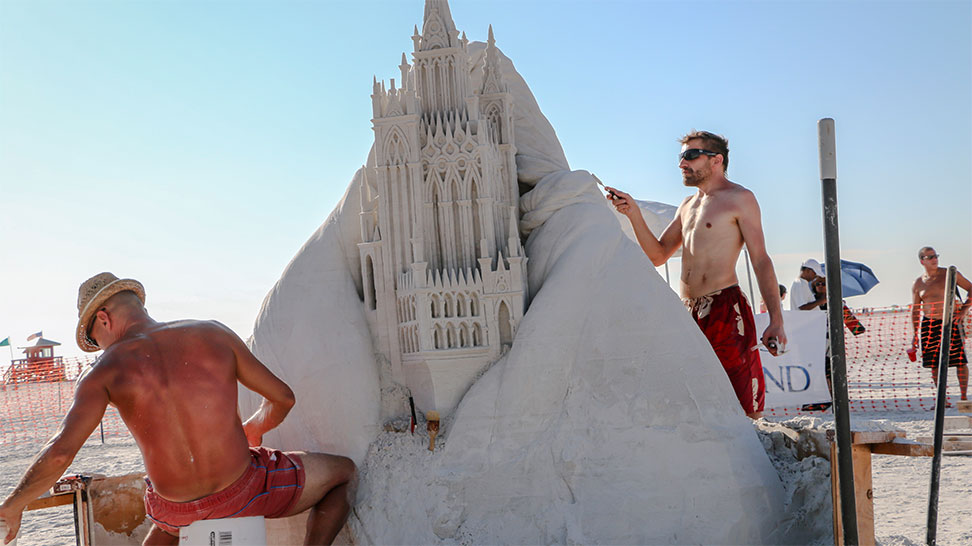 Nov. 11-13
Siesta Key Beach (specific details here)
941-349-3800
No two places will ever have exactly the same character or texture in terms of the arts that can rightly be said to specifically belong to those places. You can go to locations all over the globe and find art in one particular place that will never be reproduced anywhere else. The Siesta Key Crystal Classic Sand Sculpting competition is a quite beautiful example of this kind of art.
The art created at this event definitively belongs to its place: Siesta Key Beach, with its world-famous fine white sands. The masters of this medium come here every year to do their best works competitively. Though the event recurs annually, the medium of the art (sand-sculptures) also belongs to a specific time, which will necessarily come and go. It's part of what makes it beautiful and irreplaceable: if you don't attend, you will miss anything other than photographs, which will not capture and reproduce the experience sufficiently.
Aside from the characteristics intrinsic to the medium, the actual work done in this competition is stunning. I'd never known it was possible to make such gorgeous and fantastic pieces in a medium such as sand; not until I'd seen for myself what some of these master sculptors had accomplished. Come see it for yourself.
Million Dollar Quartet at Florida Studio Theatre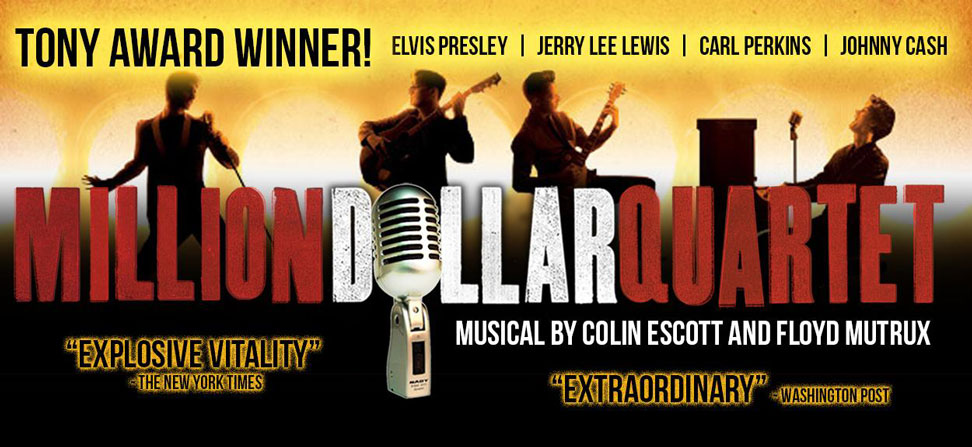 Nov. 9, 2016 through Jan. 1, 2017
Florida Studio Theatre
1241 North Palm Avenue, Sarasota, 34236
Box Office (941) 366-9000 [email protected]
I've collected records and been a music nerd since my teenage years, well into adulthood, with a collection spanning from the classics, to the pop contemporary fare, to the unnameable weird. Rock and Roll lore is a big part of the cultural inheritance of being a music nerd, and Million Dollar Quartet at Florida Studio Theatre seems like it will be a great chance to see some of that primal Rock and Roll history-as-legend material acted out.
The story: there's a very famous anecdote about Elvis Presley, Jerry Lee Lewis, Johnny Cash, and Carl Perkins getting together to jam, and this play takes this moment of Rock History as its source material. What I'll probably do, in all likelihood: spend the day before the performance listening to my favorite records by these giants, then watch the play later that night, then listen to those records again -- preferably with a dancing partner who also recognizes that the classics never go out of style.
Sarasota Medieval Fair
10 a.m. to 5:30 p.m. Nov. 5-6, 12-13, 19-20
Ringling Woods behind the Sarasota Fairgrounds
3000 Ringling Blvd, Sarasota, 34237
1-888-303-FAIR (3247)
Oddly enough, one of my fight-sport training partners here in town is a real-live professional travelling jouster -- with armor, swords, horses, and the whole nine yards. This means his day job is literally a live-action role-playing of Knights of the Round Table, and the more he tells stories about his strange line of work, the more interested I've become in seeing this sort of performance up close.
The Sarasota Medieval Fair will be an excellent opportunity to see some of this professional jousting, and also much more. I can catch all the costume-play of other event attendees getting into medieval character (for fun, if not for profit), and maybe even splurge on a few bits of medieval art or knick-knackery. I've heard that Viking-style horns of ale are not uncommon at these events, and the novelty of this alone will add considerably to the fun and spectacle of it all.
Also, if I'm being perfectly honest: the initial motivation to check out the event is not simply intrigue at seeing what a "professional jouster" does as an adult making a living swinging around medieval weaponry in heavy armor. Of course. I grew up reading fantasy books, and played with my share of blunted swords. The kid in me (as it would be for many other adult males) wants to walk around in that fantasy for an afternoon, just for the sake of getting out to play.