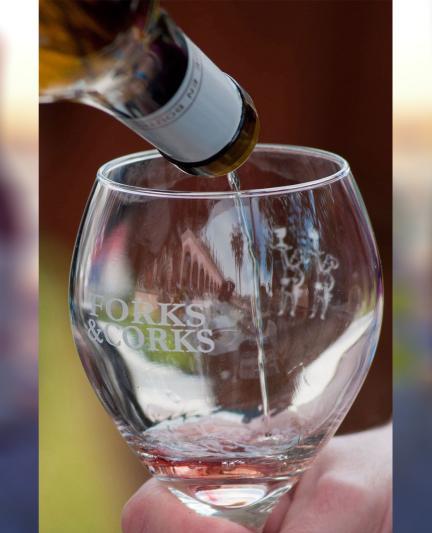 A Foodie's Guide to Forks and Corks
Sarasota's highly anticipated Forks and Corks wine and fine-dining festival is back for its 13th year in January
What could be better than spending an afternoon in the courtyard of the historic John and Mable Ringling Museum of Art? How about adding some wine from around the world and food from over 50 of Sarasota's top restaurants?
Hosted by Sarasota-Manatee Originals, this year's 13th annual Forks and Corks is guaranteed to be a raucous good time.
Forks and Corks is a week-long celebration where attendees can taste and learn about rare and inspired wines at local wine dinners and educational seminars. The festival runs Jan. 23-27 with the main event – the "Grand Tasting" in the courtyard of the Ringling Museum – on Sunday, Jan. 26.
At the Grand Tasting, over 1,800 guests gather under the iconic statue of David to celebrate all things food and beverage. Live entertainment accompanies the epicurean delights so you can dance off the calories as you consume. Guests will even have an opportunity to document their afternoon with a photo booth complete with goofy props.
In order to maximize your time (and stomach) at this year's Forks and Corks make sure to swing by these recommended booths to flex your foodie muscles.
Sarasota's beloved Michael's on East is an integral participant in Forks and Corks. They are sure to have a vast array of cuisine as well as wines from Michael's Wine Cellar. Michael's is always a popular booth, so visit early and visit often.
Whatever you do, do not miss Brick's Smoked Meats on your Forks and Corks adventure. They boast generous portions of barbecue paired with creamy southern sides that will be sure to soak up any indication of inebriation. Smoky barbecue goes great with pinot noir, so be sure to grab your favorite pinot before heading over.
Not only is the food at Tsunami fantastic, the people who work there are even better. They always turn up for a good time at events. Visit their booth for Japanese treats, usually of the sushi variety. Fill up your glass with something sparkling to best pair with everything they offer.
The Ritz Cartlon's iconic Jack Dusty skews toward fresh Florida seafood. The ever professional team are sure to present a beautiful booth. California chardonnay will always pair beautifully with Jack Dusty's elevated Florida-friendly food.
Stop by the Cafe Gabbiano booth for a nibble of classic Italian fare. This Siesta Key staple is sure to stun with lovely continental cuisine. Make sure to scout out the Italian wine booth beforehand for the perfect pairing.
Always a fan favorite, SKOB exudes laid back vibes and chill coastal cuisine. This year's offerings are sure to exceed expectations. Fill up your glass with something light and white before swinging by.
Tickets for the Forks and Corks Grand Tasting and University Master Class sell fast, but spots remain a variety of Winemaker Events where diners can meet face to face with renown winemakers. Learn more at eatlikealocal.com