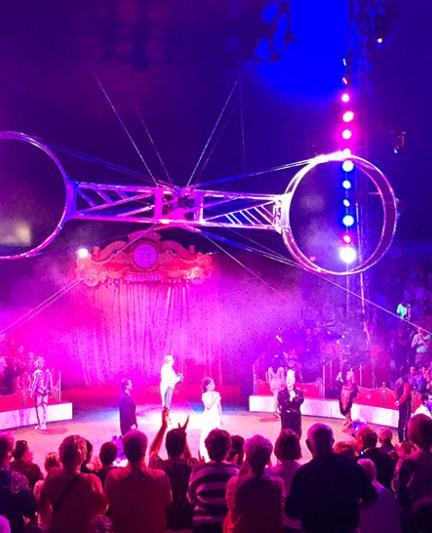 Bello is a-Nockin': 2016 Circus Sarasota
Bello Nock and Circus Sarasota do not disappoint to entertain children of all ages in "Red, White, and BELLO"
"How in the world can he do that?!" The man sitting behind me is incredulous.
The rest of us are speechless as he blurts out these words, though we are all thinking the same thing. How? How can one man accomplish such unfathomable feats, such creative accomplishments, such death-defying maneuvers, such hilarity? Simple answer - because he's Bello Nock. It's just what he does … and this is only halfway through his opening act of "Red, White, and BELLO" at Circus Sarasota.
From Fear to Admiration
This year's visit to Circus Sarasota was not my first. Four years ago we went when we had a new baby and I was afraid my three-year-old son would feel deprived, as though there would be no fun in his world with the arrival of the little lump of sisterly joy. So, we took him to the circus.
Having a slight fear of clowns since a young age, I expected I might keep my eyes half closed at the arrival of the clown posse, but instead of a clown resembling Stephen King's, we had the pleasure of watching the comic daredevil, Bello Nock. We laughed, we gasped, we were struck speechless.
Suddenly I was a circus-loving convert. And for four long years my poor daughter has had to hear tales of how awesome and hilarious and amazing Bello was. Being two weeks old, she slept in her papoose the whole time and, sadly, doesn't remember a thing. I started to fear that she may never experience the joy that a Bello circus can bring. And then it happened. Sitting at the ice cream parlor three weeks ago, my now seven-year-old son jumped up, nearly dropped his chocolate-vanilla swirl, and yelled out "BELLO!" There, on the window, was a poster bearing the long-haired comic daredevil himself. Bello was back.
Not Just a Clown
Please don't call Bello just a clown. Yes, he has oversized shoes and drawn-on eyebrows and, yes, he induces round upon round of laughter to a crowd within a big top. But what Bello does is unique and far surpasses the job description of 'clown.' Technically, he is a comic daredevil. Let me assure you. This title is not simply a way to avoid the stereotypical name of clown.
Bello Nock's timing and quick-wittedness have a natural spontaneity that makes you know each show is different. He reels the audience in and keeps them there, involved, smiling, and on the edge of their seats. Not only did he entertain the kids, he had me laughing aloud at his antics and banter with the audience.
And the tricks! Daredevil is an understatement. Those dangerous, gasp-inducing, death-defying tricks that the other performers wow the audience with? Bello does them. I'm not going to spoil the surprises for you – I simply dare you to watch act ten of the show and try to call Bello Nock anything other than a comic daredevil.
Never a Disappointment, Always Evolving
Happily, our second Bello circus did not disappoint. Going in with such high expectations, I feared that no performer could satisfy. Of course, like any sequel, I wanted the original, just again. That did not happen, which is actually far better as it shows Circus Sarasota to be always changing, evolving. This year's performance features ten main acts – plus Bello, of course – and merges local entertainers (including the ringmaster who lives down the street from us) and international performances from Italy, Paris, Columbia, and the Czech Republic. There are Guinness-Record holders and award-winning performers that come from families of generations of circus performers, including Bello's own daughter, Annaliese Nock, who earned a World Record on the opening night of "Red, White, and BELLO."
Family Crowd-pleaser
For any parents who may be a bit hesitant to succumb to their children's – or in my family's case, wife's – wishes to go to the circus, they have guaranteed crowd-pleasers for all. In the concession and souvenir zone, local beer masters Big Top Brewery sells their own Circus Sarasota Brew. And, ladies, let me tell you, the Italian quartet, the Pellegrini Brothers, aroused a screaming crowd the likes of which I have never seen before. Once they lost their shirts, you'd think it was Magic Mike in the big top.
The only downfall of the show is that now my kids are planning their own acts. The dog will be jumping through hoops; their bikes will be hopping the ottoman; no ball is safe from juggling, be it with hand or foot. Thank goodness we don't own a horse or a Wheel of Destiny. We'll save those for the professionals. And next time they're here, we'll be in the audience, ready to gasp, smile, and laugh.
Circus Sarasota's "Red, White, and BELLO" runs through February 28th. Information and tickets here.