Visit Sarasota County: Updates and Meetings
Read the latest news and information from Visit Sarasota County
Partner Coffees Are Headed South!

Thank you to our inaugural South County
Partner Coffee hosts in November:
CoolToday Park and The Atlanta Braves!
Do you look forward to our monthly partner coffee events, but prefer a shorter drive than the usual hosts around downtown Sarasota? Good news – VSC could be coming closer to you!
VSC will now be conducting one partner coffee per quarter in South Sarasota County. The partner development team is excited to increase interaction between VSC staff and our wonderful partners closer to this part of the destination!
November marked the first of these new meetings at CoolToday Park, the new spring training home of the Atlanta Braves in North Port/Wellen Park. We loved networking with some new faces, enjoying the Braves' wonderful hospitality and watching a few first timers walk away with giveaways!
Watch for our emails and future e-newsletters to see when and where our next South County partner coffee will be!
Help Needed for Annual Volunteers Luncheon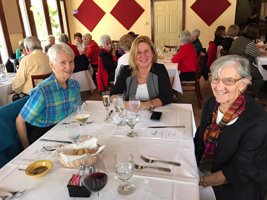 VSC is looking for partners willing to donate items for 50 gift baskets that will go to our volunteers and part-time Visitor Services staff at the upcoming Annual Luncheon.
VSC utilizes nearly 50 volunteers and part-time staff members to help answer calls, provide recommendations and promote your businesses to tourists every day at our Visitor Information Centers. These men and women work hard to ensure any potential visitor with questions about our destination is greeted with a warm welcome and smiling face!
Each year, we try to repay their generosity with some of our own in the form of an appreciation luncheon. We are once again asking for help from partners willing to provide an unforgettable experience or gift (discount cards, BOGO offers, or product samples are some ideas from past luncheons).
Email Sandrina McCloud at [email protected] if you have some ideas and are interested in helping show gratitude to these front line champions of tourism!
Upcoming Meetings
December 2019
VSC Executive Committee Meeting, December 11, 2019, 9:00 a.m.
VSC Board of Directors Meeting, December 12, 2019, 8:00 a.m.
VSC Partner Coffee, December 18, 2019, 8:00 a.m., The Sarasota Modern, 1290 Blvd. of the Arts, Sarasota
January 2020
VSC Executive Committee Meeting, January 14, 2020, 4:00 p.m.
VSC Board of Directors Meeting, January 16, 2020, 8:00 a.m.
Tourist Development Council Meeting, January 16, 2020, 4:00 p.m., Sarasota County Administration, 1660 Ringling Blvd., Sarasota
All meetings are held at the VSC Administration Office, 1777 Main St, 3rd Floor, Sarasota unless otherwise noted.
For teleconference call-in information, contact Shantel Norman at [email protected].