New Visit Sarasota County Partners - January 2018
Please help Visit Sarasota County welcome our new partners in January by checking out the profiles below!
NEW PARTNERS: JANUARY
Newk's Eatery
Website: newks.com | Phone: (941) 351-1210 | Address: 5405 University Parkway, Bradenton FL 34201
Newk's offers a diverse menu of imaginative entrees and re-invented old favorites.  Newt's insists on sourcing the finest ingredients and is  uncompromising about quality kitchen-to-table.
Zarghami Group at Keller Williams
Website: ZarghamiGroup.com | Phone: (941) 444-9828 | Address: 3305 Clark Rd, Suite 103, Sarasota, FL 34231
The Zarghami Group is a dynamic real estate sales and marketing company covering the Sarasota/Bradenton, Florida area. As a local real estate company housing some of the top agents in the Sarasota/Bradenton area, the Zarghami Group is committed to providing the absolute highest level of service and proven results for their clients.
Located in central Sarasota, servicing all of Sarasota and Manatee counties, including residential real estate in Sarasota, Bradenton, Venice, Osprey, Nokomis, North Port, Lakewood Ranch, Parrish and all of the area keys (Longboat Key, Lido Key, Bird Key, Siesta Key and Casey Key), ZarghamiGroup.com is the destination to begin your home search.
Newtown Alive
Website: newtownlive.org | Phone: (941) 962-8761 | Address: 10119 41 St Ct, Parrish FL 34219
Newtown Alive documents the history off Sarasota's African American Communities of Overtown and Newtown through 15 Historic markers, a website, mobile app and trolley tours.  This unique tour will blend education about history with education about the present day in a one-of-a-kind tour.
Zota Beach Resort – weddings
Website: zotabeachresort.com | Phone: (941) 383-2451 | Address: 4711 Gulf of Mexico Dr., Longboat Key FL 34228
Zota Beach Resort is located on the beautiful, fabled sands of Lido Key. As a wedding venue, it is ideal for 20 to 150-guest events in either indoor or outdoor settings, with wedding specialists on staff to customize menus and other details of the big deal. 
Anna Maria Oyster Bar Landside
Website: oysterbar.net | Phone: (941) 758-7880 | Address: 6906 14th St. W., Bradenton FL 34209
One of four locations of the Anna Maria Oyster Bar (and the second to open), the "Landside" location is an excellent place to chow down on seafood and socialize over drinks. Two bars, backyard & deck, tapas, private dining area, aquariums, and more. 
Venice Art Center
Website: veniceartcenter.com | Phone: (941) 485-7136 | Address: 390 Nokomis Ave S., Venice FL 34285
Venice Art Center hosts 11 unique exhibits annually, and has 55 instructors that offer 150 classes, demos, and workshops. The Art Center will also often host or organize events ranging from Artisan Jewelry Show and Sale, live music events, and more. They also have a gift shop and cafe.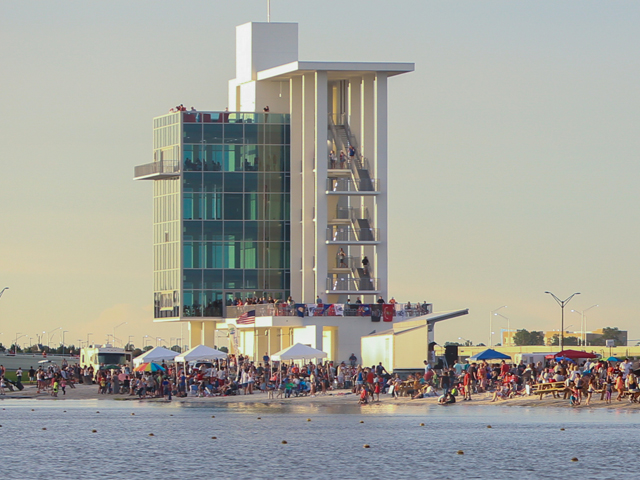 Sanca @ Nathan Benderson Park – weddings
Website: nathanbendersonpark.org | Phone:
(941) 359-7275 | Address: 5851 Nathan Benderson Circle, Sarasota FL 34235
The Finish Tower at Nathan Benderson Park is one of the more interesting additions to the Sarasota Landscape recently, and its visually intriguing design caught many an eye during the timeframe of the 2017 World Rowing Championships. It would make for a fairly unforgettable wedding venue, where each respective floor has its own rental rates. The space is also available for private parties, conferences, banquets, meetings, corporate retreats, and more.
Holiday Inn Sarasota/Bradenton – weddings
Website: hisrq.com | Phone: (941) 355-9000 | Address: 8009 15th St. East, Sarasota FL 34243
Situated near The Ringling Museum and The Crosley, The Holiday Inn Sarasota/Bradenton is an excellent spot for receptions. A very short distance from SRQ Airport , as well as a brief drive from Downtown Sarasota and Lakewood Ranch, all add to the appeal of booking a wedding which can include exploration of the surrounding areas for visitors before all the festivities are done.
Holiday Inn Lido Beach – weddings
Website: lidobeachholidayinn.com | Phone: (941) 388-5555 | Address: 233 Ben Franklin Dr., Sarasota FL 34236-1205
The Holiday Inn Lido Beach, located on a barrier island off the coast of Sarasota, is just steps from the sugar white sands of Lido Beach and just a short walk to St. Armands Circle with over 114 different shops, restaurants and evening entertainment spots. The hotel features a sophisticated, yet "Florida Casual" decor that combines a relaxed beachfront resort atmosphere offering breathtaking views of both the Gulf of Mexico and Sarasota's City and Bay.
.
The Resort at Longboat Key Club – weddings
Website: longboatkeyclub.com | Phone: (941) 383-8821 | Address: 220 Sands Point Rd, Longboat Key, FL 34228
The Resort at Longboat Key Club is a luxury resort with all the amenities that make a stay at beautiful Lido Key something to write home about, including incredible beach access and recreation facilities -- pool, golf course, tennis courts, and a marina. But it is also an enchanting wedding destination! All the luxury features of the hotel come into play for the special occasion, but also include indoor and outdoor wedding venues; access to spa and wedding-day make-up services, florists, professional wedding photographers; entertainment, and more.
Gulf Coast Heritage Association | Historic Spanish Point – weddings
Website: historicspanishpoint.org | Phone: (941) 966-5214 | Address: 337 N. Tamiami Trl., Osprey FL 34229
With over 5,000 years of history packed into a lush 30-acre bay front preserve, Historic Spanish Point is the perfect destination for weddings, events, tours and educational programs. Quickly becoming one of the premiere wedding locations in southwest Florida, Historic Spanish Point feels like a romantic step backward in time. Couples have the opportunity to make their wedding exactly the way they envision by using all of the possibilities that Historic Spanish Point has to offer. Intimate weddings with seating for up to 40 people can be held in Mary's Chapel, while more grand ceremonies that can seat up to 150 people are held at the formal gardens. These ceremonies often utilize the pergola and sunken gardens, and are very memorable.
Write-On Sarasota
Website: writeonsarasota.com  | Phone: (941) 953-2885 | Address: 1423 1st Street, Sarasota FL 34236
Wonderful place to meet friends and enjoy the unique gifts or choose the perfect stationary...and if you are getting married, browse through their wedding invitations, save-the-dates, and day-of stationery.
Element Modern Mediterranean Grill Weddings
Website: elementsrq.com | Phone: (941) 724-8585 | Address: 1413 Main St., Sarasota FL 34236
Element is an upscale Mediterranean Steakhouse located in the heart of downtown Sarasota, Florida. Inspired by his childhood in Europe and his passion for culinary innovation, Chef Nils Tarantik has brought a world-class dining experience to downtown. Chef Nils takes the classic dishes and flavors of southern Europe and imbues them with unique gastronomic twists and flares. The result is a timeless - yet boldly modern – dining experience that evokes the comforting flavor memories of the past while exciting the senses.
Antoines
Website: antoinessarasota.com | Phone: (941) 331-1400 | Address: 1100 N. Tuttle Ave, Sarasota FL 34237
Antoines' artisanal cuisine offers elaborate seafood specials including PEI mussels prepared 7 different ways and served with the best fries in Sarasota. They proudly prepare everything in-house including bread, pasta, dressings, desserts, and they offer a wide selection of wine and beer. Their new location features an elegant continental menu in a cozy and sophisticated environment.
Bricks Smoked Meats
Website: brickssmokedmeats.com | Phone: (941) 993-1435 | Address: 1528 State Street, Sarasota FL 34236

Brick's is a Florida-influenced, modern day interpretation of the classic Central Texas traditions of barbecue and cuisine. Texas Barbecue Culture is all about craftsmanship, devotion to time-honored methods, family, neighborliness and the fun of gathering round the table.Their aim is to bring that barbecue culture to Sarasota in their own way and to offer up a "double portion" of the best smoked meats available and heartfelt hospitality.
Hyatt Regency – weddings
Website: sarasota.regency.hyatt.com | Phone: (941) 363-2643 | Address:1000 Blvd of the Arts, Sarasota FL 34236
Hyatt Regency, with their own private marina, is located in the heart of downtown and offers a relaxing atmosphere and gathering location for family and friends.
Venice Institute for Performing Arts
Website: veniceperformingartscenter.com | Phone: (941) 218-3779 | Address:1 Indian Ave, Venice FL 34285
The Venice Institute for Performing Arts has a mission to sustain the local arts community and inspire Venice with first class entertainment.
Boys and Girls Club of Sarasota
Website: https://www.bgcsarasota.com/ | Phone: (941) 366-3911 | Address: 3130 Fruitville Road, Sarasota FL 34237
Their mission: To enable all young people, especially those who need them most, to reach their full potential as productive, caring, responsible citizens.
Der Dutchman Catering at the Carlisle Inn
Website: www.derdutchmansarasota.com | Phone: (941) 296-1343 | Address: 3713 Bahia Vista, Sarasota FL 34232
A beautiful, gracious, comfortable facility to celebrate- minutes from Siesta Beach. Expert staff works within your budget-planning a dream reception: up to 350 guests
Embassy Suites -weddings
Website: www.essarasota.embassysuitesbyhilton | Phone: (941) 256-0190 | Address: 202 N. Tamiami Trail, Sarasota FL 34236
Upscale all suite hotel located in downtown Sarasota. Weddings and rehearsal dinners 10-150 attendees. Wedding packages available and menus customized to your taste.
Kimberly Koen – Keller Williams
Website: kimberlykoen.kw.com | Phone: (941) 724-2100 | Address: 8210 Lakewood Ranch Blvd., Bradenton FL 34202
From Kimberly Koen: "I love the Real Estate business and have been selling, buying and investing as a Realtor since 2004. I started my real estate career in construction. I have owned and operated a masonry company which served the Sarasota-Manatee area. After being in the construction business for many years, getting my Real Estate license was a logical and natural progression for me and my career. "
Tiny Houses Siesta
Website: tinyhousesiesta.com | Phone: (941) 474-3782 | Address: 6600 Avenue A, Sarasota FL 34231
Tiny House Vacation Rentals with 1st and 2nd floor bedroom options, some sleep up to 6. Perfect distance to ride bikes to the beach. Great restaurants literally within walking distance.
Chart House – Weddings
Website: http://www.chart-house.com/private-events.asp | Phone: (941) 383-5593 | Address: 201 Gulf of Mexico Dr., Longboat Key FL 34228
Located on Longboat Key, this tropical oasis offers spectacular views of Sarasota Bay while indulging guests with a fantastic array of seafood specialties with a local twist.
Mattison's Catering Weddings
Website: www.mattisons.com | Phone: (941) 921-3404 | Address: 7275 S. Tamiami Trl., Sarasota FL 34231-5555
In-house catering options feature a large waterfront ballroom, an Italian Galleria, and multiple more intimate private dining options (indoor, outdoor, waterfront). Mattison's in-house certified wedding and event planners and our award-winning cuisine is one of the finest. For off-site catering, Mattison's is pre-approved at all the most popular locations on the West Coast of Florida.
Ultimate Kayak SRQ
Website: ultimatekayaksrq.com | Phone: (941) 322-2375  | Address: 24605 53rd Ave East, Myakka City FL 34251
"Ultimate Kayak SRQ is Sarasota Premier Kayaking – Paddle Board eco tour company in the greater Sarasota area including, Lido Key (incredible mangrove tunnels), Longboat Key, Siesta Key (#1 Beach in the USA by Trip Advisor  and our amazing bird watching tours at Celery Fields in Sarasota. We provide a wide range of Kayak & Paddle Board eco tours throughout the Sarasota area that will have you on the edge of you're seat as you observe and interact with wildlife in their natural habitats."
Lido Beach Resort - weddings
Website: www.lidobeachresort.com | Phone: (941) 387-9151 | Address: 700 ben Franklin Dr., Sarasota FL 34236
"In the heart of Sarasota, the beach ceremony site and indoor venues at the Lido Beach Resort provide a romantic setting for your destination wedding."
Hotel Venezia weddings
Website: www.hotelveneziafl.com | Phone: (941) 308-7700 | Address: 425 US 41 Bypass, Venice FL 34285
"Minutes From Venice Beach with Onsite Restaurant and Event Space. Come and discover why the Ramada Venice Resort was voted "Best Hotel" Sun Gondolier Reader's Choice Awards. Discover the Shark Tooth Capital of the World and exceptional amenities at the Ramada Venice hotel. Located minutes from white sandy beaches on the gulf coast of Florida, find easy access to the area's best attractions, golf courses, boutique shops and dining on Historic Main Street"
Kayaking SRQ Weddings
Website: http://kayakingsrq.com | Phone: (941) 955-0991 | Address: 190 Taft Dr., Sarasota FL 34236
A unique wedding experience, for certain! Take a guided tour through Sarasota's hidden gem, the Exotic Mangrove Tunnels, while searching for Manatees, Dolphins, & Sea Life who call Sarasota Bay home. Or if going at your own speed is what you are looking for contact us for kayak and paddle board rentals.