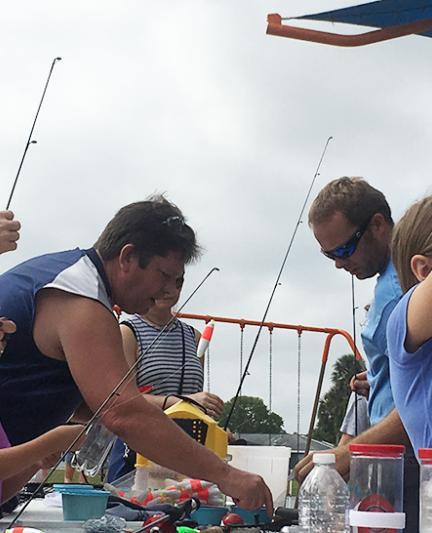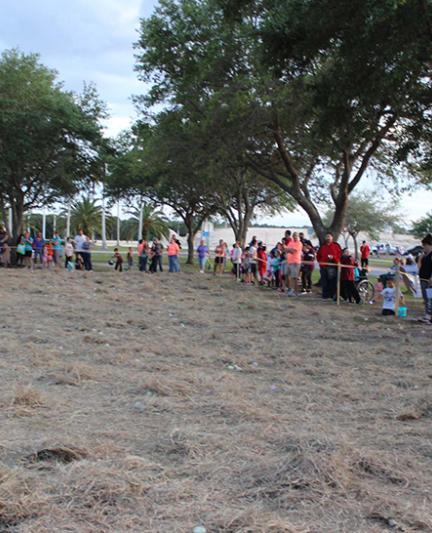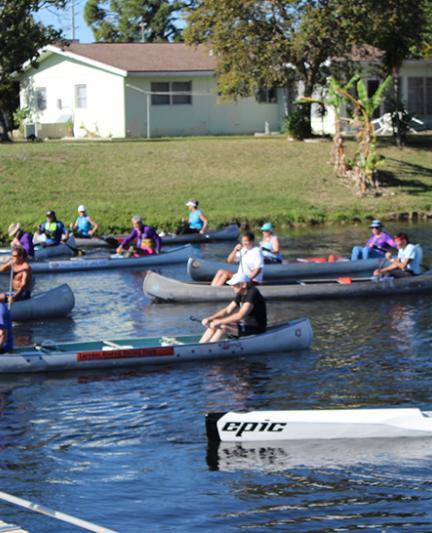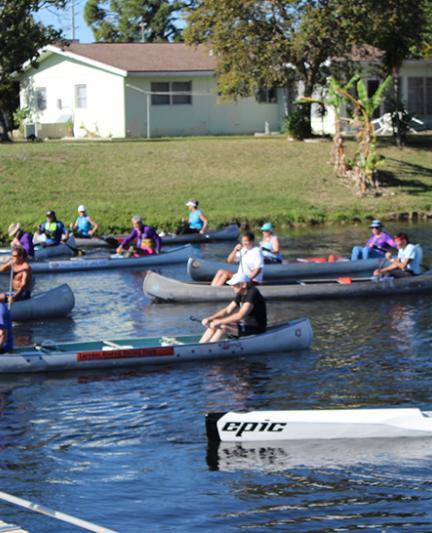 Mark Your Calendar: Spring Events in Venice, Englewood and North Port
Celebrate arts, homes, outdoors and much more with this selection of spring events.
Downtown Venice morphs into something of an outdoor art gallery during the Annual Downtown Venice Art Classic. Held on March 3 and 4 from 10 a.m. to 5 p.m., the free event sets up along West Venice Avenue. Some 150 artists can be found among the tents, selling and showing off their sculptural glass and ceramic pieces, vibrant paintings, eye-catching photography, and delicate jewelry. Grab lunch at one the many restaurants on the avenue, then spend the rest of the day admiring (and maybe spending some cash on) the artwork.
The Venice Institue For Performing Arts presents Larry Gatlin and the Gatlin Brothers. These performers have dazzled audiences for more than 60 years with country music, winning countless awards and performing at numerous concert halls. The Venice Institute has several events this spring, be sure to check out their calendar.
In need of a little enchantment in your life? Embrace your inner Tinker Bell by heading to Historic Spanish Point for its annual Fairy House Festival. On March 3 and 4, the 30-acre site in Osprey is transformed into a whimsical and wonderful spot for kid-centric crafts, games, and magical garden walks. Keep a lookout for the imaginative little fairy houses made of sticks, shells, pine cones, and other natural materials hidden throughout the property. Admission is $12 for adults, $5 for children ages five through 12, and free for children four and under.
Take a peek inside some of Venice's charming homes during the Venice Area Garden Club's Annual Home Tour, which takes place this year on March 9 and 10. Tickets cost $20 and can be purchased in advance at local merchants or at the door on the day of the tour. Proceeds benefit local school programs and scholarship funds as well as Venice-area beautification efforts. Stops could include everything from a midcentury modern pad to a 1920s-era Mediterranean Revival beauty.
Artists of all kinds bring their work en plein air for Arts on the Green in North Port. Taking place March 10 from 10 a.m. to 1 p.m. at the City Center Front Green, the free event features artists working in a variety of mediums (think charcoal, clay, metal) along with poetry readings and live music. Want to take something creative home with you? Browse the wares from the local crafters and merchandise vendors also on hand.
The Venice Institute of Performing Arts presents the United States Army Field Band: Jazz Ambassadors March 13. This free concert is designed to entertain all types of audiences. The repertoire includes big band, latin, jazz, standards, popular tunes, Dixieland, vocals and patriotic selections.
The Venice Art Center's 2017-18 Concert Series continues March 15 with local band Come Back Alice, featuring gypsy funk, rock and soul. Individual concert tickets are $25 for VAC members and $30 for non-members. The following day, March 16, Venice Art Center hosts "Old Vegas in Venice," featuring heavy appetizers, a costume contest and cash bar, regulation casino tables and professional dealers. Tickets are $50 for members, $55 for non-members. Learn more about Venice Art Center events.
Page-turning mysteries, fanciful children's stories, guides for exploring the outdoors—you can find all of these and more at the Venice Book Fair and Writers Festival. Various panels for wannabe scribes, a master class for more established writers, and a wine and cheese reception (pre-registration required) take place on March 23. On March 24, dozens of authors set up shop in Centennial Park from 9 a.m. to 3 p.m., chatting with festivalgoers and selling copies of their latest books. There's no admission fee for that portion of the event, which promises plenty of good reads.
West Dearborn Street in Englewood is always a great spot for shopping, strolling, and dining. But there's even more to love when it hosts the Spring Fine Arts Show on March 24 and 25. More than 100 artists from around the country occupy booths displaying works in a variety of mediums, including sculpture, jewelry, photography, watercolors, and ceramics. Admission is free, but members of the Rotary Club of Englewood will be requesting $2 donations "in exchange for a smile," with all proceeds benefitting the Englewood Rotary Youth Foundation and other Rotary projects.
Keep the kiddos up past their bedtime for North Port's Flashlight Egg Hunt. The free fun starts at 8 p.m. on March 30, when more than 8,000 glow-in-the-dark eggs are hidden throughout City Center Front Green. Kids ages six to 11 can bring a flashlight and Easter basket to search for and collect eggs under the light of the moon. North Port also hosts a free daytime egg hunt for kids ages three to nine at the same spot on March 31 at 10 a.m. Participants are divided into three age groups and set loose to uncover more than 15,000 eggs.
For more Easter fun, head to Eggstravaganza in downtown Venice on March 31. Beginning at 9:30 a.m., Centennial Park is the place to be for free Easter egg hunts divided by age group, along with entertainment and photo ops with the Easter Bunny himself. Hop on over for plenty of holiday fun at the free annual event presented by the Venice Lion's Club and Venice MainStreet.
Wish you knew how to bait a hook and cast a line? You can learn those and other basic angling skills at the Family Fishing Clinic at North Port's McKibben Park, held April 7 from 9 a.m. to noon. Advance registration is required (941-429-7275), and participant groups must include at least one adult and one child ages 16 or under. The cost is just $5 a person, and all equipment is provided.
Venice bills itself as the Shark's Tooth Capital of the World. So it should be no surprise that the city hosts an annual Shark's Tooth Festival. This year's event sets up shop at the Venice Airport Festival Grounds on April 13 through 15. Fossil collectors from throughout the Southeast show off and sell their toothy finds, while more than 100 Florida artists display their work. There are also food vendors selling tasty eats, live entertainment all weekend, and kids' games and activities. Admission is $4 for adults, free for kids 12 and under.
Cheer on the racers or get on the water yourself for the Cocoplum Paddle-a-thon. On April 14 from 9 a.m. to noon, kayakers and standup paddleboarders head to Dallas White Park in North Port for a morning of racing ($25 per person; advance registration required, 941-429-7275). There's a half-mile race for beginners and a more challenging two-mile race for all levels of paddlers. Spectators can come out to lend support and watch all participants receive a finisher medal.
Bring your appetite to the annual Suncoast BBQ & Bluegrass Bash. Pitmasters from around the country and chefs from local restaurants will head to the Venice Airport Festival Grounds April 20 and 21 for barbecue and chili cookoffs. Festivalgoers get to sample participants' signature ribs, brisket, pulled pork, and other barbecue favorites while enjoying bluegrass tunes from award-winning acts. Young ones can burn off some energy and calories at the event's "kids' park," which offers face painting, inflatable slides and bounce houses, and old-fashioned games like potato sack races. Free parking and admission means you can save your cash for all of the seriously good food.
Where better to celebrate a day dedicated to protecting our planet than at one of our local parks and preserves? On April 21 from 10 a.m. to 4 p.m., Oscar Scherer State Park in Osprey holds its 29th Annual Earth Day Celebration. Visitors can enjoy live music and kids' activities and stop by informational booths to learn all kinds of environmental facts and tips. Then they can explore the rest of the 1,381-acre site, which offers a variety of hiking trails and paddling routes and is home to alligators, bald eagles, bobcats, and Florida scrub-jays, an imperiled bird species found only in the Sunshine State.
Englewood is also getting in on the Earth Day action with its Englewood Earth Day Festival on April 22 from 11 a.m. to 4 p.m. Held at Buchan Airport Community Park, it features environmental speakers and demonstrations, live music, vendors, food, and kids' activities. The mantra for the event? "Earth Day is every day."