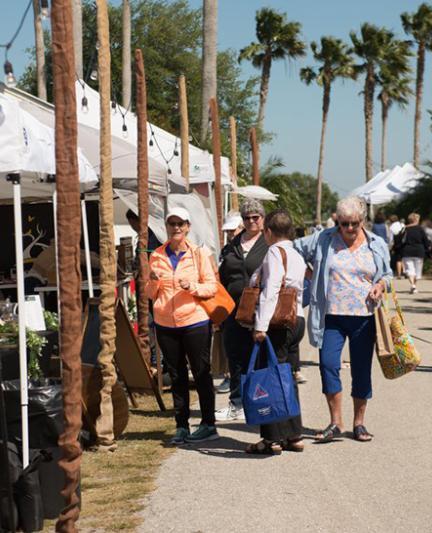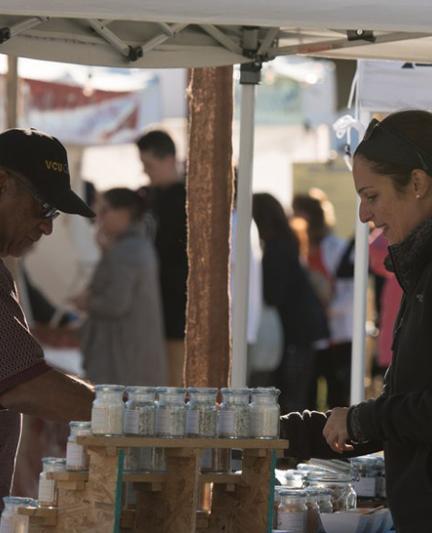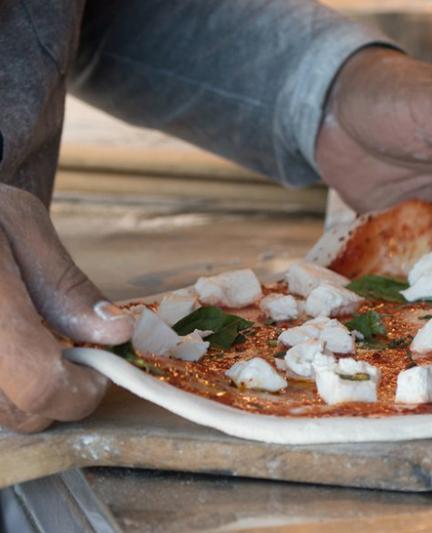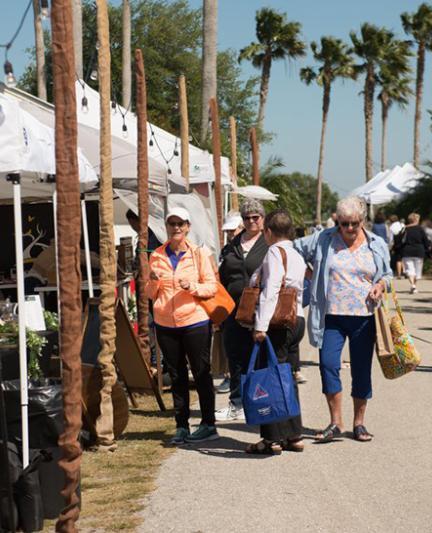 Lakewood Ranch Market Promises Food and Fun
The Lakewood Ranch Farmers Market is held Wednesday and is a great place to experience the food, fun and culture of Sarasota.
Sometimes, the best way to get to know an area is by hanging where the locals go.
At the new Lakewood Ranch Farmers Market in Lakewood Ranch, held on Wednesday evenings in season, you'll not only get a feel for the people and culture of the Sarasota area—you'll also have abundant opportunities for food and fun.
The market began in late 2017 due to neighborhood demand, says Monaca Onstad, director of community relations for the Lakewood Ranch Communities. Just a few months later, the market is a staple that residents and visitors anticipate each week.
"What's cool about the market is that it's become a community connection spot, just like we were hoping," Onstad says. "Families come to shop, hang out, and kids play on the playground. We're seeing good traffic each week."
The market takes place at the beautiful polo grounds of Downtown Waterside in Lakewood Ranch. As you're arriving to the market, you may go past stately horses that live close by. There's ample free self-parking and valet parking.
Among the 15 or so vendors at the market are a mix of seasonal produce purveyors, fresh food (just in time for dinner), snacks like popcorn, local honey and bread, and desserts. You can purchase wine by the glass while at the market.
Hungry yet?
The market is also a gathering place for locals who have signed up for a Community Supported Agriculture, or CSA program, provided by Punta Gorda-based organic Worden Farm. Participants in the CSA pick up their weekly veggie boxes at the market. The veggie mix changes each week depending on what is in season.
In addition to the food mix, the market has music and special events, such as a weekly Kids Korner, a special night for dogs, a recent bingo game (with proceeds benefiting the nonprofit Manasota Operation Troop Support), and yoga. Various nonprofit groups are featured as part of the vendor mix. Kids can even learn to cook during some upcoming Fun With Food for Kids demos, Onstad says.
The market is expanding now to include a rock-climbing wall, polo demonstrations, and handmade gifts.
A visit to the market is a terrific way to get know the Sarasota area better, says Sharon Juraszek of Fermentlicious. Juraszek is a market vendor and offers her fermented foods for sale and for sampling. "When you travel, you want to be exposed to the local community and see what they are feeling and what they are eating," says Juraszek. Market attendees who discover Fermentlicious enjoy learning more about all of her products but especially The Healer, which is a sauerkraut with ginger root and turmeric root. The Healer targets inflammation in the body.
Another great market fact: People who come to the market are in a great, relaxed mood, Juraszek says.
Fellow market vendor Maureen Cacioppo of Florida Pure Sea Salt also believes that a market visit will give you a better sense of the community. "I love going to the markets and seeing all the creativity," she says. She also enjoys connecting with customers who try samples of her sea salt, which is harvested from local waters. "Their eyes light up when they taste it," especially when they connect a certain taste with a food they enjoy preparing, Cacioppo says.
The market is held on Wednesdays through April 18 this season, from 3 to 7 p.m., at Downtown Waterside in Lakewood Ranch. There will be a big closing party on the final day of the market for this season, Onstad says. For more information, visit www.lakewoodranch.com/themarket.
In Other Market News
Another new farmers market has cropped up in Sarasota, adding to the many markets now offered in our area. The Rosemary Sunset Market at CitySide began in late February and is an extension of the Sarasota Farmers Market in downtown Sarasota on Saturdays. The market will take place every Thursday through April 12 and then will most likely be held monthly, says market manager Phil Pagano. Check out this neighborhood market for Mediterranean food, in-season produce, handmade soaps, guacamole, and more. The market is held from 5 p.m. to 8 p.m., on May Lane, between Cocoanut and Florida avenues, in Sarasota. For more information, visit www.sarasotafarmersmarket.org.