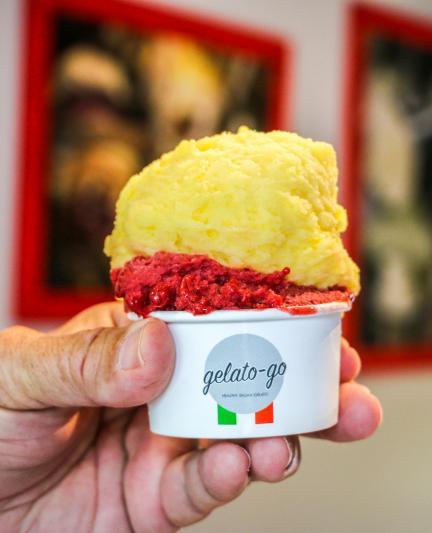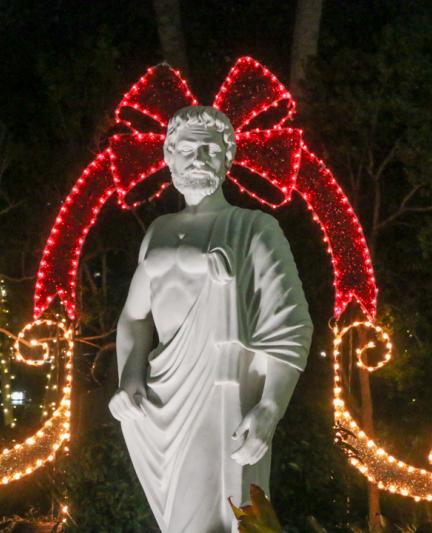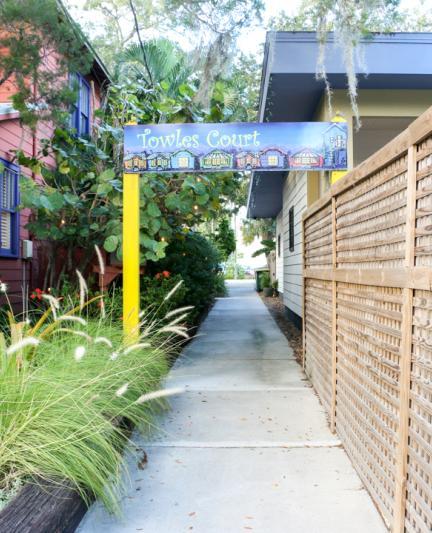 Holiday and Other Winter Events in Sarasota County
From lights to outdoor concerts to virtual races and more, there are local holiday and winter events everyone can enjoy in Sarasota this season
Holiday Lights on St. Armands Circle
Dec. 3 – Jan. 4
For over 40 years, Sarasota's luxury island shopping destination St. Armands Circle lights up its adorable central park and surrounding foliage with holiday lights for families to enjoy as they shop and dine around Lido Key!
12th Annual Gingerbread Festival
Dec. 11 – 20, 6:30 – 9:00 p.m.
Come marvel at this holiday wonderland featuring gingerbread houses crafted by more than 150 local schools, youth groups, businesses, and nonprofit organizations. Vote for your favorite in the People's Choice Award! Reserve the house of your choice for purchase! This year's festival will be on display at the former Stein Mart location in the West District at University Town Center (119 N Cattlemen Rd, Sarasota, Florida 34243, next to Old Navy).
"Sound of Christmas" Friday Night Concert in the Park
Dec. 11, 7 p.m.
Grab a mask and join the fun in historic downtown Venice to delight in the return of Friday night concerts in Centennial Park! Hosted by Venice MainStreet and sponsored by The Boutique by the Beach, Daiquiri Deck, and Ciao Gelato, enjoy the Sounds of Christmas with a local string quartet followed by four cellos. Friday Night Concerts in Centennial Park are free and open to the public, preregistration is required. Attendees are asked to bring chairs and blankets for seating.
NBP Lanterns on the Lake
Dec. 12, 4 p.m.
For a second straight year, people will be invited to Nathan Benderson Park to put their cares, hopes and dreams on the water in the form of floating lanterns. The event is limited to 1,500 participants and is designed to allow abundant space for attendees to move around and maintain social distancing. Participants will be encouraged to wear face masks. Gates will open at 3:30 p.m. For those who opt not to be at the organized lantern release, there are lantern pick-up and drop-off times. Every participant will get a lantern, battery powered tealight and markers in a reusable drawstring bag as part of their ticket purchase
44th Annual Sandy Claws Beach Run (Virtual)
Dec. 12
The 44th Annual Sandy Claws Beach Run is going virtual! Choose your distance and run at any location you wish or visit one of these six parks in search of a Sandy the Crab photo op: Nokomis Beach, Phillippi Estate Park, Rothenbach Park, Shamrock Park, Siesta Beach, and Ted Sperling Park at South Lido Beach! Each registered participant will automatically be entered into a raffle drawing. To participate in Facebook raffle drawings, direct message Sarasota County Government on Facebook @SRQCountyPlay. They will be accepting photos for best holiday-themed costume and for best photo with a Sandy the Crab photo frame.
Chabad of Venice's Chanukah Light Live (Virtual)
Dec. 12, 7 p.m.
Light the menorah together with Chabad of Venice in a short, interactive community ceremony from the comfort of your home via Zoom. The ceremony will feature songs, music and special appearances and guests are welcome to sign up and participate free of charge.
Annual Showfolks Circus
Dec. 12 – 13, 10 a.m.
The Showfolks Of Sarasota has announced that in lieu of their annual indoor Showfolks Circus—a Sarasota tradition for over 50 years—they will be presenting an outdoor, open-air walk-through Circus Festival. Dozens of local and international circus artists will come together to present their acts to the Sarasota community for 2 full days of fun and excitement. Attendees are welcomed to walk through the festival grounds and enjoy a full range of circus continuous performances scheduled throughout the day, exhibits, pictures with Santa Claus, food vendors, arts & crafts, flea market booths and family friendly activities.
"La Musica at Home" Online Series (Virtual)
Ongoing
In anticipation of the 35th concert season of La Musica International Chamber Music Festival in April 2021, the organization has launched a monthly series of documentaries exploring the personal lives, musical passions and performances of its renowned musician artists. The series, which is a collaboration with Harbour Productions and Mark of Man Films, is free and available on multiple online platforms.
Selby Gardens "Lights in Bloom"
Dec. 12 – 23, 26 – 31; Jan. 1 – 2, 6 p.m.
Marie Selby Botanical Gardens brings you Lights in Bloom®: An Open-air Holiday Light Show. More than two million lights illuminate the gardens, and walkways are transformed into sensory light tunnels. Stroll through magical gardens filled with beautifully lit flowers, radiant rainforest butterflies, dragonflies, and more. Lights in Bloom®: An Open-air Light Show. has become a tradition for residents and visitors to celebrate the holiday season in Sarasota.
10th Annual Taste of Chanukah Food and Music Festival
Dec. 13, 4 p.m.
Chabad of Sarasota is hosting a free, drive-in version of their annual festival at Phillippi Estate Park. The celebration will feature the return of popular entertainment like BMX Trick Stars Show, a helicopter drop, live music, authentic food, and of course—the giant Lego Menorah!
Key Chorale's "A Come Together Holiday" (Virtual)
Dec. 14 – 25
"A Come Together Holiday" is a one-hour celebration of music for the holidays that will be streamed for online viewers through the holidays. Features soloists Jamal Sarikoki, Amy Connours, Lorraine Murphy, Michelle Caulkins and Mark Wagstrom. There will be eight singalongs and performances from the Chamber Singers and The Section Leaders Ensemble.
"Safe at Home for the Holidays" with Venice Symphony (Virtual)
Dec. 18, 7:30 p.m.
Join Troy Quinn and The Venice Symphony (TVS) orchestra for our annual holiday concert from the comfort of your own home. "Safe at Home for the Holidays" premieres on Friday, December 18, and is free to all on demand. This concert features music from Tchaikovsky's "The Nutcracker," traditional Christmas songs and an unforgettable rendition of "The Night Before Christmas" by Sarasota's own Jamal Sarikoki and The Venice Symphony Percussion Ensemble. The final two concerts of the virtual season will premiere in early 2021 and feature TVS musicians in duets, quartets and ensembles, performing a variety of compositions, from the opulent works of Giovanni Gabrieli to music from Harry Potter and the Sorcerer's Stone.
Asolo Repertory's Holiday Concert Under The Stars
Dec. 18 – Jan. 3, 7 p.m.
The Asolo Repertory Theatre rings in the holiday season with "We Need a Little Christmas," a new holiday concert perfect for the whole family. The live concert will be performed outdoors on the theatre's brand new Terrace Stage, located in front of the theatre building. "We Need a Little Christmas" is a celebration of the season's spirit of togetherness. Brimming with colorful re-imaginations of your favorite holiday and musical theatre songs, this not-to-miss production will star some of Asolo Rep's most beloved artists alongside a live orchestra.
The Ringling presents "Manuel Cinema's Christmas Carol" (Virtual)
Dec. 18 – 20
Enjoy the retelling of Christmas Carol, presented by Manual Cinema, the heralded Chicago-based interdisciplinary performance collective. This world premiere online event is created for audiences of all ages, Manual Cinema takes on the Charles Dickens's holiday classic with a visually inventive adaptation broadcast directly to your home.
Sarasota Christmas Glow Run 5k
Dec. 19
This professionally chip timed night glow run will be a memorable experience like no other. Athletes run or walk the lakeside Christmas themed course at Nathan Benderson Park at night. Athletes add to the atmosphere with their complimentary glow products that are included with registration. Spectators will enjoy free live runner tracking with the ​Elite Events Tracker App.
Towles Court Artist Colony "Third Friday Art Walk"
Dec. 18, 4 p.m.
Join the various artists who set up shop in the quaint Towles Court Artist Colony tucked away in the cottages just south of downtown Sarasota for an enchanted evening of culture, light bites and live music. The annual series of Third Friday Art Walks run through April on the third week of each month as guests are welcome to wander between art studios conversing and appreciating the masterpieces of Sarasota's talented local artists.
Choral Artists of Sarasota "Holiday Lights"
Dec. 20, 5 p.m.
The annual Holiday Lights show will the first in-person concert this season for Choral Artists of Sarasota. The concert will be held in the outside courtyard of the Church of the Redeemer in downtown Sarasota and limited to 50 attendees to allow appropriate social distancing. Artistic Director Joseph Holt has created a beautiful program that will feature many of your favorite Choral Artists of Sarasota singers! Tenor, Rafael Davila makes his debut with Choral Artists singing Navidad Nuestra, by Ariel Ramírez, a work that illuminates the Christmas story through the eyes of the indigenous people of Argentina.
Sailor Circus presents "Season's Greetings"
Dec. 26 – 30
For over 70 years, students ages 8-18 have amazed audiences with an incredible spectacle of youth circus arts! See them flip, fly and soar to new heights in this annual holiday production. The entire family will enjoy acts showcasing beautiful aerial artistry, heart-stopping acrobatics, incredible acrobatic roller skating, lightning-fast juggling and more!
"The Güt Life! Christmas with The Yoders and Nick!"
Various dates/times through Jan. 8
"Güt Life! Christmas with the Yoders and Nick!" is playing live on stage at Carlisle Inn. A collision of traditions, a clash of cultures, and a stranger in search of far more than just an address, this new Yuletide comedy will both entertain and inspire you. The Güt Life! Christmas with the Yoders and Nick! is ninety minutes of laughter, stories, songs, and everything in between!
"Discovering Heritage" with Florida Studio Theatre
Jan. 14
Florida Studio Theatre audiences may remember the work of husband-and-wife creative team Jason Odell Williams and Charlotte Cohn from their Winter Mainstage play, Handle With Care. Now, we reconnect with the couple as they share about their latest work – a musical – which continues their creative exploration of Cohn's Jewish heritage. As the Nazis plan to round up all of the Danish Jews for concentration camp assignment in the fall of 1943, one family of five attempts to elude capture by hiding in a fishing boat traveling to Sweden — and freedom. In this FST Forum, we'll examine what it takes to bring such an emotionally-charged story to life and how to tell a true story with justice, authenticity, and heart.